Webber International sweeps ITC titles
April 21, 2012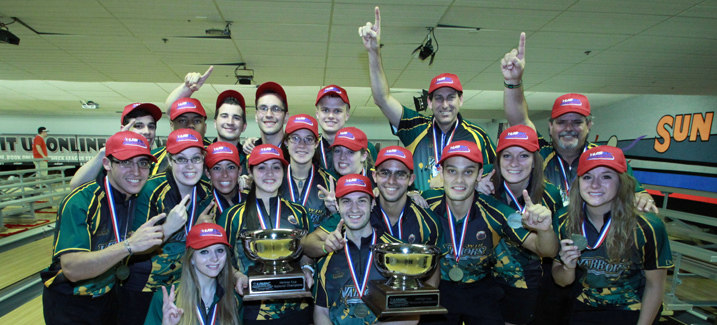 LINCOLN, Neb. -
Webber International became the third school in the history of the United States Bowling Congress Intercollegiate Team Championships to win both the men's and women's titles in the same year Saturday.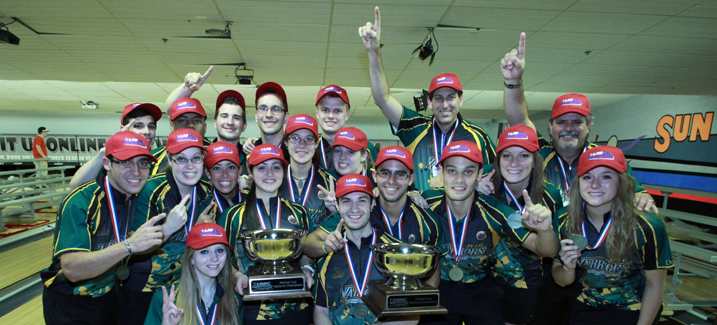 The Warriors men's team took down perennial power and 10-time champion Wichita State, 2.5-0.5, while the Webber International women defeated Midland, 2-0, at Sun Valley Lanes. CBS Sports Network will air the women's championship match May 18 at 10 p.m. Eastern, while the men's final will be shown May 25 at 10 p.m. Eastern.
The only other schools to sweep both the men's and women's titles in the same year are Wichita State, which accomplished the feat in 2009 and 1994, and Arizona State in 1981.
"People talk about a dream come true and this is it," Webber International men's coach Del Warren said. "We knew we had the depth and the talent for this to happen, but what are the odds of it actually happening for both teams?"
The Warriors men took the opening game of the championship match, 170-167, before the two teams tied at 203 in Game 2. The third game was decided in the final frame when Gary Faulkner doubled in the 10th to lock up the title for Webber International, 194-184.
"I just got up there, pointed and shot, without thinking about anything," Faulkner said of his match-winning shot. "We worked all year for this, and it shows that hard work really does pay off."
The women's victory gave Webber International its second title in three years, with the first coming in their inaugural season in 2010 against McKendree. In Saturday's final, Webber International took the opening game 189-173 and then won Game 2 by a score of 229-146.
"I think this is validation of all the hard work and dedication our players have put in this season," Webber International women's coach Randy Stoughton said. "Every one of our players could have bowled somewhere else, but they came here because we created an environment to win national championships."
The Webber women got off to a bit of a shaky start to the championship match, starting with back-to-back open frames before quickly rebounding with consecutive strikes. From that point forward, they didn't have another open.
"We just kept calm and taking deep breaths," Webber International anchor Katie Thornton said. "We had the model the whole week - you fill frames, you win games; you win games, you win matches; you win matches, you win the championship."
The tournament's most valuable player honors went to Midland's Erin McCarthy and Wichita State's Erik Gulbrandson.
Joining McCarthy on the women's all tournament team was Diana Zavjalova of Webber International, Nicole Parkhurst of Stephen F. Austin, Brandi Branka of McKendree and Amanda Greene of Lindenwood. Gulbrandson was joined on the men's all-tournament team by Jacob Kent of Robert Morris-Illinois, Kyle Anderson of St. Ambrose, Brad Miller of Lindenwood and Faulker.
The USBC Intercollegiate Team Championships featured the top 16 men's and top 16 women's college bowling teams in the country vying for national titles. All 32 teams competed in best-of-seven, double-elimination match play in the Baker format Friday, after which the field was pared down to the finalists in both the men's and women's divisions.
For more information on the USBC Intercollegiate Team Championships, visit
BOWL.com/ITC
.
2012 USBC INTERCOLLEGIATE SINGLES CHAMPIONSHIPS
Saturday's results (At Sun Valley Lanes, Lincoln, Neb.)

MEN'S CHAMPIONSHIP
Webber International def. Wichita State, 2.5-0.5 (179-167, 203-203, 194-184)
WOMEN'S CHAMPIONSHIP
Webber International def. Midland, 2-0 (189-173, 229-146)