Webber's Grammar, Morgan State's Hill lead qualifying at 2023 Intercollegiate Singles Championships
April 18, 2023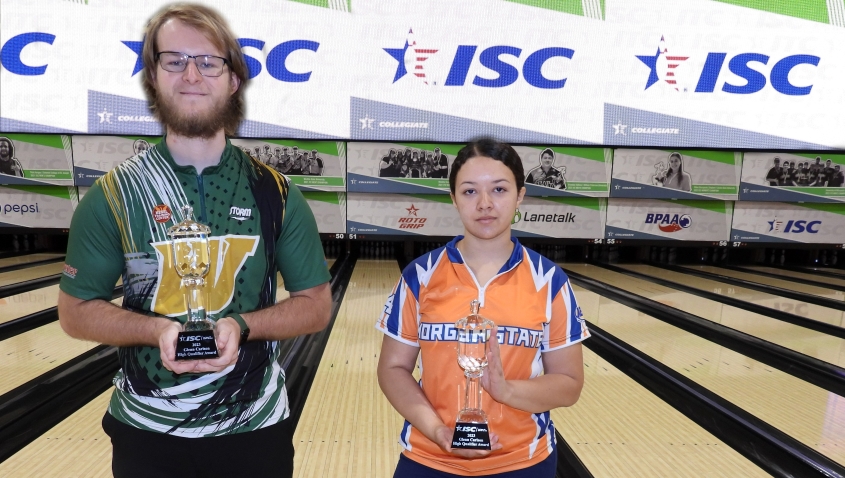 LAS VEGAS – Morgan State freshman Johnna Hill posted the highest qualifying score of the day to lead the women's division at the 2023 Intercollegiate Singles Championships while Webber International junior Austin Grammar paced the men's field as competition began Tuesday at South Point Bowling Plaza.
The 24 men and 24 women, who earned spots in the event through sectional qualifying, bowled six games of qualifying Tuesday morning to determine the bracket for match play. The top eight qualifiers received a first-round bye while the remainder of the field started match play Tuesday afternoon.

Hill was solid throughout her run to the women's No. 1 seed, firing games of 213, 223, 222, 263, 244 and 248 for a six-game total of 1,413 (a 235.5 average), which put her more than 40 pins ahead of second-place qualifier Rhian Dobinson of McKendree (1,370).
Considering the fact that she is a freshman and was making her ISC debut, it would have been completely natural for Hill to experience some nervousness during Tuesday's qualifying round.
That wasn't the case, however, as the right-hander looked comfortable from the moment the first balls were thrown.
"At any event I go to, I just lock in and cancel out everything around me so that it's just me and the lanes," Hill said. "I felt very at ease and was 100 percent locked in today. Pair to pair, I felt like the shot was for me, and I took advantage of it."
Hill will square off against Carly Snyder of Davenport when the second round of match play begins Wednesday at 10:30 a.m. Eastern.

Match play is single elimination, and all bracket matches consist of three games, with total pinfall determining the winner.

Snyder won her opening match against Maranda Pattison of McKendree, 590-562, on Tuesday to advance.

Also winning their opening matches in the women's division were Maryland-Eastern Shore's Alexis Ingersoll, Crystal George of Stephen F. Austin, SCAD-Savannah's Lara Kurt, Jenna Lehrer of Monmouth, Kiearra Saldi of Duquesne, Maryville's Anna Maxwell and Cristina Acosta of North Carolina A&T.
Defending ISC women's champion Chloe Skurzynski of Stephen F. Austin is still alive in the women's field as well. She qualified seventh with 1,267 and will open match play against Saldi.

In the men's division, Grammar, who also qualified for the ISC national finals in 2022, chalked up Tuesday's strong performance to patience.

"I didn't have a great look at the beginning, so I just tried to grind and wait for the lanes to come to me," Grammar said. "Once that happened and things started setting up better for me and my game, I took advantage of two good pairs and ran down the field."
It was clear that Grammar matched up best with the final two pairs he encountered as he closed his qualifying block with games of 265 and 247 to establish the top men's total at 1,333 (a 222.17 average).

Grammar will battle Jayson Miner of William Paterson in Round 2 of match play on Wednesday morning. Miner earned his place in the bout by defeating Lawrence Tech's Connor Nowak, 636-597, to advance.

Also advancing in the men's division were Brandon Haney of Indiana Tech, Davenport's Nicholas Luther, Charles Bostic of Webber International, South Florida's Sidney Schroschk, Mount Mercy's Brett Lloyd, Michael Nape Jr. of St. Francis-Illinois and Stony Brook's Henry Hecht.

BowlTV.com will have all qualifying and match-play rounds of the ISC leading up to the televised finals.

Visit BOWL.com/ISC for more information on the Intercollegiate Singles Championships.