Weber Caps Historic 2016 with Second Straight PBA50 Player of Year Honor
August 29, 2016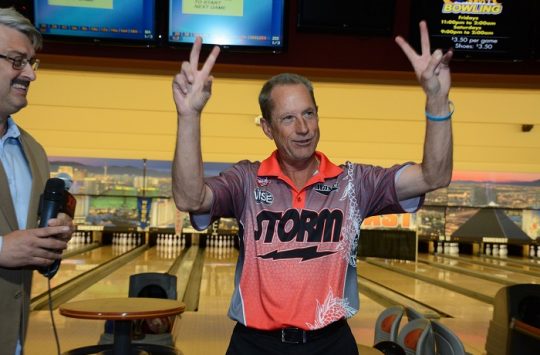 CHICAGO – Despite missing four of 13 tournaments, Pete Weber put together the most dominant season since the Professional Bowlers Association started its division for players 50 years of age and older in 1981.
Weber, who turned 54 on Aug. 21, earned his second consecutive PBA50 Player of the Year crown thanks to winning a record six tournaments in 2016, including a record string of four in a row. Among his six wins were two majors – his second consecutive Suncoast PBA Senior U.S. Open presented by 900 Global and his second USBC Senior Masters title, his first coming in his rookie season of 2013.
Bowling in nine tournaments, his string of four consecutive wins included the PBA50 UnitedHealthcare Sun Bowl In The Villages presented by Radical, PBA50 Mooresville Ford Open presented by Columbia 300 and Miller High Life, and the PBA50 Johnny Petraglia BVL Open presented by Brunswick leading up to his Senior U.S. Open win. His sixth win came in the PBA50 South Shore Open presented by DV8.
Weber also had second-place finishes in the PBA50 Northern California Classic presented by MOTIV and the PBA50 Treasure Island Resort & Casino World Championship presented by Storm, and a fourth-place in the season-opening Pasco County Florida Open, which was his lowest finish of the season.
"Don't get me wrong, I threw the ball well this year but I have to admit I got a lot of breaks this year and it seemed like my opponents got the bad breaks," said Weber. "It was just one of those years. I hated to miss those last three tournaments because there was probably another title there somewhere."
Weber's season ended prematurely because of a nagging hip injury that he hopes won't be a factor as he gets ready for the upcoming PBA Fall Swing that starts over the Labor Day weekend in suburban Detroit.
"It's in good shape now after going to the doctor and not bowling for a while," Weber said. "I'll probably take another week off and have my brother Rich do a little analysis of how I'm throwing the ball and just go from there."
With his six wins, Weber ran his career PBA50 Tour win total to 10 which puts him in a tie with Walter Ray Williams Jr. for fourth place on the all-time PBA50 Tour titles list. John Handegard is the leader with 14 titles.
Winning POY with 457,200 points, nearly twice Amleto Monacelli's 241,680 second-place total, Weber also led two other statistical categories by whopping margins. He averaged a record 237.03 for 265 games and took home $73,200 in earnings.
"I had some pretty good years on the PBA Tour where I won multiple titles and made a lot of shows but winning (PBA50) Player of the Year two years in a row ranks right up there with what I was able to accomplish on the 'kids' tour," said Weber, who never won player of the year on the regular tour. "The atmosphere is a little different on the PBA50 Tour than it is on the regular tour but I can tell you, nobody's intimidated."
Weber's closest competitor in earnings was Monacelli with $38,775. Monacelli was the only other multiple winner in 2016, capturing two titles, the PBA50 Fountain Valley Open presented by Track and the PBA50 National Championship to Benefit Riley Hospital for Children for his seventh PBA50 title and fourth major.
Norm Duke, the winner of the PBA50 Treasure Island Resort & Casino World Championship for his third PBA50 Tour title and second major, finished second in average, nine pins behind Weber with 228.31.
Other players winning titles in 2016 were hall of famers Williams (Pasco County Florida Open), Brian Voss (Dave Small's Championship Lanes Classic presented by Roto Grip) and newcomers Noel Vazquez (Northern California Classic presented by MOTIV) and Eddie Graham Jr. (DeHayes Insurance Group Championship presented by Pro Bowl West and Ebonite). Voss, Vazquez and Graham were all first-time PBA50 Tour winners.
With their wins on the PBA50 Tour, Weber and Williams also edged closer to the 100 overall PBA titles mark with both players currently sitting at 99, including PBA Tour, PBA Regional, PBA50 Tour and PBA50 Regional titles.
As the top rookie in points, Graham, a five-time PBA Regional titlist including the 2007 Regional Players Invitational, earned Rookie of the Year honors.
Graham cashed in the last nine consecutive tournaments of the season and won his first PBA50 Tour title in the DeHayes Insurance Group Championship.
With his big finish, Graham also moved into eighth place on the season-long competition points list to qualify for the PBA50 Challenge which will be contested on Nov. 27 and aired live on Xtra Frame as part of the GEICO PBA World Series of Bowling VIII in Reno. Graham will join Weber, Monacelli, Duke, Williams, Voss, Parker Bohn III and Mohr in the eight-game round robin match play event. All eight also earned paid entries to compete in WSOB VIII.
Mohr, in earning PBA60 Player of the Year honors, had six PBA50 top-five finishes and eight top fives, including the ITRC Super Senior Classic and PBA60 Dick Weber Championship presented by Hammer, which were limited to players 60 years and older.
Among Mohr's top finishes were second-place finishes in the UnitedHealthcare Sun Bowl In The Villages and the Dick Weber Championship.
Winning the "super senior" events were Don Sylvia, capturing the Dick Weber Championship title, and Junichi Yajima winning the ITRC Super Senior Classic.
In addition to Weber, Monacelli, Duke, Williams and Bohn will return to action against the younger generation in the PBA Fall Swing at Thunderbowl Lanes in Allen Park, Mich. Sept. 4-11.