Weier Leads After Opening Day at 2015 U.S. Open
November 04, 2015

Matt Cannizzaro and Aaron Smith
USBC Communications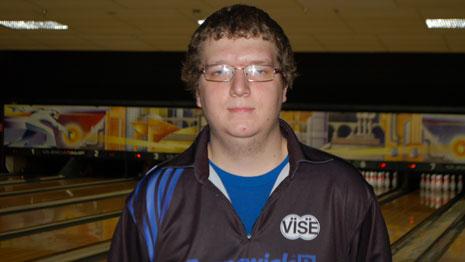 GARLAND, Texas - Cameron Weier of Tacoma, Washington, may be new to the professional bowling ranks, but he quickly has made his presence known and now is the player to beat at the 2015 Bowlmor AMF U.S. Open.
The 25-year-old right-hander posted an eight-game score of 1,895, a 236.88 average, to set the pace after the first day of qualifying Tuesday at AMF Garland Lanes. Weier finished one pin ahead of Team USA member John Szczerbinski of North Tonawanda, New York (1,894).
"It feels great to be in this position, but it's just one day of a long event," said Weier, a first-team All-American at Robert Morris-Illinois during the 2013-14 collegiate season. "It is nice to be this far up, though, because it definitely will help me be relaxed and keep my emotions in check tomorrow. I plan to just see what the lanes give me and take it shot by shot. I'll be able to bowl my own game and not worry as much."
The English duo of Dominic Barrett (1,890) and Stuart Williams (1,888) are third and fourth, while Sean Rash of Montgomery, Illinois, rounds out the top five with 1,863.
Defending champion Wes Malott of Pflugerville, Texas, led the event's opening squad with a 1,845 total and finished the day eighth overall.
He spent most of Monday's official practice session sharpening his physical game, rather than trying to figure out the 43-foot oil pattern, and that strategy worked for the 39-year-old right-hander, who got out to a fast start Tuesday. He averaged more than 246 for his first five games.
"I played out all day and never changed balls," said Malott, a 10-time Professional Bowlers Association national champion. "I had a few different options later in the day, but I was close to the pocket and felt comfortable. I could've changed zones, but I didn't want to risk it. Hopefully, I can play in the same area tomorrow, but I'm still going to focus on one shot and one game at a time."
Weier, who helped Robert Morris to the men's title at the 2013 Intercollegiate Team Championships, joined the PBA in August and earned his first regional title at the PBA Sands Regency West/Northwest Challenge Presented by DV8 two weeks ago at the National Bowling Stadium in Reno, Nevada.
He followed that win with a fourth-place finish at the PBA Xtra Frame Sands Regency Casino West/NW Presented by Radical, held at the NBS during the same weekend, and the confidence he gained in Reno showed on the lanes at the U.S. Open on Tuesday.
Weier will lead the 275-player U.S. Open field back onto the lanes at AMF Garland Lanes for the second qualifying round beginning Wednesday at 9 a.m. Eastern.
All competitors will bowl 24 qualifying games over three days, before the field is cut to the top 92 for eight additional games. The 32-game pinfall totals will determine the 24 players for the round-robin match-play portion of the tournament, after which, the top five will advance to the stepladder finals based on their 56-game totals.
All qualifying and match-play rounds will be broadcast live on the Professional Bowlers Association's online bowling channel, Xtra Frame.
The televised finals are scheduled for Sunday at 1 p.m. Eastern on the CBS Sports Network, and the winner will take home a top prize of $50,000.
Bowlmor AMF, the largest operator of bowling centers in the world, committed to hosting and providing television sponsorship of more than $250,000 for the U.S. Open and U.S. Women's Open, which USBC Hall Famer Liz Johnson won at Brunswick Zone Carolier in North Brunswick, New Jersey, in September.