Wes Malott Takes Early PBA Badger Open Lead
September 07, 2016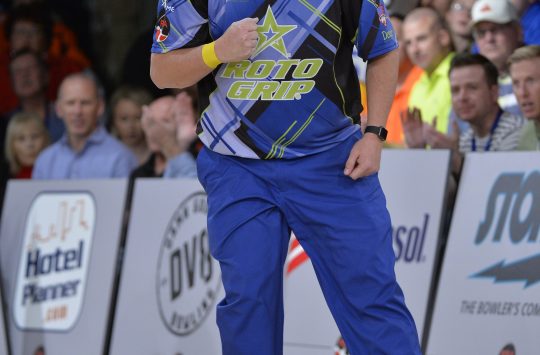 ALLEN PARK, Mich. (Sept. 7, 2016) – Wes Malott of Pflugerville, Texas, averaged 244 to take the early qualifying lead in the PBA Badger Open, the third and final animal pattern tournament in the PBA Fall Swing, at Thunderbowl Lanes Wednesday.
Malott, 39, fired games of 251, 248, 215, 248, 286 and 236 on the long 52-foot Badger lane condition to finish the opening round with ,averaged ??? for his first six games Wednesday, rolling games of 1,464 pins, 12 ahead of Wolf Open qualifying leader Francois Lavoie of Canada and 15 pins ahead of Sean Rash of Montgomery, Ill.
After bowling six games in the main section of the 54-lane suburban Detroit center, the top 12 moved into the historic Thunderbowl arena bay for their second six-game qualifying round at 7:30 p.m. ET. Round two will decide the top five players for the stepladder finals of the Badger Open, which will be contested Saturday at 5:15 p.m. in the arena bay. The CBS Sports Network telecast is set for Wednesday, Oct. 5, at 9 p.m. ET.
Also advancing to the Badger Open second round were 2016 Barbasol PBA Players Championship winner Graham Fach, Canada; Anthony Colosimo, Davie, Fla.; Australia's Jason Belmonte; Rhino Page, Orlando, Fla.; Andres Gomez, Colombia; Thomas Larsen, Denmark; Joe Paluszek, Bensalem, Pa.; Brad Angelo, Lockport, N.Y., and Martin Larsen, Sweden, 1,327.
The first six games bowled in the Wolf, Bear and Badger Opens also were the qualifying stages in determining the 18 players who will advance to three Detroit Open qualifying rounds Thursday. The 18 qualifiers will bowl another six games on each of the Wolf, Bear and Badger patterns Thursday with 36-game combined pinfall totals determining the Detroit Open stepladder finalists.
The top five in Detroit Open qualifying after 18 games were Lavoie with 4,197 pins; Malott (4,136); Rash (4,094); Belmonte (4,059) and Page (4,054).
Wednesday night's final round of Badger Open qualifying and Thursday's three rounds of Detroit Open qualifying will be video-streamed live, exclusively on PBA's online video streaming channel, Xtra Frame. For subscription information, visit pba.com and click on the Xtra Frame link.