Why the PBA Oklahoma Open Proved Scoring Pace is Irrelevant
January 17, 2019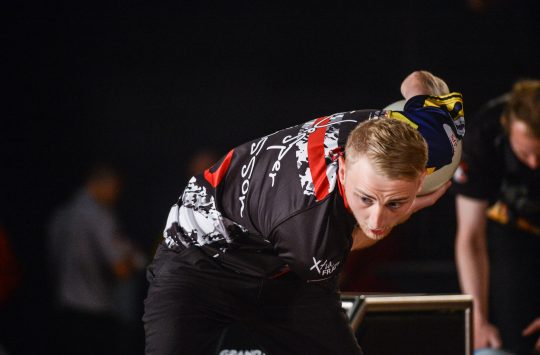 Jesper Svensson set BJI's Facebook page ablaze the day he averaged 259 for a block in Shawnee. (Photo Credit: Tim Fuller.)
The day Jesper Svensson averaged 259 for the first qualifying round of the 2019 PBA Oklahoma Open was an interesting day to be on BJI's Facebook page.
When Svensson's monster block ignited an outpouring of commenters claiming the blistering scoring pace enabled by the event's 42-foot Mark Roth raised questions such as, "Where's the challenge anymore?" my first inclination was not to take their word for it but rather to take Ronald Reagan's advice: Trust, but verify.
So, I tried to verify.
One commenter asserted that, "Rhino Page said it best, when the lefties get a pattern they can get a hold of, watch out." Here's the problem: While Svensson was averaging 259, Rhino was averaging 215.
Parker Bohn III averaged 192 that same block. Matt Sanders, another lefty and the 2017 PBA Rookie of the Year, averaged 198. Anthony Pepe, another left-handed tour champ? 215.
So much for all the lefties having a field day. Then I took a look at the right side as well.
How did some of the tour's most talented righties fare while Svensson shot phone numbers? Anthony Simonsen—206. Matt O'Grady, 2018 Tournament of Champions winner? 215. Reigning PBA Rookie of the Year Kamron Doyle? 217. Marshall Kent—217. Chris Barnes—214. Go ahead. Tell any of the above-mentioned players how "easy" they were. What's "easy" for one player can be daunting for another.
Oh, and consider this: The guy who won in Oklahoma also happens to have finished runner-up on one of the tour's most grueling patterns last November, when Jakob Butturff lost to Dom Barrett by a stick in the U.S. Open title match. Also making the show in Shawnee? The guy who won on said grueling pattern, Dom Barrett.
The question is not, "Where's the challenge anymore?" The question is, why do armchair pro-bowling pundits overestimate the relevance of scoring pace?
There was challenge in Shawnee; it just was a different challenge. Players had to out-strike the field in Shawnee whereas they had to out-spare the competition in Wichita (except for Butturff, who was in a world of his own in the 2018 U.S. Open). When the same players make both shows, what's the difference?
My email address is bjieditor@gmail.com. Somebody, please. Tell me.
BJI Editor Gianmarc Manzione's "From the Editor" column appears each month in Bowlers Journal International. To subscribe now for much more of the industry's best coverage of bowling news and incisive instructional tips and analysis, go here: /bowlers-journal-subscriptions/