Wichita State women win ITC title
April 21, 2007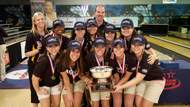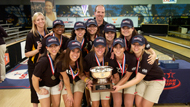 WICHITA, Kan. –
The last two times Wichita hosted the United States Bowling Congress Intercollegiate Team Championships it wasn't a memorable event for the Wichita State women's team. The Shockers were determined this one would never be forgotten.
Wichita State won its eighth national championship Saturday by defeating McKendree 2-0 in the best-of-three championship match at Northrock Lanes in front of hundreds of hometown fans. The championship match will be aired on College Sports Television (CSTV) at a date and time to be determined.
The USBC Intercollegiate Team Championships was the pinnacle event of the college bowling season with the top 16 men's teams in the country vying for national titles.
"When this event was here in Wichita in 1999 and 2000, I think our teams felt a little bit of the heat and the pressure to come through and pressed a little bit," said Wichita State head coach Mark Lewis, a member of the USBC Hall of Fame. "The girls focused on having fun this time around, so they stayed relaxed and when they got up to make their shots it was easier on them."
The Shockers opened the championship match with a grueling 138-128 victory over McKendree. The two teams combined for 10 opens, half of which were splits. In Game 2, the Shockers pulled away early to secure a 200-165 victory and the national championship.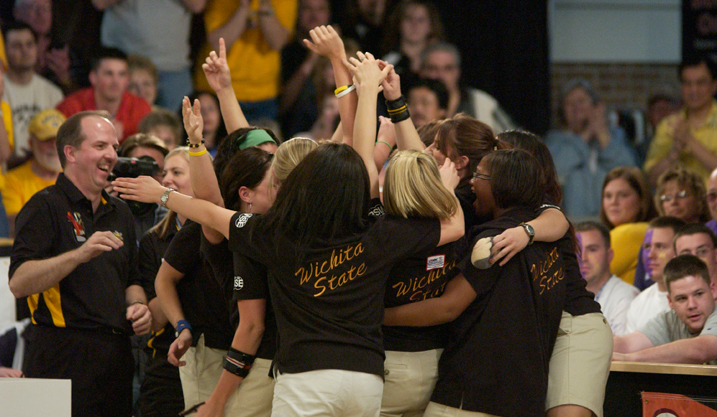 "I don't know if it really has hit yet, but this is what I came here for – to win a national championship with a great group of girls," said Wichita State senior Elysia Current, who was Player of the Year and Rookie of the Year with Fairleigh Dickinson in 2003-04. "We train so hard all year just for this one tournament, and we were focused on coming out here and winning it all."
Although Wichita State has won a record eight Intercollegiate Team Championships in its storied history, only one of those titles (2005) has come since 1995.
"We went for years and years of having great teams without winning national championships," Wichita State junior Emily Maier said. "Our team chemistry is great and I think that's what led us to the title."
McKendree's Rebekah Davis was named the tournament's most valuable player and was joined by Maier, Penn State's Lauren Sohmer and Central Florida's Bridgette Harrelson and Michelle Carcagente on the all-tournament team.
The Shockers were presented with the Helmer Cup, awarded to the national champions. The Helmer Cup is named in honor of the late Kerm Helmer, longtime coach at Erie Community College who led his teams to four ITC titles.
2007 USBC INTERCOLLEGIATE TEAM CHAMPIONSHIPS
(at Northrock Lanes, Wichita, Kan.)
Saturday's Results
Semifinals (Best-of-7 Baker, double-elimination)
(9) McKendree def. (13) Penn State, 4-2 (Penn State eliminated)
(6) Central Florida def. (2) Wichita State, 4-2
(2) Wichita State def. (6) Central Florida, 4-1 (Central Florida eliminated)
Finals (Best-of-3 Baker)
(2) Wichita State def. (9) McKendree, 2-0
(Game 1 – Wichita State 138, McKendree 128; Game 2 – Wichita State 200, McKendree 165)