Wichita State women win title
April 23, 2005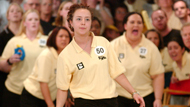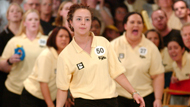 ROCKFORD, Ill. -
A year after suffering a heartbreaking defeat in the national championship match, Wichita State's Caroline Lagrange can now appreciate how that loss made her and her teammates stronger.
Lagrange, the reigning Canadian national amateur champion, struck on all four of her attempts Saturday as Wichita State turned back West Texas A&M 2-0 in the in the best-of-3 Baker games, women's final at the 2005 Intercollegiate Bowling Championships, a United States Bowling Congress Event, at the The Cherry Bowl.
"Last year made us realize we had to work harder," said Lagrange, the Notre-Dame-des-Pins, Quebec, native. "I wasn't nervous at all. I'm here to make shots and I'm really proud of myself and our team. This feels unreal."
It is the record seventh national championship but first since 1994 for the Shockers, who were participating in the Intercollegiate Bowling Championships for the 30th time in the event's 31-year history. Pikeville defeated Wichita State in the 2004 IBC women's final.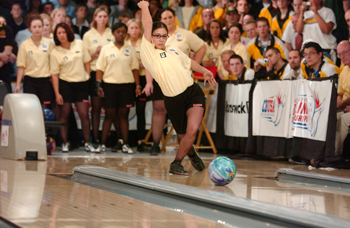 "We've been so close for such a long time now; we just couldn't get over the hump," said Wichita State coach Mark Lewis, who directed the Shockers to their third finals appearance in the last four years. "This was an amazing team effort and a great way for our seniors to go out."
The Shockers posted seven strikes - including a pair from Lagrange and junior Clara Guerrero, Armenia, Colombia, on their way a 217-176 victory in Game 1.
Wichita State overcame four open frames in Game 2 with six strikes - including three straight from junior Olivia Sandham, Wichita, Kan.; senior substitute bowler Samantha Wong, Calgary, Alberta; and Lagrange in the seventh, eighth and ninth frames, respectively - to clinch the national championship with a 176-169 victory.
Manns, the 2004-05 National Collegiate Bowling Coaches Association Most Valuable Player and Bowling Writers Association of America Player of the Year, was named women's IBC Linds World Impex MVP - receiving a $1,000 scholarship.
Other members of the Shockers are senior Cathy Westberg, Sioux Falls, S.D.; junior Ruth Papa, Carlsbad, Calif.; junior Diana Leal, Bogota, Colombia; sophomore Felicia Wong, Calgary, Alberta; freshman Jennifer Wright, Columbia, S.C.; freshman Emily Maier, Sparks, Nev.; and Chelsie Bahr, Topeka, Kan.
The Shockers were presented with the Helmer Cup, awarded to the IBC national champions. The Helmer Cup is named in honor of the late Kerm Helmer, longtime coach at Erie Community College who led his teams to four IBC titles.
Joining Manns on the women's All-Tournament Team were Morehead State sophomore Lindsey Coulles (MVP runner-up), West Texas A&M senior Tina Stickney, Central Florida junior Stefanie Nation and Western Illinois senior Whitney Cox.
The Intercollegiate Bowling Championships is the pinnacle event of the college bowling season. The IBC brings together the top 16 men's and top 16 women's teams in the country to compete for national titles on national television (College Sports Television).

2005 INTERCOLLEGIATE BOWLING CHAMPIONSHIPS
A United States Bowling Congress Event
The Cherry Bowl, Rockford, Ill.
Saturday's Results
SEMIFINALS
(Best-of-7 Baker games, double-elimination)
Men
Fresno State 4, West Texas A&M 3 (West Texas A&M eliminated)
Morehead State 4, Lindenwood 2
Lindenwood 4, Morehead State 0 (Morehead State eliminated)
Women
Western Illinois 4, Wichita State 2
Wichita State 4, Western Illinois 0
West Texas A&M 4, Pikeville 0
West Texas A&M 4, Pikeville 0 (Pikeville eliminated)
CHAMPIONSHIPS
(Best-of-3 Baker games, winner take all)
Men
Lindenwood 2, Fresno State 0
(Game 1 - Lindenwood 189, Fresno State 185; Game 2 - Lindenwood 218, Fresno State 176)
Women
Wichita State 2, West Texas A&M 0
(Game 1 - Wichita State 217, West Texas A&M 176; Game 2 - Wichita State 176, West Texas A&M 169)