Williams hoists Senior Masters trophy in dramatic fashion
June 13, 2014
LAS VEGAS -
Walter Ray Williams Jr. of Ocala, Fla., used a fortunate strike in the final frame Friday to secure his first career United States Bowling Congress
Senior Masters
title.
The USBC Hall of Famer carried a light shot that collapsed the 2-4-5 for a strike to defeat Jack Jurek of Lackawanna, N.Y., 240-219, to claim the title at South Point Bowling Center.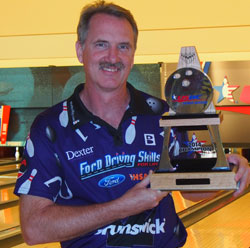 Heading into the final frame, Williams needed a strike to lock up the title or nine, spare, strike to secure at least a tie. Had he left anything less than nine on his first shot in the last frame, he would have lost.
"I thought I was going to leave the 2-4-5, and they just kept tumbling over," said Williams, who has 47 PBA Tour and eight PBA50 Tour titles in his career. "To get a strike and win with a hit like that is just crazy. I don't think I've ever done that in a title match."
Jurek stepped up in the 10th frame first and got just enough to put the pressure on Williams, who finished the match last. But it wasn't enough, as Jurek fell short of the title and added a runner-up Senior Masters finish to his two runner-up finishes at the USBC Masters.
In the semifinal, Williams took down fifth seed Mike Edwards of Tulsa, Okla., 237-214. Edwards defeated defending champion Pete Weber of St. Ann, Mo., 237-209, and opened the stepladder with a 254-184 win over Amleto Monacelli of Venezuela.
Williams earned $18,000 for the victory, while the total prize pool for the event was $144,400.
The stepladder finals were broadcast live on BOWL.com's BowlTV and are available for on-demand viewing at
YouTube.com/BowlTV
.
For more information on the event, visit
BOWL.com/SeniorMasters
.