Wisconsin's Joseph Bloedorn joins 50-Year Club at 2022 Open Championships
April 21, 2022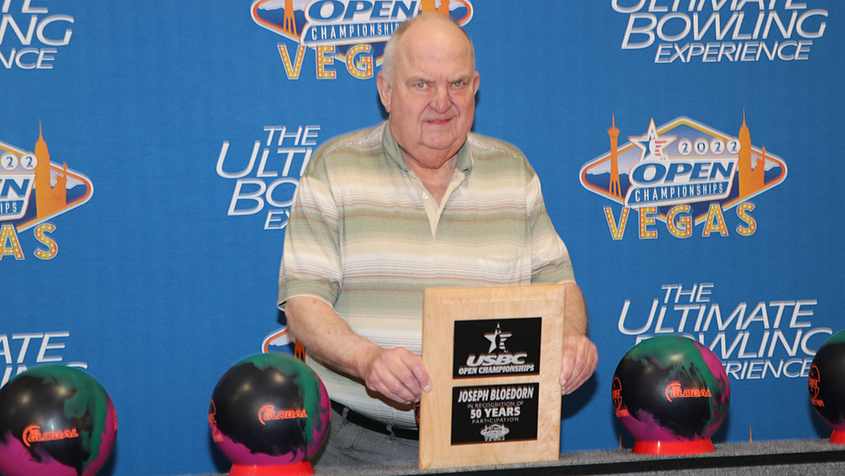 LAS VEGAS
- Before he even stepped on the lanes at the South Point Bowling Plaza to celebrate his 50th appearance at the
United States Bowling Congress Open Championships
, Joseph Bloedorn received a standing ovation, countless handshakes, well-wishes from bowlers in his generation and congratulations from participants more than half his age.
It was a good time for the 75-year-old from La Crosse, Wisconsin, as he received a plaque, chevron and diamond lapel pin Tuesday to commemorate his five decades on the championship lanes.
"I have always enjoyed bowling, and I have absolutely no regrets over my 50 years in this tournament," Bloedorn said. "It has always been a good time being with people I have known for over 30 years and seeing places in the United States I would never have gotten to otherwise."
Bloedorn first took the lanes at the USBC Open Championships in St. Paul, Minnesota, in 1965. He has vivid memories of those earlier days, before such bowling meccas as the South Point Bowling Plaza in Las Vegas and the National Bowling Stadium in Reno, Nevada, opened their doors.
"I remember bowling in towns where their local convention centers were transformed exclusively for the USBC event," Bloedorn said. "I enjoy these modern lanes, but it was a lot different back in the day."
During his 50 years in the tournament, Bloedorn has rubbed elbows with some notable bowling icons, including Roger Wiemer and Lou Scalia. Wiemer participated in the Open Championships 51 times, while Scalia's success on the tournament lanes includes the 1967 USBC Masters title.
"Roger was a good friend, and Lou was great to be around," Bloedorn said. "In this sport, you do meet some wonderful people."
Bowling has been a big part of Bloedorn's life outside of the Open Championships, as he was a part-owner of Nordic Lanes in Westby, Wisconsin, from 1992-2000.
"I was in the restaurant and bar business for over 40 years, so I combined my expertise in food with my passion for bowling," Bloedorn said. "I must say, the food was excellent at Nordic Lanes, with Friday fish and some of the best pizza in town."
Bloedorn also has some wonderful memories of the Petersen Classic, another storied event with more than a century of history and tradition, that he participated in for many years as a bowler and sponsor.
"At the Petersen Classic, I had some great years, but one not-so-great memory stands out more than any other," Bloedorn said with a smile. "I had back-to-back 5-7-10 splits."
Bloedorn was escorted onto the lanes to receive his accolades by his South Lanes teammate and friend, Gerry Betz, a man he has known since Gerry was 8 years old.
"Gerry's dad, Gary, and I were good friends," Bloedorn said. "He actually lived in our house for a while. Gary passed about 15 years ago, and Gerry and I have become very close as friends and teammates. It was an honor for me to share this moment with him."
While a bit of arthritis is starting to slow Bloedorn a bit, he remains competitive and is hoping to keep his 180+ USBC average. This year, he rolled a 451 series in doubles, 448 in team and 400 in singles for a 1,299 all-events total. He now has knocked over 79,929 career pins at the Open Championships for a 180.02 average.
He sees a positive future for the sport of bowling, simply by the number of families and youth bowlers he sees consistently at his hometown bowling facility in La Crosse, All Star Lanes & Banquets.
"I'm seeing more families bowl than I have in previous years," Bloedorn said. "It's cheap entertainment. Where else can a family enjoy time together, bowl three games, rent shoes and have a few beers or sodas for about $20?"
Visit us on Facebook at the
official USBC Open Championships page
.