Wisconsin bowler achieves perfection during milestone appearance at 2022 USBC Open Championships
April 18, 2022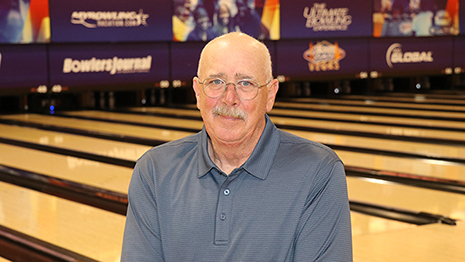 LAS VEGAS -
Gregory Box of Waukesha, Wisconsin, found the perfect way to celebrate his 30th appearance at the
United States Bowling Congress Open Championships
- with a 300 game at the South Point Bowling Plaza.
The 64-year-old right-hander started his singles event Monday with the 14th perfect game of the 2022 tournament and became the third bowler in the history of the Standard Division to achieve the feat.
The Standard Division was introduced at the 2017 USBC Open Championships, also at South Point, and includes bowlers with entering tournament averages of 156-175.
"It's a blur, and it's unbelievable," Box said. "I'm still choked up. It's something I never imagined I could do. This is my 30th championships and way beyond the best I've ever bowled here."
Already the owner of a handful of 300s, Box was familiar with the situation, but being in that position on the biggest stage in bowling often magnifies the moment exponentially.
"My knees were weak like the first 300 I ever shot," Box said. "All I said to myself before the final shot was 'throw it hard and hit your mark.' I wanted to throw it like I did on the ones before it. I got a lucky break in the eighth frame when I crossed over, but the rest were right there. It was just mind over nerves to throw the last two."
Box admitted that it was difficult to settle down after his magical moment, but he tacked on three more strikes, before a seven-count ended his perfect set.
The early momentum helped Box make a run up the Standard Singles standings, and his final game ended with an opportunity similar to his opening game - three more great shots for a potential spot in the record book.
With two final-frame strikes, Box would've landed at the top of the leaderboard.
He delivered another clutch strike to start the closing frame, but a 2-10 split on his second offering ended his hope of claiming this year's Standard Singles trophy.
Box finished with games of 300, 185 and 216 for a 701 series, four pins shy of Daryl Stephens of Gilbert, Arizona, who has occupied the top spot since March 13, the first day of doubles and singles competition at the 2022 tournament, with 705.
"I kind of thought with the new division, it was like a new opportunity for me," Box said. "I know I'm capable of throwing scores at home, and I always hoped there'd be a chance for me to do it here. Hopefully my score will hold in second place where it is for a while and at least finish in the top 10."
Box was quick to share the credit for his performance.
First, he found the doubles and singles oil pattern at the 2022 Open Championships similar to a Challenge lane condition he encountered at his home center of Foxx View Lanes in Waukesha, so he had some added confidence in his game plan and moves.
Then, as he navigated through doubles and into singles, it was the ball he bought on-site this week at the South Point Bowling Plaza that helped him deliver 23 strikes in the final three games of his 2022 campaign. The ball was purchased at the suggestion of his teammate, Earl Smith.
Box improved with each set, and his grand finale marked his third 700 series on the tournament lanes. He rolled a 713 set in singles in 1989 and a 709 series in doubles in 2011.
"The last few years out here, I've really struggled," Box said. "I never seem to have the right ball or the right line, and it was tough. Team event yesterday was a struggle, too. In the middle of the first game of doubles today, I made a decision to move outside and throw the ball hard and see what happens. Obviously, that turned out pretty well."
Achieving something so monumental in the first game of a series can be challenging, but Box was able to compose himself enough to at least have a chance at the singles lead.
He didn't know exactly what he needed as the frames passed by, so his goal was pretty simple - keep throwing strikes.
"I didn't know the math, but I was just trying to get as many pins as I could, because I thought I might be close," Box said. "I told myself that if I struck out, I might have a chance, but it just didn't happen. I can't be disappointed in the way I bowled, but sure, I'm a little disappointed. It would've been nice to have another couple pins, but I'll take what I got. I'm very happy."
Box's 2022 tournament appearance included a 623 series in doubles and 578 in team for a 1,902 total, which is fifth in Standard All-Events. Gregory Witt of Phoenix leads with 1,982.
Though he fell short in his bid for an Eagle this year, Box is looking forward to being recognized as a tournament celebrity for the first time during the 2023 Open Championships in Reno, Nevada. He's also very motivated by the one that got away.
"I found out I'm capable of popping a score out here, so I'm very motivated and looking forward to next year," Box concluded.
Visit us on Facebook at the
official USBC Open Championships page
.