Wisconsin bowler becomes newest member of 50-Year Club during 2022 USBC Open Championships
April 13, 2022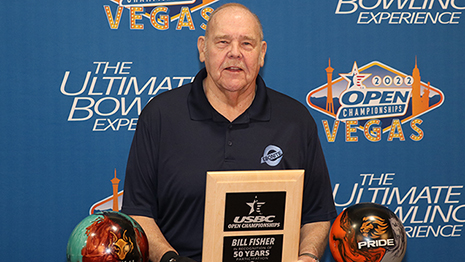 LAS VEGAS -
Bill Fisher can talk about bowling for hours. He is a true ambassador of the sport, who has seen a lot of things since he first walked out onto the lanes of the
United States Bowling Congress Open Championships
.
This week, the 77-year-old right-hander from Brodhead, Wisconsin, celebrated a historic achievement he is proud to add to his list of accomplishments. He was recognized for 50 years of tournament participation.
His journey began at the 1970 event in Knoxville, Tennessee, and he received a plaque, chevron and diamond lapel pin Monday at the South Point Bowling Plaza to commemorate the milestone.
He cited an old friend and mentor for getting him started at the USBC Open Championships.
"A gentlemen named Al Brown, who went by the nickname of Chubby, took me under his wing and asked me to participate in the 1970 tournament because he got injured in a car accident." Fisher said. "Chubby told me everything was paid for - the room, airfare and bowling. He just wanted me to go and have a good time. That was the start of this wonderful relationship with this tournament."
Fisher is retired, having enjoyed a successful career as a businessman, first owning a liquor store called Westside Liquors, and then a hardware store that was part of the Coast to Coast Hardware family.
"I sponsored at least four teams and was able to be a participant on each one," Fisher said. "I love the administration part of bowling, as well as participating."
Fisher gives members of the USBC Captain's Club a lot of credit.
"The work they do behind the scenes is incredible, and the recognition they get is not enough," Fisher said. "To me, even sponsoring just a small number of bowlers was a great thrill, but a ton of work."
Fisher has been married to his wife, Melinda, for 45 years, and she was in the stands Monday cheering for him.
"I used to come alone to these tournaments, and then Melinda wanted to join me," Fisher said. "I honestly could not be celebrating this 50-year milestone without her support."
One of the best years Fisher had at the tournament took place in Niagara Falls in 1987, when he bowled 652 in doubles, 527 in singles and 525 in team for a 1,704 total.
"Back in the day, everything was put on VHS," Fisher said. "I brought the VHS home, and my grandson wore it out. He just loved watching me bowl so well, and he was really excited."
Fisher feels the most important trait in his longevity is his focus. He also loves to compete.
"I try to focus on the job at hand, especially when I am bowling against guys I don't like," Fisher said with a smile. "I love being out on the lanes and doing the best I can each game. I'm very proud of my career at the Open Championships."
Fisher only competed in the team event this year in Las Vegas, posting a 370 series.
In 50 tournament appearances, he has knocked down 74,946 pins for a career average of 168.7.
Fisher is one of 31 bowlers scheduled to reach 50 years of participation this year at South Point. Three bowlers are slated for 60 years, one will reach 65 and one bowler will compete for the 70th time.
How does he see bowling in the future?
"The COVID-19 pandemic really killed league play, especially in my home state of Wisconsin," Fisher said. "Local bowling took a hit, but it is starting to come back. I'm hoping to share some more positive news at next year's Open Championships in Reno (Nevada)."
Does that mean we will see Fisher at the National Bowing Stadium for tournament No. 51?
"I'm planning on it," Fisher said.
Visit us on Facebook at the
official USBC Open Championships page
.