Wisconsin bowler latest to join 50-Year Club during 2022 USBC Open Championships
April 15, 2022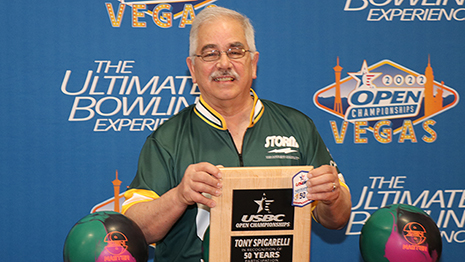 LAS VEGAS -
First and foremost, Tony Spigarelli is a family man. He also is a passionate bowler and a dedicated fan of the Green Bay Packers.
All were evident as the 71-year-old right-hander from Edgerton, Wisconsin, celebrated 50 years of participation at the
United States Bowling Congress Open Championships
.
His journey began at the 1970 event in Knoxville, Tennessee, and he received a plaque, chevron and diamond lapel pin Thursday at the South Point Bowling Plaza to commemorate his five decades on the championship lanes.
"Bowling has always been a part of my family, and the tradition continues today," Tony Spigarelli said. "My dad, Duvilio, never made it to 50, but he participated in 46 Open Championships. That always made me so happy for him."
Tony Spigarelli noted that thoughts of his father were in the front of his mind while he was walking out on the lanes. He was showered with applause from a crowd of friends, family and fellow competitors, and he was joined by his own sons, Anthony Jr. and Bryan.
"Of course, I was thinking about dad," Tony Spigarelli said. "He would really be proud. Plus, the bonus of walking out with my two sons was truly the highlight of this week. My wife, Kathy, and I are very lucky parents, in that our boys really like to hang around with us."
Duvilio Spigarelli made his tournament debut at the 1952 tournament in Milwaukee, and he competed for the last time in Billings, Montana, in 2002. He had a great Open Championships career, having knocked down 74,739 pins for a 183.6 average.
His final event in 2002 marked Anthony Spigarelli Jr.'s fourth tournament appearance, while Bryan Spigarelli made his first trip down Center Aisle. It was the only time the three generations of Spigarelli men got to compete together at the Open Championships.
The eldest Spigarelli was the owner of Spigarelli Lanes in Crystal Falls, Michigan, where Tony's children spent much of their childhood.
"I remember laying on the lanes as a toddler and pushing the ball down the lane," Anthony Spigarelli Jr. said. "There are some fantastic memories of being with my grandfather and dad."
Tony Spigarelli is a student of the game and has been at the Open Championships every year since 1974, despite various injuries.
"I've always had goals I wanted to reach, and I have been lucky enough to meet most of them," Tony Spigarelli said. "This week has been something I have been looking forward to, and luckily, my health has been good enough to reach this milestone."
What has been Tony Spigarelli's inspiration to reach 50 years?
"Bowling with my boys," he said. "It doesn't get any better than that."
His sons agree.
"Mom and dad never pushed us to bowl, and it was something we all wanted to do," Bryan Spigarelli, the younger of the two brothers said. "Seeing dad reach 50 tournaments, with our mom in the stands, was a surreal moment. It's a family tradition."
Tony Spigarelli now bowls out of River's Edge Bowl in Janesville, Wisconsin, another family-owned bowling center.
"Sure, it brings back memories," Tony Spigarelli said. "There is just something about a small-town family-owned business, where you actually know, and can talk to, the owners. They really care about their customers."
Time has not slowed down the man of the hour, who rolled sets of 565 in team, 527 in singles and 495 in doubles this week for a 1,587 all-events total. In his 50 years on the tournament lanes, he has knocked down 81,962 pins for a career average of 182.1.
Bryan Spigarelli, a 37-year-old making his 20th tournament appearance, was the best performer of the three, rolling sets of 609 in doubles, 578 in team and 505 in singles for a 1,692 total.
Anthony Spigarelli Jr., 40, competed for the 23rd time and finished with 587 in doubles and matching sets of 541 in team and singles for a 1,669 total.
After every great shot by him or his sons, Tony Spigarelli was his fun-loving and animated self.
"We get rolling, and dad starts dancing," Bryan Spigarelli said. "He loves the game and wants us all to do our best."
Now, about the Green Bay Packers.
Spigarelli's Open Championships team this year wore Packer-green shirts with their number of years of participation on the front and back. Of course, Tony's shirt proudly showed 50.
Then, with bowling in the books and the start of football season a few days closer, how does he think the Packers will do in the upcoming season?
"I bet $50 at the sports book at 11:1 for Green Bay to go all the way," Spigarelli laughed. "We'll see what happens."
Spigarelli is one of 31 bowlers scheduled to reach 50 years of participation this year in Las Vegas. The schedule also includes three bowlers competing for the 60th time, one making his 65th appearance and another set to bowl for the 70th time.
Visit us on Facebook at the
official USBC Open Championships page
.