Women's History Month concludes with celebration of TNBA's Margaret S. Lee
March 30, 2021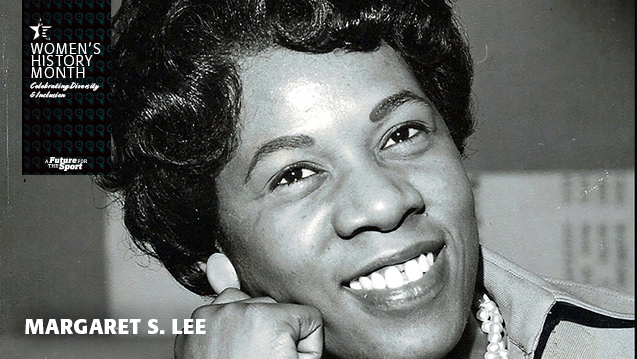 ARLINGTON, Texas - If there was going to be a formal Grand Slam established for awards and recognition in The National Bowling Association, it might be based on the noteworthy career of Margaret S. Lee, who was a pillar of the organization for more than 30 years.

Lee, who resides in Brooklyn, New York, first made her way into the national spotlight in 1970, when she was named TNBA Queen, a designation reserved for the woman who raises the most money during the year.

The crowning of the king and queen is a highlight of the Joe Thomas King & Queen Coronation Ball that is part of the annual TNBA Week. The week also includes the annual convention, national tournament, a meet-and-greet party and more.

Presiding over TNBA was just the beginning for Lee, who was honored four years later with the Mary L. Wilkes Award, presented annually to the male and female members chosen by the delegates for having made outstanding contributions to the organization over the recent year.

She added her name to the list of Life Members in 1980 and was inducted into the TNBA Hall Fame in 1995.

While dedication and longevity are worthy of praise and celebration on their own, Lee is known best for what she did behind the scenes after being hired in 1974 as TNBA's executive secretary-treasurer.
Though the word secretary is in the job title, Lee's big-picture aspirations were anything but administrative. With gender and racial equality as hot topics, her goals were about more than just processing memberships.
"When I started out, there was so much you, me and them, and there were many organizations all doing the same things, but separately," said Lee, who will be celebrating her 85th birthday Wednesday. "I wasn't looking for a fight. I just wanted to help get what we all wanted, which was understanding, love and a unified bowling community. It wasn't about what you looked like. We were all there because we loved bowling. We were all brothers and sisters on the lanes."
Because she was in the TNBA office full-time, she had a hand in just about everything, from designing awards to planning events and leading committees.
In sports terms, she could be described as the ultimate utility player or even as a player-coach. She had a lead-by-example style and was there to keep everything on track, from planning to cleaning up after. She made sure things were running smoothly on a day-to-day basis and smiled from the sidelines once the conventions, events, luncheons and tournaments were underway.
"Margaret was really great at getting people from all over together, and she was kind of the glue that held us in place, because that was the one consistent office we had," said United States Bowling Congress Board member Cornell Jackson, who served as TNBA President from 2000-2004. "She was a big piece of the puzzle. We took our lead from her. She was always dignified in her business and made people want to follow in her footsteps. She had an air about her and was always doing so much. She made you want to join her. You didn't want to let her down."
During her tenure, which lasted until 2005, Lee worked with nearly a dozen TNBA presidents, who served two- or four-year terms. Her resume really could include office manager, convention coordinator, meeting planner, consultant and more.
When Jackson became president in 2000, Alesia Bryant of St. Louis stepped in as vice president. With Lee by their side, they became the first all-female cabinet in TNBA history. Collectively, they helped TNBA to the 2003 Joyce Deitch Trailblazer Award.
The award is named for the seventh president of the Women's International Bowling Congress and recognizes organizations and individuals who have made important contributions to bowling as motivators, visionaries, leaders and innovators.
One of Lee's closest working relationships was with current TNBA Executive Secretary-Treasurer Annette Samuel-Triggs, who took a job at the TNBA home office as a 21-year-old and now has served the organization for more than 34 years.
The two worked together for nearly two decades, quickly developing a mother-daughter relationship. Their rapport and years of collaboration made the transition an easy one for Samuel-Triggs.
"Marge helped put TNBA on the map, and there wasn't anything she wouldn't do for the organization," Samuel-Triggs said. "She was not intimidated by anyone and knew what she was talking about anytime it came to TNBA or bowling. She was very honest and hard-working and always the last one to leave the office. She personally made sure the work got done and provided the absolute best service to the members and bowlers."
Many of the programs, handbooks and processes Lee developed while in office still are in place today, though some modernization has taken place, as well as Samuel-Triggs adding a few contributions of her own.
Currently, there is an emphasis on making things more digital, especially communicating with an average membership of more than 20,000 members, a process that was sped up by challenges from the COVID-19 pandemic.
Samuel-Triggs wasn't a competitive bowler when she took her first job with TNBA, but Lee's passion and leadership immediately sparked a fast love for the fellowship, membership and fun of TNBA and the sport of bowling.
Years later, as Samuel-Triggs puts the finishing touches on her own legacy, she is tasked with recruiting the next group of young bowlers and staff members to make sure TNBA stays up to date and relevant.
"It was inspirational to see how hard Marge strived to bring up the level of TNBA," Samuel-Triggs said. "She did a lot to help improve each of the things she worked on, and the relationship and interaction she had with the bowlers and the culture was special. Hopefully, I have accomplished some of that, too. I always have TNBA's best interest in mind, and I hope that when it's time, I can leave the organization in a good place, too."
Lee's contributions to TNBA's tournament landscape, as well as her passion for youth bowlers and the future of the sport, led to her name being associated with two TNBA youth initiatives.
The Margaret S. Lee Battle of the Sexes Book Scholarship offers book scholarships to students enrolled in college. The purpose is to provide financial assistance to undergraduate students who are bowlers and active with their local TNBA senates.
The number of scholarships awarded is based on the proceeds of the annual Margaret S. Lee Battle of the Sexes Scholarship Tournament, which is one of the most exciting aspects of TNBA week each year, according to TNBA Vice President Dr. Michael Boykins.
Boykins, who served as TNBA's president from 2008-2012, explained that nearly all of the week's other activities come to a stop for the Battle of the Sexes event, so all bowlers and guests can be a part of it, whether they're bowling or just watching.
The handicap tournament features teams of five men or five women and a very competitive environment, though Boykins was quick to point out there's really no losers when it comes to the annual competition. Ultimately the biggest winner each year is the TNBA Junior Program & Scholarship Program Inc.
Perhaps the most anticipated part of the event has been appearances from Lee herself. Any chance to visit with her or have a conversation seems to inspire people.
"I remember so many times over my career getting to sit down and talk with Margaret and take in all the pearls of wisdom she had about TNBA and bowling and leadership and all the things we could do to bring everyone together," Boykins said. "She was always very supportive of my ideas, and I have the utmost respect for her and all she did. She is one of the pillars of our sport and organization. There's no doubt about that."
This story about Lee is part of an ongoing digital media campaign recognizing various groups, organizations and bowlers that make up the USBC membership, while also bringing attention to topics that affect the world on a larger scale.
USBC will continue to expand its diversity and inclusion topics and welcome the opportunity to showcase the people and other areas that are important to the members.
March is a celebration of Women's History Month and has featured stories that recognize some of bowling's most influential women.
If you know someone who is a standout or inspiration, or you'd like to suggest a topic close to you, please let us know more by sending an email to PR@bowl.com.
For more information about USBC and its programs and partnerships, visit
BOWL.com/Diversity
.