World-Class Field Set for PBA Xtra Frame Tour Visit to Chesapeake
August 12, 2017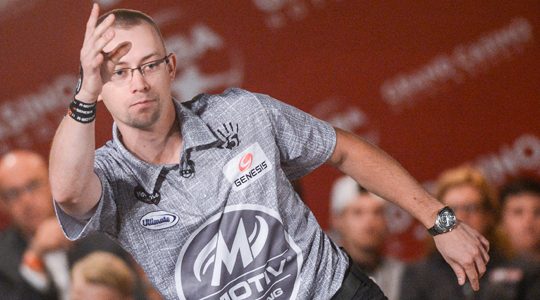 CHESAPEAKE, Va. – The Professional Bowlers Association's Xtra Frame Storm Cup Series will make its first visit to Chesapeake this weekend when a world-class field of established PBA champions, future stars and top-caliber amateur bowlers compete for a $10,000 top prize in the PBA Xtra Frame Chesapeake Open at AMF Western Branch Lanes.
A field of more than 120 players is set to compete in the fifth event of the seven-tournament XF Storm Cup series that will pay $50,000 in bonus prize money at the conclusion of the 2017 series. Leading the Storm Cup points race after four events is reigning PBA Player of the Year EJ Tackett of Huntington, Ind., who has yet to win an Xtra Frame Storm Cup event this year, but has third-, fifth- and second-place finishes in the last three tournaments held in Wilmington, N.C.; Jonesboro, Ark., and Lubbock, Texas, respectively. England's Dom Barrett and Marshall Kent of Yakima, Wash., are tied for second with 46 points each, seven behind Tackett.
All of the XF Storm Cup tournaments will be covered live, from first ball to last, by PBA's Xtra Frame live streaming service. PBA created the online Xtra Frame Tour in 2014 to supplement its national television coverage on ESPN and the CBS Sports network and to enable more fans throughout the world to see the world's greatest bowlers compete for a PBA Tour title in person.
In addition to the Storm Cup points leaders – all PBA Tour champions – early entrants in Chesapeake include fellow tour champions Dick Allen, Patrick Allen, Josh Blanchard, Ryan Ciminelli, Tom Daugherty, Andres Gomez, Bill O'Neill, Rhino Page, Sean Rash, Anthony Simonsen, Jason Sterner and Kyle Troup. The preliminary tournament field also includes players from Puerto Rico, Colombia, England, Japan, Venezuela and Malaysia.
Competition begins on Saturday, Aug. 12 with eight-game qualifying squads at 9 a.m. and 3 p.m. EDT, with the top one-third of the field advancing to Sunday's cashers round. After another four games Sunday at 8:30 a.m., the top 16 players will advance to the three-game Round of 16. The top eight after 15 games move on to the two-game Round of 8, after which the top four players will advance to the stepladder finals at 3 p.m. Sunday to compete for the $10,000 first prize, Storm Cup points and a PBA Tour title, if the winner is a PBA member.
A practice session is scheduled for 3 p.m. Friday and two squads of pro-am activity, where grassroots amateur bowlers will bowl with the pros, will be conducted at 6 and 8:30 p.m. For tournament pro-am and admission information contact AMF Western Branch Lanes at (757) 686-2695 (https://www.amf.com/location/amf-western-branch-lanes).
For Xtra Frame subscriptions, visit xtraframe.tv. Subscriptions are available for three days for a special price of $2.99 (normally $3.99) between August 10 and 27. The 30-day subscription is $7.99 and a full year XF Season Ticket is offered at a cost of about $1.25 per week.
PBA XTRA FRAME CHESAPEAKE OPEN
AMF Western Branch Lanes, Chesapeake, Va. (all times are EDT)
Friday, Aug. 11
3 p.m. - Practice Session
4 p.m. – New player orientation meeting
6 & 8:30 p.m. - Pro-am
Saturday, Aug. 12
9 a.m. - A Squad, eight qualifying games
3 p.m. - B Squad, eight qualifying games
Top 1/3 of qualifying field advances to cashers' round on Sunday
Sunday, Aug. 13
8:30 a.m. – Cashers' Round (four games; top 16 after 12 games advance)
11:30 a.m. – Round of 16 (three games; top 8 after 15 games advance)
1:30 p.m. – Round of 8 (two games; top 4 after 17 games advance to stepladder finals)
3 p.m. – Top four stepladder finals
PBA XTRA FRAME STORM CUP POINTS LEADERS
(After four of seven events; 25 points to winner, 19 to second place, 18 to third, etc. through 20th place. Bonus prize money payable at the end of the season will include $20,000 for first place, $10,000 for second place, $8,000 for third, $7,000 for fourth and $5,000 for fifth place.)
1, EJ Tackett, Huntington, Ind., 53
2 (tie), Dom Barrett, England, and Marshall Kent, Yakima, Wash., 46
4, Josh Blanchard, Mesa, Ariz., 40
5, AJ Johnson, Oswego, Ill., 37
6, Shota Kawazoe, Japan, 35
7, Dick Allen, Columbia, S.C., 34
8, Sean Rash, Montgomery, Ill., 29
9, Tom Daugherty, Riverview, Fla., 28
10, Francois Lavoie, Canada, 27
11 (tie), Kyle Troup, Taylorsville, N.C.; Tommy Jones, Simpsonville, S.C., and Ryan Ciminelli, Cheektowaga, N.Y., 26
14 (tie), Anthony Simonsen, Austin, Texas, and Ildemaro Ruiz, Venezuela, 25
16, Chris Barnes, Double Oak, Texas, 24
17, Rhino Page, Orlando, Fla., 19
18 (tie), Jakob Butturff, Tempe, Ariz., and Stuart Williams, England, 18
20 (tie), Jason Sterner, Rockledge, Fla.; Wes Malott, Pflugerville, Texas, and Shawn Maldonado, Houston, 17
23, Craig Nidiffer, Trenton, Mich., 15
24, Chris Loschetter, Avon, Ohio, 14
25 (tie), Sean Lavery-Spahr, Pasadena, Texas; BJ Moore III, Greensburg, Pa., and Chris Spoo, Boynton Beach, Fla., 13
28 (tie), Kris Koeltzow, Wheat Ridge, Colo.; Bill O'Neill, Langhorne, Pa., and Walter Ray Williams Jr., Oxford, Fla., 12
31, Jeff Piroozshad, Coral Springs, Fla., 11
32 (tie), Anthony Lavery-Spahr, Pasadena, Texas; Cristian Azcona, Puerto Rico, and Ryan Lakota, Shorewood, Ill., 9
35, Trevor Roberts, Crystal River, Fla., 8
36, Jeff Evans, Supply, N.C., 7
37, Dino Castillo, Highland Village, Texas, 6
38 (tie), Sam Cooley, Australia; Zeke Bayt, Westerville, Ohio; Isaac Kim, Lebanon, Pa., and Michael Azcarate, Coral Springs, Fla., 5
42 (tie), Markus Jansson, Sweden, and DJ Archer, Friendswood, Texas, 4
44 (tie), Arturo Quintero, Mexico, and Scott Newell, Deland, Fla., 3
46 (tie), Brad Miller, Maryland Heights, Mo., and Michael Schlabach, Goshen, Ind., 2
48 (tie), Kris Prather, Plainfield, Ill.; Connor Pickford, Plano, Texas, and Darren Tang, San Francisco, 1