Worlds Collide: How a World Cup loaded with sublots unfolded Down Under
January 14, 2023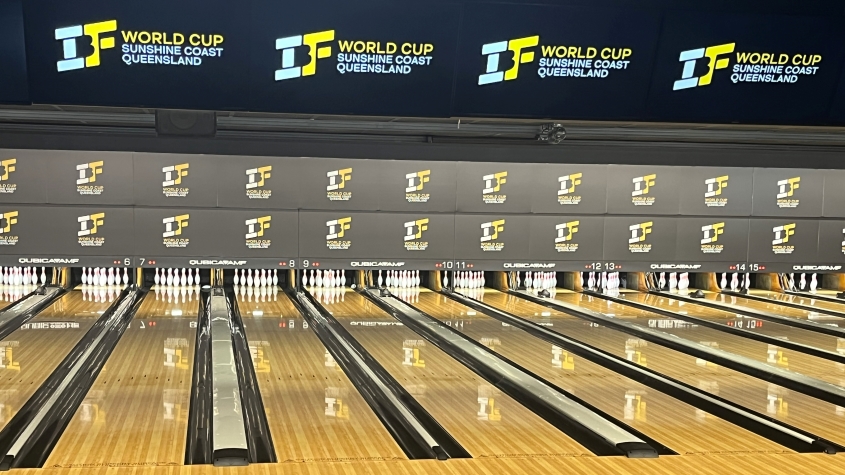 The 2022 International Bowling Federation World Cup saw a spirited group of Australian fans root on their homeland hero in Jason Belmonte at Sunshine Coast in Queensland, Australia, and he certainly put on the show they hoped to see. But among the 14 nations to compete in the event, held Nov. 12-23, it was impossible to overlook the squad from neighboring New Zealand.
The Kiwis were loud, proud and energetic from the moment competition began at the reconfigured event, which traditionally has been an individual competition but this year featured both singles and Baker team action along with a new points system.
That team dynamic, which IBF brought about to emphasize "teamwork with skill, endurance, knowledge and strategy," proved to be just the ticket for the charismatic bunch from next door.
Spectators in every corner of the bowling center could always tell when New Zealand's imposing right-hander Blake Brooks was on the lanes for men's competition.
Not only was Brooks clearly one of the most physically imposing bowlers in the men's field at well over six-feet tall and more than 250 pounds, he had the game and energy to match.
During the two weeks of tournament action, it was impossible to keep track of how many times a 20-plus miles-per-hour thunderous Brooks strike was immediately followed up by an excited roar and/or an ear-splitting slap of his massive hands as the final pins fell.
Each time they did, the excited New Zealanders would erupt in support, making it sound as if their man had just put the finishing touches on a perfect game even if his actual score was well short of that mark.
When all was said and done, Brooks came up empty in his quest for a medal at the 2022 IBF World Cup — he was eliminated by Sweden's Jesper Svensson in the Men's Singles Round of 32, and the New Zealand men failed to advance into the Men's Baker quarterfinals — but you would never have known it based on the energy he displayed and the love shown for him by the Kiwi supporters.
"All of our sports in New Zealand have that kind of support from the fans, and it's incredible; we thrive off it," Brooks said. "The support that we get as bowlers is crazy, and we really enjoy it."
The love and support of adoring fans is definitely something every athlete wants, but one vital component that elite-level athletes need is monetary support. Otherwise, it's simply impossible to travel the world trying to turn their competitive dreams into reality.
Sadly, that type of support can be much tougher to come by.
While some countries pay their national team players yearly salaries or at least cover all of their competition-related expenses (training, airfare, lodging, meals, etc.), bowlers from Team New Zealand are forced to pay out of pocket, fundraise or find personal sponsors to help cover the costs of their international endeavors.
It's a reality that Team New Zealand bowlers — and those from many other nations — have been facing for many years, and it's something that Brooks' teammate Sarah Young isn't quite sure how to change.
"As great as our fans are, one of the biggest struggles we face is the country we live in because many people back home view tenpin bowling as a hobby or game instead of an actual sport," Young said. "They look at it as an extracurricular activity, and that grinds my gears because we work so hard and invest our entire lives into it."
Young certainly has. Not only has she represented Team New Zealand on the lanes for the last 13 years, but she has also worked in the bowling industry during that time as manager of Pins Lincoln bowling center in West Auckland since 2011.
Young's position has afforded her some free practice over the years, which she appreciates. However, she was quick to point out that the challenges of being an international competitor have far outweighed the fringe benefits.
"I'm lucky enough to work in the industry, and with that comes some perks, but the perks don't go as far as getting overseas or anything as significant as that," Young said. "When it comes to being an international player, nothing comes easy because we live in New Zealand."
To be clear, Young was not expressing those feelings out of any desire to speak ill of her country or its national team; on the contrary, several times, she pointed out how much she has enjoyed being able to represent New Zealand over the years.
Still, she wants to see the situation improve for the players and coaches who get to follow in her footsteps and share the honor of representing Team New Zealand in the years to come.
According to Young, while being able to travel the globe in order to challenge elite-level competition in world-level tournaments (as many other teams do) is the desired end goal, simply getting over to Australia for events like the 2022 IBF World Cup will be a valuable early step in that process.
"We came to the world cup thinking that we had a handle on our nerves and how to deal with pressure situations, but, for a lot of us, that went out the window once we stepped up onto the approach," Young said. "The only way to really train for tournaments like this is to be out there bowling and getting the experience, and to get the experience, we're going to have to spend the money and travel to events.
"It would be great to have the support to travel the world to compete, but we could get a lot of incredible experience just by bowling in Australia like we did here. Australia has a lot of amazing talent, and that would push us to our limits."
Following the Footsteps of Giants
Although Young would be happy just to have more opportunities to cut her teeth Down Under, two members of New Zealand's men's team have their sights set a bit further when it comes to testing their limits. They want to follow in the footsteps of talented players like Belmonte and Svensson and take their talents all the way to America.
The two young, talented Kiwis in question are 18-year-old Ryan Julian and 15-year-old Ben Pettit.
Neither advanced out of Men's Singles qualifying at this year's world cup, but both demonstrated poise and shot-making skill that had more than a few bowlers and coaches from opposing teams taking notice.
Prior to the 2022 IBF World Cup, Julian had just finished up his first year of collegiate coursework at Auckland University of Technology, where he was studying exercise science.
He planned to leave his home in New Zealand and transfer to Mount Mercy University after the New Year in the hopes of further honing his academic and bowling skills and moving one step closer to realizing his dream of competing on the PBA Tour.
When Julian was asked to name some of the bowlers who have inspired him to take a shot at the pros, he didn't immediately name Belmonte, Svensson or any of the other talented international bowlers who have enjoyed success in the PBA.
Instead, the first name he uttered was that of an American legend.
"I remember when I was growing up, I was always looking at Norm Duke," Julian said. "I didn't know much about bowling in terms of rev rates and things like that, but he seemed like such a nice guy, and he was so good that I just remember watching him all the time and thinking that I wanted to be out there like him some day."
As most bowling fans know, Duke burst onto the professional scene at a very young age, winning his first PBA Tour title when he was just 18 years old.
Julian's Team New Zealand teammate Ben Pettit also knows what it's like to be on the big stage before turning 21.
At just 15 years old, Pettit was the youngest men's competitor at the 2022 IBF World Cup, which was his first tournament as a member of New Zealand's adult national team.
That did not, however, mean that Pettit was just happy to be competing in Queensland; as New Zealand's top-ranked men's player coming into the event, he expected to contribute just as much or more than competitors more than twice his age.
Although that didn't shake out in the final standings, Pettit was certain that the experience will benefit him and his teammates down the road.
"Unfortunately, we didn't get the results that we wanted here, but I think New Zealand is starting to get to the level where we can compete," Pettit said. "I think that we're on track to get to that level, and with so many of us being young, I think that we've got a bright future ahead of us."
Like Julian, Pettit hopes that a PBA Tour career is in his future. Getting to bowl against the likes of Belmonte, Svensson, Prather and several other successful pros during the world cup was something Pettit enjoyed very much.
"It was really eye-opening to get to bowl against those guys because it shows you how good they really are," Pettit said. "Still, win or lose, meeting people I've looked up to, getting to bowl against them, beating some of them, it was really cool."
Cool is a great word to describe Pettit, who displayed a level of composure and maturity far beyond his years both during competition and when discussing what the 2022 IBF World Cup meant to him.
That being the case, it wasn't surprising to hear that Pettit already has a very clear picture of where he wants to go as he continues the transition into adulthood.
"After I finish high school in New Zealand in three years, my goal is to go to college in America. There's a couple schools that I'm looking at now (Mount Mercy and Wichita State), and we're hoping to take a trip there to visit some schools and meet with some coaches next year," Pettit said. "I'd love to bowl for a school like that and then eventually try to make it on the pro tour.
"I'd kind of like to do it like Belmo does, how he comes back and bowls for Australia now. I'd like to bowl on the PBA Tour but still come back to bowl for New Zealand as well because that's my favorite thing to do."
Belmo's Homecoming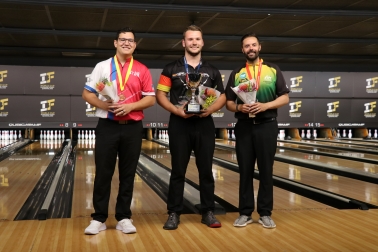 It was one thing for neighboring New Zealand to see some of its most talented players dip their toes in the waters of international competition; it was another to see the sport's biggest star compete on the World Cup's global stage in his home country.
That unique scenario yielded pressures that Jason Belmonte openly acknowledged.
"As an individual, you're bowling for yourself, so, win or lose, it's for you. When the name on the back of your shirt is the name of your country, it's for us, all of us," Belmonte said. "When you're wearing your nation's colors and you win, you feel like you did it for everyone, and when you lose, you feel like you've lost it for everyone."
As far and away the most-decorated player on the Australian team, Bemonte faced additional pressure to perform. That's because he didn't always have the luxury of just focusing on winning. At times, he had to worry about entertaining the home fans while doing so.
That factor came into play during Game 2 of his semifinal match versus Team USA's Kris Prather.
Belmonte put the outcome of the game out of question early, starting with the front seven to establish a 67-pin lead after seven frames.
With the match-tying victory already secured, the prudent strategy would've been for Belmonte to use the final three frames to experiment with different bowling balls and angles of attack to ensure that he was properly dialed in heading into the deciding game.
Nevertheless, the home crowd wanted to see their superstar make a run at 300, and Belmonte knew it.
"All tournament long, when someone had a really good game, quite often, the next game was really low, so a part of me wanted to move in order to preserve that part of the lane for the final game," Belmonte said. "But when you look back and hear the crowd saying 'C'mon, give us one more,' you don't want to disappoint them. Because of that, I figured I'd stay there until I missed, but I never did; the ball just kept striking."
Belmonte did plenty of striking during the Men's Baker Team competition as well, and that was one of the factors that allowed him and teammates Sam Cooley, Adam Hayes and Jarrod Langford to bring a bronze medal home to Australia.
Team USA's quartet of Jakob Butturff, A.J. Johnson, Prather and Kyle Troup secured the gold. Puerto Rico walked away with silver.
Given all the places he's been and titles he's won during his legendary bowling career, some might have expected Belmonte to be disappointed by having left the 2022 IBF World Cup with a Men's Singles silver and a Baker Team bronze.
However, that couldn't have been further from the truth. On the contrary, Belmonte will look back on this year's world cup with several fond memories.
"Whether it's here at home or abroad, it's always special to wear the Australian jersey, but the difference about this world cup was that my teammates and I got to share it with other Aussies," Belmonte said. "It was a lot of fun having the home fans behind us and knowing that there were more people in the building who wanted each ball we threw to strike than not to strike.
"We were super honored and super proud to get to host such a prestigious event, and to perform well as a team, to throw a few strikes in front of our family and friends and to get to share this with everyone is something I know what we'll all cherish for the rest of our days."
That level of pride was on display throughout the world cup as players, coaches and fans from all competing nations were clearly honored to be at Suncity Tenpin Bowl representing their countries on the lanes.
Johnson's Swan Song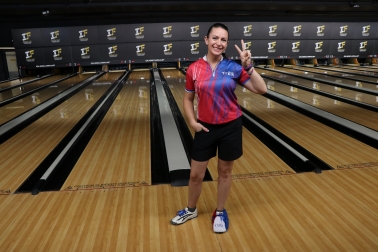 Team USA's Stefanie Johnson of McKinney, Texas, has definitely done her fair share of celebrating on the international stage.
After all, the 38-year-old right-hander came to the 2022 IBF World cup having already won 27 medals in international competition — 14 gold, eight silver and five bronze — during a Team USA career that spanned the better part of two decades.
Despite still being highly competitive as a member of the Professional Women's Bowling Association Tour, Johnson decided to make this year's world cup her last international competition in one of the event's many intriguing subplots.
"I have two kids who aren't getting any younger, so it felt like the right time to hang up my hat and put the Team USA jersey away," Johnson said. "Plus, Shannon [O'Keefe] and I started this journey together in 2005, and we always talked about ending it together as well."
O'Keefe, author of a similarly decorated Team USA résumé and a fellow superstar on the PWBA Tour, retired from international competition at the conclusion of the 2022 PANAM Bowling Champion of Champions in Rio de Janeiro back in August.
Not only did retiring from Team USA give Johnson the opportunity to exit the international stage hand-in-hand with her best friend, but it also creates an opportunity for another young woman to step up and take a shot at making her own Team USA dreams come true.
"By stepping away, I'm giving a gift to someone else because now that person will get to experience the thrill of bowling for their country and get to do everything that I've gotten to do while representing the red, white and blue," Johnson said.
Naturally, Johnson was hoping to reach the podium at least one more time during her Team USA swan song.
Unfortunately, that just wasn't meant to be.
Johnson's run at an individual medal ended when she was defeated 2-1 (181-203; 210 (49)-230 (39); 190-201) by Australia's Chloe Clague in the Women's Singles Round of 16.
Three days later, the Team USA women fell to Germany 3-2 (158-223; 186-201; 211-185; 221-178; 207-237) in the Women's Baker Team semifinals and then to Malaysia 3-2 (204-226; 182-219; 226-192; 248-220; 228-235) in the battle for the bronze to officially end Johnson's bid to leave her last international event with a medal.
The Germans would end up settling for the silver medal as Sweden took gold thanks to a 3-1 win (215-160; 192-162; 212-229; 237-202) in the Women's Team finals.
Although it would have been understandable for Johnson to feel a bit disappointed by the final outcome, that wasn't the feeling she described when reflecting upon this year's world cup.
"I think it's easy to make the mistake of getting too focused on the results or getting caught up in the prestige of international events, but at the end of the day, it's still just bowling," Johnson said. "I was just so thankful to be there and for the opportunity to represent my country. I really just approached the entire event with that mindset.
"I didn't go out there trying extra hard or trying any less than I normally would have; I just bowled. Nothing that happened at the world cup defines my Team USA career."
Coté Picks up the Torch


As Johnson's storied international career was coming to an end, teammate Bryanna Coté authored a performance that may eventually stand out as one of the defining moments of her own Team USA journey.
The 36-year-old right-hander from Tucson, Arizona, certainly made the most of her first opportunity to compete at a world-level event, going 13-2 during three five-match blocks of Women's Singles qualifying and then going 4-0 in the elimination round to capture the gold medal.
Winning was certainly nothing new for Coté, who had medaled 23 times (11 gold) in international competition prior to the 2022 IBF World Cup.
Nevertheless, standing atop the podium at such a prestigious event is the type of achievement that just may elevate Coté's Team USA résumé from the ranks of the very good to the legendary status enjoyed by the likes of Johnson, O'Keefe and several other all-time greats.
Only time will tell whether or not Coté's gold medal performance will serve as that type of springboard.
Nevertheless, she wasn't looking ahead to the future; she was too busy enjoying the thrill of the moment.
"When I realized I had won, pure joy washed over me; it felt amazing," Coté said. "I'm just grateful to have had the opportunity and so thankful for my coaches and teammates. I had a great support system; I couldn't have done it without them."
Coté earned the win by defeating Singapore's Hui Fen New 2-0 (194-186; 226-201) in the gold medal match. That left New to settle for the silver medal. Birgit Noreiks of Germany, the 2022 USBC Queens champion, earned bronze.
The Pro Tour Vibe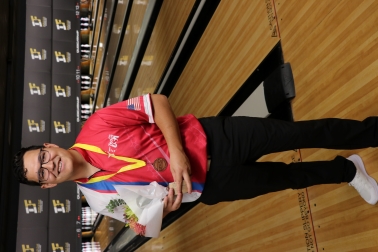 Battling fellow PWBA or PBA players for medals during international competition may seem like old hat to the casual observer. After all, many of those players square off on a weekly basis during professional events.
Nevertheless, as multiple players attested to, there is just something different about going up against the best while representing your country.
PBA superstars Jason Belmonte and Kris Prather found that out first hand when they were matched up during the Men's Singles semifinals.
Both players came in having already proven themselves more than capable of handling pressure situations as both have won multiple majors and are consistent figures in the TV finals of multiple tour events each season.
Still, that didn't stop the nerves from creeping in during their much-anticipated world-cup singles battle.
"The magnitude of the match against Belmo was definitely higher because I wasn't just representing myself; I was representing Team USA," Prather said. "It felt like I was bowling against the whole continent of Australia during that match."
Sadly for Prather, the Australian fans got the outcome they were rooting for as Belmonte won the match 2-1 (199-224; 300-210; 212-204) to earn a shot at the gold medal while forcing Prather to settle for a chance at bronze.
Prather would make the most of that chance by defeating Malaysia's Timmy Tan 2-0 (288-279; 215-206) to bring home the bronze medal.
Belmonte would finish with silver after falling to Germany's Paul Purps, who topped the Australian superstar 2-1 (157-269; 189 (59) -189 (49); 223-218) to take gold.
Pride and Privilege
As Belmonte said, wins and losses in an event like the World Cup come with stakes far beyond individual interests, and that perspective permeated all facets of competition at the 2022 IBF World Cup.
That's because even though only a very small percentage of competitors walked away with medals, all bowlers, coaches and fans showed their national pride from beginning to end.
They also demonstrated the single greatest thing about bowling, which is that it brings us all together.
No matter where you come from, what country you represent (or cheer for) or what skill level you're at, at the end of the day, we're all bowlers. No matter what space you occupy in the bowling world, when you're with other bowlers, you're always among friends.