Yes, Spares Still Matter
March 05, 2019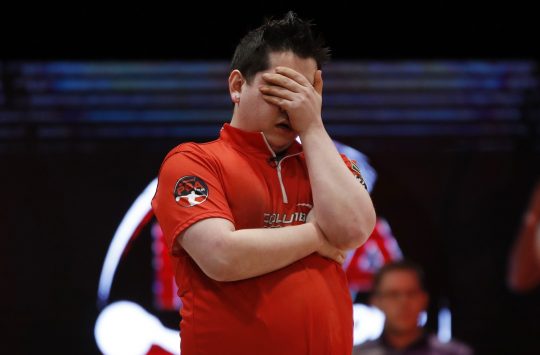 BY LYLE ZIKES
You may recall the days when John Jowdy, the well-known bowling coach, instructional writer and original PBA Tour ball rep, developed a clever way to chide PBA bowlers whose skills proved lacking when required to finish a frame with a second shot. He put them on his "All MISS" team: Miserable in Spare Situations.
Through the 1990s, Jowdy periodically updated his MISS teams in columns that appeared in many local bowling papers that, unfortunately, are now buried in mostly non-electronically retrievable archives. Even if it's now challenging to compile a comprehensive list, the names most assuredly and frequently associated with Jowdy's MISS teams included Jimmy Keeth, Bob Vespi, Kelly Coffman, Alan Bishop and Eugene McCune.
It should be pointed out that Jowdy would not call into question an individual's spare shooting competence if that player had not experienced some success on Tour. All of his targets had proven their ability to string strikes and had made it to the stepladder finals on occasion.
McCune, for one, took exception to Jowdy's evaluation. Based on the length of his career, the three titles he would later win — as well as a PBA50 victory in his first effort on that Tour last summer — it's fair to surmise either McCune's spare shooting improved or, as he contends, he didn't belong on the list to begin with.
Spare shooting was at the heart of the final-frame lunacy that concluded the PBA Lubbock Sports Open telecast.
Before he passed away in 2013 at the age of 93, Jowdy actually declared victory in his quest to make sure anyone with higher bowling aspirations took their spare shooting seriously. In a Bowlers Journal article shortly after publishing the first edition of his book, "Bowling Execution," the Texas native said he stopped compiling the MISS team because he wasn't finding flagrantly bad spare shooting among contending players anymore.
"They've all learned to back their hand out of the ball, use a plastic ball and do what they needed to make it go straight," explained Jowdy, a Meritorious Service member of both the PBA and USBC Halls of Fame.
Indeed, the strategy of using one ball and perfecting one release for all shots has long past. Since you don't see serious bowlers trying to convert a 10-pin with reactive balls and a sweeping hook anymore, it shows that while the tactics have changed, some portion of the sport's tradition has held. Spares still matter.
Many would say Jakob Butturff cost himself the title in the season-opening Hall of Fame Classic by missing two of the four spares he had to shoot. The lefty's spare shooting didn't get any better a week later when he succeeded in winning the Oklahoma Open despite again flagging a 7-pin. Since it was the only spare he shot at, the subsequent nine-bagger more covered up for that faux pas.
Missed spares also were factors when Butturff wasn't involved. The Mark Roth/Marshall Holman Doubles Championship, the season's third event, hit a turning point in the 8th frame of the title game when Brad Miller whiffed a 4-pin, allowing Matt Ogle and Sean Rash to take a lead they never relinquished.
That preceded some final-frame lunacy in Lubbock, Texas, where Rash's spare ball encountered nothing but air going through the pin deck at 20-plus miles per hour on a shot intended to hit the 10-pin. Instead of claiming back-to-back titles, Rash gave his opponent a chance to steal the Lubbock Sports Open title, and Dick Allen recorded a double and eight-count (with some generosity from the pin gods) for a 201-200 victory.
As Norm Duke said more recently following his win in the PBA Jonesboro Open, his second PBA Tour title in as many weeks at age 54, "I love the fact that I didn't have any open frames. Spares win titles."
Indeed, they do. Every bit as much now as in Jowdy's day.
Lyle Zikes's "Pro Bowling Insider" column runs each month in Bowlers Journal International. To subscribe now for much more of the industry's best coverage of bowling news and incisive instructional tips and analysis, go here: /bowlers-journal-subscriptions/