Young standouts taking slow and steady approach to bowling journey
March 03, 2021
ARLINGTON, Texas -
Youth bowlers are the future of the sport of bowling and have more opportunities than ever to hone and test their skills on the lanes.
For young female competitors, the relaunching of the
Professional Women's Bowling Association
Tour in 2015 gave some the opportunity to redirect their career trajectories, while the youngest of the rising stars found a new group of role models and some unexpected dreams to chase.
Among the latter was Jillian Martin of Stow, Ohio, and Victoria Varano of Stony Point, New York, who both turned 11 years old the year the PWBA Tour returned and have spent much of their time since in the national spotlight, working toward becoming the leaders of the next generation of PWBA standouts.
By the time they are regulars on the PWBA Tour, both will be seasoned veterans under the TV lights and in handling the most pressure-packed situations.
The two 16-year-old right-handers recently faced off in the girls title match of the inaugural
Professional Bowlers Association Junior National Championship
, and while we can't tell you who won the $7,500 (SMART scholarship) top prize just yet, be assured it was a memorable experience for both bowlers and likely won't be the last time the two compete for such high stakes.
The boys and girls final matches will air on Fox Sports 1 (FS1) on March 7 at noon Eastern as part of the extensive 2021
PBA Tour
television schedule. The boys match will feature Junior Team USA member Spencer Robarge of Springfield, Missouri, against Nate Purches of Marlborough, Massachusetts.
The four finalists were among 20 youth bowlers who advanced to the national portion of the special event, which started in September with regional qualifying.
The 10 boys and 10 girls bowled 10 games of round-robin match play Feb. 20 on the 39-foot Mike Aulby pattern, before total pinfall, including 30 bonus pins for each victory along the way, determined the five boys and five girls for their respective stepladder finals.
The first three stepladder matches in each division took place live on FloBowling and set the stage for the FS1 matches, where Varano and Robarge were waiting as the No. 1 seeds.
When Varano entered the TV set for the PBA Junior National Championship final, she was able to draw on her experience from the CBS Sports Network-televised championship round of the 2019
Junior Gold Championships
, where she finished third in the girls U15 division. She fell to Annalise OBryant of Ball Ground, Georgia, who went on to win the event for the second consecutive year.
"It was a lot of fun being out there again for the PBA event, since it had been a long time since I'd bowled in anything like it," Varano said. "It was a unique format and a really talented field, and it definitely tested my physical and mental games at a high level. I wasn't as nervous this time, and I was able to stay calm by using the things I learned the last time I was on TV. I've also been able to learn a lot from Danielle's (McEwan) past experiences."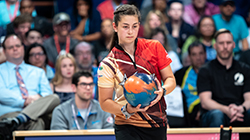 Varano, the younger sister of longtime
Team USA
member and five-time PWBA Tour champion Danielle McEwan, has been a solid performer at Junior Gold since debuting in 2016, slowly progressing through the age ranks, while collecting back-to-back seventh-place finishes in the U12 category in 2016 and 2017 and a ninth-place finish in her U15 debut in 2018.
She is prepared to continue taking her time with her bowling career, having only recently committed herself to the sport full-time, after splitting her attention between bowling and softball. As she follows in her sister's footsteps, Varano is excited about the idea of collegiate bowling, the whole college experience and securing a degree in business and/or marketing.
"I'm excited about bowling in college, and I know the extra coaching there will help me become a stronger player for when I am ready to join the PWBA Tour," Varano said. "I also like the idea of going one step at a time because you never know what can happen in the future. I want to enjoy the process and be as prepared as possible for bowling or any other career."
The PBA youth event was a continuation of an already successful 2021 for Martin, which includes recently giving bowling fans and PWBA Tour competitors a look into the future.
While she also is focused on following the competitive progression that has been established for aspiring bowlers, she has taken advantage of rules that allow her to experience top-tier adult singles competition, while continuing to collect scholarship money for college.
Martin was one of 36 bowlers who ventured to the International Training and Research Center in Arlington, Texas, in January for the season-opening PWBA Kickoff Classic Series, a four-event bonanza that marked the national return of professional women's bowling for the first time since September 2019.
Against some of the best women in the world, representing 10 countries, Martin held her own, finishing eighth, second and third at the PWBA Bowlers Journal Classic, PWBA ITRC Classic and PWBA Hall of Fame Classic, respectively.
She bowled 70 games across the three events and three oil patterns and even tossed the highest game of the entire Kickoff Classic Series, a 299 effort during the match-play portion of the Bowlers Journal Classic. Her bid for her first USBC-certified 300, live on BowlTV, ended with a 4 pin on her final shot.
Though she did not end up becoming the youngest bowler to win a PWBA Tour event, she learned a lot, proved even more and left with an elevated confidence that will help her achieve future goals.
"Going into the PWBA event, I was pretty nervous, so I had to do some visualization and mental exercises to help me feel more prepared," Martin said. "I learned about keeping my composure and not letting things get to me. Walking out, I was definitely happy with my performance overall. Finishing second will always hurt, but I was proud to be able to bounce back the next day and perform well again. Usually, there's more time between events, so to come back and put myself in position again was special for me."
Like Varano, Martin also has found success against other youth bowlers at the Junior Gold Championships, and she recently opted to test herself against a higher age bracket.
In 2019, she chose to compete in the U20 division, where she would be eligible for a spot on
Junior Team USA
at age 14, and the risk paid off. She led the field through 26 games to lock up a spot on the team and went on to finish tied for ninth place after exiting the double-elimination 16-player bracket.
"Bowling in the higher division was a hard decision for me and one that involved my family and my coach," Martin said. "We had gone to the Team USA Trials, and even though I was lower on the list for making Junior Team USA, I knew I was good enough. Then, it was just about going out and doing what I knew I could do and overcoming the pressure and mental challenges."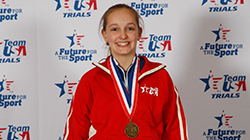 Another age-based series of events that have given both Varano and Martin the chance to reach the national spotlight is the Storm Youth Championships, held at a variety of locations across the country each year. Martin now owns seven SYC titles, while Varano has found the winner's circle one time and rolled a perfect game in SYC competition.
Outside of the plethora of national events, Varano is a star for North Rockland High School in Thiells, New York, and helped the Red Raiders to a team state title during the 2018-2019 season.
Martin has stepped away from competing at Stow-Munroe Falls High School, where she won the Division I individual state bowling title as a freshman in 2019, but she remains focused on her academic success, and her bowling calendar will continue to include a variety of tournaments, from SYC events to the Elite Youth Tour to the U.S. Women's Open.
The Bowling.com Youth Open Championships and Teen Masters winner is hoping to bowl collegiately before taking to the PWBA Tour full-time, though she's not yet sure what her college major will be. As far as which school she'll select, she has her list narrowed to seven options that would be great for both bowling and academics.
McEwan is a huge supporter of the collegiate path, though her competitive outlook coming out of high school was a little different.
After graduating from Fairleigh Dickinson University, following a successful collegiate bowling career, she was ready for whatever challenges were required for her to be a professional bowler.
Without a professional bowling tour exclusively for women from late 2003 through 2014, the chance for women to bowl for a living was exponentially more challenging than in decades past, and most certainly would mean having to face off against the world's best men in most events beyond college bowling. Luckily, McEwan only had to wait a few years before the women again had a platform of their own.
Now, unlike in her experience as an up-and-coming star, there's a PWBA Tour waiting for Varano, Martin and their talented peers when the time is right.
When they get there, McEwan will be ready.
So far, she has spent much of her own career with one eye on the greats, such as Liz Johnson, Kelly Kulick and Shannon O'Keefe, and working to keep up with them. The other eye now will be on next generation headed right for her, with so much experience and momentum.
"It has been so cool to see Victoria start taking bowling so seriously and progress as quickly as she has since making that decision," said McEwan, who has two additional bowling siblings, Nick, 18, and Gianna, 13. "I really enjoy watching her and helping her at the different events. I was familiar with Jillian from some of those tournaments, too, and seeing her perform the way she did at the Kickoff event was a huge statement. Looking at my own career, I wasn't anywhere near that level when I was their age, so getting to see their success and progress so young is something."