Zavjalova collects second tiara at 2017 USBC Queens
May 23, 2017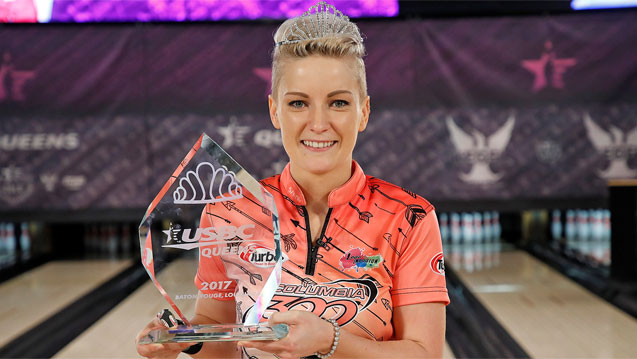 BATON ROUGE, La. -
Latvia's Diana Zavjalova claimed her second
United States Bowling Congress Queens
title Tuesday, defeating USBC Hall of Famer Liz Johnson of Deerfield, Illinois, in the title match, 247-216.
Zavjalova, the 2013 Queens champion, is the 10th player to capture multiple wins at the event as she averaged more than 251 for her two games at the Raising Cane's River Center. The stepladder finals of the 2017 Queens aired on CBS Sports Network on Tuesday and will re-air Thursday, May 25 at 7 p.m. Eastern.
The 25-year-old right-hander started the title tilt with Johnson, also a two-time Queens champion, with five consecutive strikes, gaining the early advantage as Johnson opened in two of her first five frames.
After missing a 10 pin in the fifth frame, Johnson rolled four consecutive strikes to force Zavjalova to mark for the win. Zavjalova delivered a strike to seal the victory and $20,000 top prize.
"I've bowled really well on TV in the past and really just wanted to have fun while I was out there," said Zavjalova, who claimed her second Professional Women's Bowling Association Tour title with the win. "I wanted to have fun no matter what, and I just happened to have amazing ball reaction and struck a lot. It definitely boosted my confidence getting out to a strong start, and I tried not to pay attention to anything but me."
Zavjalova consistently has been near the top of the standings each week since the PWBA Tour relaunched in 2015, including a win at the 2015 PWBA Minnesota Open.
However, that consistency did not translate into championship-round appearances for Zavjalova during the 2016 season, despite making match play 11 times, which tied for second overall.
Zavjalova experienced a similar start to the 2017 season at the QubicaAMF Sonoma County Open, falling one spot short of making the championship round, finishing in fifth place.
She broke through the following week at the PWBA Storm Sacramento Open, earning the No. 3 seed for the stepladder finals. The finals of the Sacramento Open will air on CBS Sports Network on June 13 at 8 p.m. Eastern.
"It almost took a year to get over what happened last season," Zavjalova said. "I bowled so well but didn't make a single show. It was heartbreaking to start the season the same way, but I knew once I made a show and got the monkey off my back, I would make more and have the chance to get back in the winner's circle. Every single win is sweet and awesome and special in its own way, but this one is sweeter because of last season."
Zavjalova struck nine times in her semifinal win against Singapore's Cherie Tan, winning 256-179. Tan finished in third place.
Cherie Tan converted a 10 pin in the final frame of the second stepladder match to defeat teammate Jazreel Tan of Singapore, 214-203. Jazreel Tan held the early lead after striking on five of her first six offerings, but she left back-to-back splits in the seventh and eighth frames. Jazreel Tan finished fourth.
The opening match of the stepladder included a near-perfect performance from Cherie Tan as she started with 10 consecutive strikes on her way to 289-210 victory over Marissa Thomas of Louisville, Kentucky. Thomas, who made her Queens debut this year, finished fifth.
A total of 162 players bowled 15 games of qualifying over three days to determine the 63 players who joined defending champion Bernice Lim of Singapore in the double-elimination match-play bracket.