Zavjalova goes 8-0 to start match play; Noreiks still leads U.S. Women's Open
June 18, 2023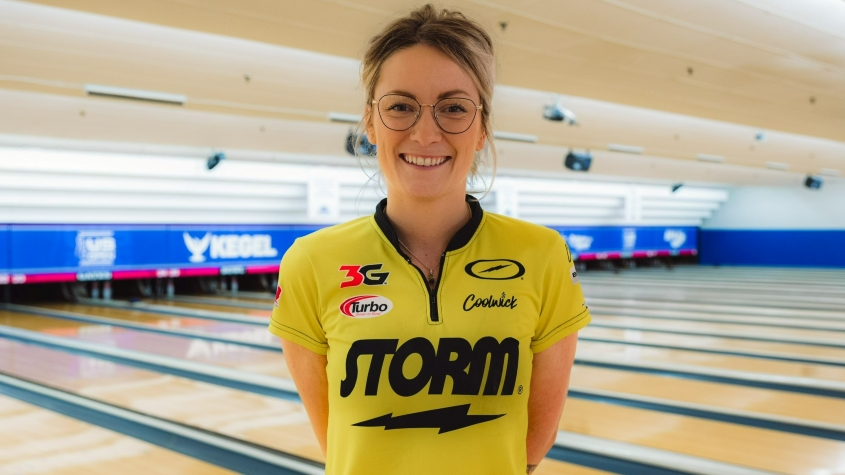 FULL STANDINGS

GATES, N.Y.
– With one round of match play completed, Germany's Birgit Noreiks still holds the overall lead at the 2023 U.S. Women's Open.
Noreiks went 4-4 during the first eight-game block of round-robin matches at ABC Gates Bowl on Sunday night to remain atop the standings with a 40-game total of 8,605, which includes 30 bonus pins for each match victory.
Just 13 pins back is Colombia's Clara Guerrero, who went 7-1 to finish with an 8,592 total. Bryanna Coté of Tucson, Arizona (8,530), Latvia's Diana Zavjalova (8,468), and Shannon O'Keefe of Shiloh, Illinois (8,456), round out the top five.
Although many strong performances were authored on Sunday night, Zavjalova turned in the best effort, going a perfect 8-0 during the first round of matches to move from 10th place after Round 4 all the way up to fourth with two eight-game blocks remaining.
Those two rounds of matches will take place on Monday at 10 a.m. Eastern and 5 p.m. Eastern.
Thirty bonus pins are awarded for each win in match play, and the 56-game pinfall totals, including bonus pins, will determine the five players for the championship stepladder.
The winner will take home the iconic U.S. Women's Open trophy, coveted green jacket and $60,000 top prize.
All rounds of qualifying and match play are being broadcast live at BowlTV.com through Monday night, and the event will conclude live Tuesday on CBS Sports Network at 7 p.m. Eastern.
Sunday's action began in the morning with 36 players taking to the lanes for the fourth and final round of qualifying, which was contested on a challenging 41-foot oil pattern that will be used throughout all remaining stages of competition.
The top 24 players after Round 4 advanced to match play and were seeded based on their 32-game pinfall totals.
Zavjalova and Guerrero were not the only athletes to post outstanding match-play marks Sunday night; three-time U.S. Women's Open champion Kelly Kulick of Union, New Jersey, and Coté both went 6-2 to pick up 180 valuable bonus pins and bolster their positions in the standings.
Six-time champion Liz Johnson of Niagara Falls, New York, started her round 5-1, but a pair of losses to finish slowed here momentum a bit and forced her to settle for a mark of 5-3; nevertheless, the veteran right-hander sits in eighth place just 49 pins behind the fifth and final qualifying spot for the stepladder finals with 16 games remaining.
Johnson and the other 18 players currently outside the top five will be looking to move their way up during the final two rounds; however, that task certainly won't be easy as big games are hard to come by on such a demanding oil pattern.
Despite posting an undefeated record on Sunday night, Zavjalova knows as well as anyone how difficult that pattern truly is.
"This is probably one of the hardest patterns I've ever bowled on," Zavjalova said. "You just can't miss. The amount of 2-10 combinations I've seen all of us leave, even on good shots, is unbelievable. If you miss left, it goes through the face, and if you miss a quarter board to the right, it's a 2-10 combination. It's just hard."
That fact makes Zavjalova's ability to go unbeaten during an eight-game stretch of matches all the more impressive and all the more valuable in her pursuit of a spot in the stepladder finals.
After all, as any experienced U.S. Women's Open competitor will tell you, once match play begins, stacking victories and collecting bonus pins is the name of the game.
"The U.S. Open is such a long format, and with 24 games of match play, anything can happen because of all those bonus pins," Zavjalova said. "The key is always to win matches. I won all my matches tonight, and that's what moved me into the top five."
As a veteran bowler on the international stage and member of the Professional Women's Bowling Association Tour, Zavjalova has bowled countless rounds of match play during her decorated career; nevertheless, even she was a bit taken aback by Sunday night's 8-0 performance.
"I'm pretty sure that's the first time that I've ever gone undefeated in an eight-game block of matches like that," Zavjalova said. "I wish I knew why I was able to win so many games. I guess it was probably because I was very consistent, and I kept grinding."
That approach clearly paid off for Zavjalova on Sunday night, and she's hoping that the momentum will lead to more positive results during Monday's final two rounds.
"It feels really, really good to start match play off like this," Zavjalova said. "This morning, even though it was the same pattern, I didn't bowl very well at all, but I learned a lot from what I was doing wrong and what I wasn't doing right. I applied that for this evening's matches, and it paid off. Keeping that going will be the key for tomorrow."
For more information about the U.S. Women's Open,
click here
.