Belmonte leads; Butturff qualifies second at 2023 USBC Masters
March 30, 2023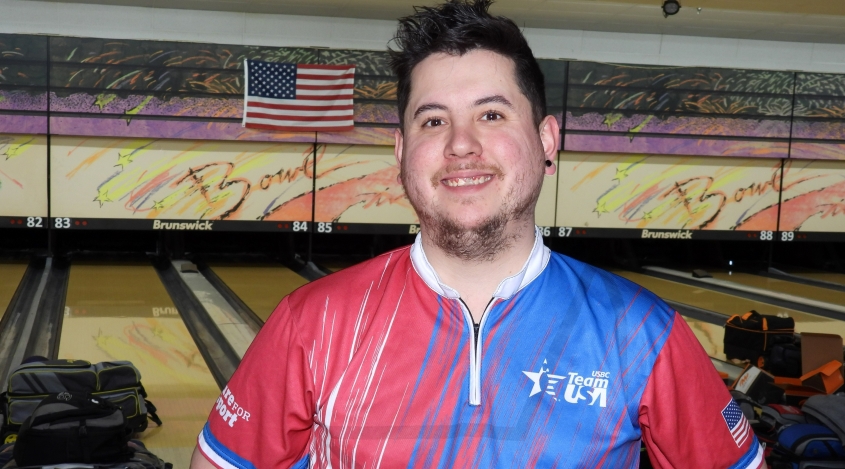 RESULTS

ALLEN PARK, Michigan –
Jason Belmonte of Australia has earned the top seed for the 64-player double-elimination bracket at the 2023 USBC Masters, a tournament that he has already won a record four times.
The 39-year-old two-hander rolled games of 279, 238, 225, 221 and 202 on Wednesday at Thunderbowl Lanes for an 1,165 set to lead qualifying with a 15-game total of 3,552, a 236.8 average.
Jakob Butturff of Tempe, Arizona, had a chance to go around Belmonte for the overall lead after starting Round 3 with games of 257, 254, 257 and 276.
It wasn't meant to be, however, as a tricky pair of lanes slowed Butturff's pace during the final game, forcing the 2019 Masters champion to settle for second place with a 3,531 total.
Marshall Kent of Yakima, Washington (3,414), Thomas Smallwood of Saginaw, Michigan (3,366), and Russ Oviatt of Sioux Falls, South Dakota (3,349), rounded out the top five.
Although Butturff would have liked to have taken over the lead, he was more than satisfied with Wednesday's performance and the position it puts him in heading into match play.
"Today was kind of like Monday where I got into cruise control and just sort of did my thing, and that allowed me to throw some really good games," Butturff said. "Obviously, you always want to be up at the top of the leaderboard, but in this format, all that really matters is getting into that bracket."
Butturff easily accomplished that goal as he didn't just qualify for the match-play bracket; he claimed the No. 2 seed.
Now, he hopes he can get on a roll and make a run at winning his second Masters title.
"I was struggling for a couple of weeks there, but now I'm feeling like I finally have my feet back underneath me," Butturff said. "This is a major that I've really had a lot of success in, so that should give me confidence going into match play. Hopefully, that leads to another Masters title for me."
All competitors in the 390-player field bowled 15 games of qualifying over three days, which included two blocks on the fresh 46-foot lane condition and one squad on the burn.
The top 63 players, based on total pinfall, advanced to match play, while Anthony Simonsen of Las Vegas was guaranteed a spot in the bracket as the defending champion.
As defending champion, Simonsen was guaranteed no worse than the 64th seed for match play. He improved his seeding through qualifying, however, finishing Wednesday's final round in 29th place with a 3,265 total. He will be the No. 29 seed heading into match play starting Thursday at 10 a.m. Eastern and face No. 36-seed Matt Russo of Fairview Heights, Illinois, in the opening round.
The final spot from qualifying went to Santtu Tahvanainen of Finland. Tahvanainen finished in 64th place with a 3,167 total (211.13 average) and will face Belmonte in Thursday's opening round.
Belmonte is the PBA's all-time leader in major titles with 15, the most recent of which came last Sunday when he defeated E.J. Tackett of Bluffton, Indiana, (246-179) to win the 2023 PBA Tournament of Champions at AMF Riviera Lanes in Fairlawn, Ohio.
The bracket at the 2023 Masters will feature six past champions, including Belmonte, Butturff and Simonsen.
The other previous winners to advance were Parker Bohn III of Jackson, New Jersey (2001), Tom Hess of Granger, Iowa (2011), and Sean Rash of Montgomery, Illinois (2007).
Qualifying and match play at the 2023 Masters remained consistent with previous editions of the event prior to the introduction of TV on March 31. The double-elimination bracket was retained, and all matches leading up to the final eight competitors will feature three-game total-pinfall contests.
However, once the Elimination Bracket is down to the final eight, television matches will start with four single-game matches replacing the final three-game head-to-head round and four-player shootout to determine the finalists for the stepladder. These matches will be broadcast live on FS1.
These TV matches will implement a knockout-style format with the winners of the first two games advancing to the finals of the Elimination Bracket. The advancers then will take on players who lost in the semifinals of the Winners Bracket with each winner earning a spot in the opening match of the stepladder on April 2.
The two players who emerge victorious from the semifinals of the Winners Bracket will earn automatic spots on the April 2 broadcast with a three-game total-pinfall match determining the top seed. This match will be broadcast at BowlTV.com.
With only four players advancing to the stepladder, the top seed will need to be defeated twice on FOX to be denied the title.
The stepladder at the 2023 event will be April 2 at 1 p.m. Eastern on FOX, with the champion taking home a spot in the tournament's storied history, a major title on the PBA Tour and the $100,000 top prize.
For more information on the USBC Masters, visit
BOWL.com/Masters
.