Belmonte makes history with back-to-back Masters titles
February 23, 2014
NORTH BRUNSWICK, N.J. - Australia's Jason Belmonte became the first bowler in nearly 50 years to successfully defend a United States Bowling Congress Masters title on Sunday as he defeated EJ Tackett of Huntington, Ind., 221-177.

Belmonte, the reigning Professional Bowlers Association Player of the Year, opened up a big lead early and eased to the title at Brunswick Zone Carolier. With the victory, Belmonte, who earned $50,000 for the win, is just the third player to successfully defend a Masters title, joining Billy Welu (1964 and 1965) and Dick Hoover (1956 and 1957).

"This tournament is so difficult to win," said Belmonte, who won his ninth career PBA title and his third major. "I always have high expectations for myself, but to go down in history as the third one and first in 50 years to win back-to-back is a huge honor."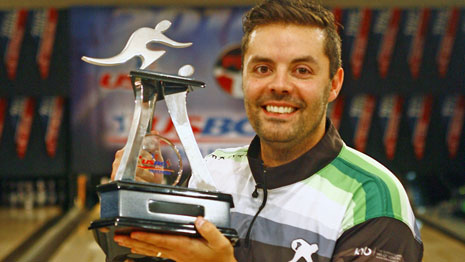 In the title match, Belmonte got out of the gates quickly and took advantage of a slow start by Tackett, the reigning PBA Rookie of the Year. Belmonte started with a spare before rattling off four consecutive strikes to take command.

The match wasn't settled, however, until the final frame when Belmonte converted the 4 pin and struck on his final ball to shut out Tackett.

"I wish I would have had a chance, but Jason did what he had to do to win," Tackett said. "I'm disappointed I didn't win, but it's an experience I'm going to learn from this and hopefully next time I can win."

In addition to making history with consecutive Masters victories, Belmonte also added his name to a short list of players who have won back-to-back major titles. He won the Barbasol PBA Tournament of Champions in January and is the seventh player in history to win back-to-back majors.

In the semifinal, Belmonte hung on for a one-pin victory over Michael Haugen Jr. of Phoenix, 235-234, by putting a spare on the board in the final frame and getting nine pins on the fill ball.

Belmonte, who entered the championship round as the fifth seed, took down No. 3 seed Tom Smallwood of Saginaw, Mich., 202-173, and opened the stepladder finals with a 227-214 win over fourth seed Ryan Ciminelli of Cheektowaga, N.Y.

The Masters, which featured a total prize fund of $315,000, is part of the World Tenpin Bowling Association World Bowling Tour. A sold-out field of 468 players from 15 countries started the week in their quest to take home the trophy.
    
For more information on the Masters, including live scoring, visit BOWL.com/Masters.

2014 USBC MASTERS
At Brunswick Zone Carolier, North Brunswick, N.J.
Sunday's results
 
Final standings

1, Jason Belmonte, Australia, 885 (four games), $50,000
2, EJ Tackett, Huntington, Ind., 177 (one game), $25,000
3, Michael Haugen Jr., Phoenix, 234 (one game), $15,000
4, Tom Smallwood, Saginaw, Mich., 183 (one game) $10,000
5, Ryan Ciminelli, Cheektowaga, N.Y., 214 (one game), $8,000

Stepladder results

Match One - Belmonte def. Ciminelli, 227-214
Match Two - Belmonte def. Smallwood, 202-173
Match Three - Belmonte def. Haugen, 235-234
Championship - Belmonte def. Tackett, 221-177