Boomershine claims top seed for finals at 2023 USBC Queens
May 23, 2023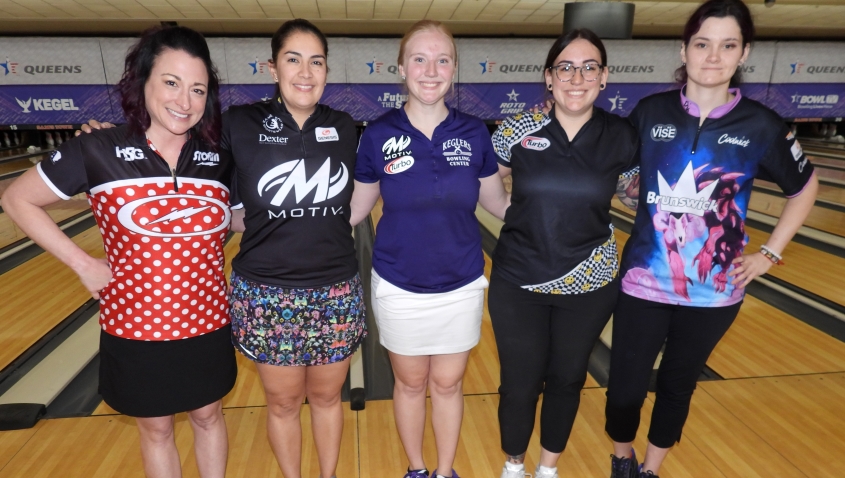 LAS VEGAS – Lindsay Boomershine of Brigham City, Utah, went undefeated through two days of match play to earn the top seed for the stepladder finals at the 2023 United States Bowling Congress Queens.

The 37-year-old right-hander defeated 2014 champion Maria Jose Rodriguez of Colombia, 674-564, in the final Winners Bracket match Monday at Sam's Town Bowling Center. Rodriguez will be the No. 2 seed.

The finals of the 2023 USBC Queens will be broadcast live on Tuesday at 7 p.m. Eastern on CBS Sports Network. The champion will take home the $60,000 first-place prize and the coveted tiara.
Joining Boomershine and Rodriguez in the stepladder will be No. 3 Carlene Beyer of Ogdensburg, Wisconsin, No. 4 Correen Acuff of Surprise, Arizona, and No. 5 Dasha Kovalova of Muskegon, Michigan, the 2019 Queens champion.
Beyer, Acuff and Kovalova advanced out of the Elimination Bracket on Monday. The final four athletes in the Elimination Bracket bowled a three-game total-pinfall contest with the top three scores advancing to the stepladder.
Beyer earned the No. 3 seed with a 668 series. Acuff advanced with a 650 three-game set and will face Kovalova (601) in Tuesday's opening match. Latvia's Diana Zavjalova rolled a 569 series and was eliminated, finishing in sixth place.

Boomershine is seeking her first PWBA Tour title. Tuesday's show will mark her seventh stepladder finals appearance and second as an event's top seed; however, this will be the first time she's held the top spot in a major.
Nevertheless, Boomershine is going to do her best to approach Tuesday's stepladder finals the same way she's approached the first five days of the tournament.
"My husband flew in after the first day, and we've had a different gameplan ever since. Obviously, it has worked, so I'm going to do the same thing tomorrow," Boomershine said. "I feel like I'm in a really good place mentally and physically, so there's no reason to change it up now. Tomorrow will be the same just with a lot more people around."
Earlier in her career, Boomershine may have let the bigger crowd and TV lights get to her, but she doesn't anticipate that being an issue on Tuesday.
"It's taken me a long time to get here, and I don't mean just this week; I mean since the relaunch of the PWBA Tour in 2015," Boomershine said. "I feel like I'm in a really good place right now mentally and physically.
"My hard work has paid off. The last few shows that I've been on, I've bowled exceptionally well, and it just didn't go my way. I figure if I keep putting myself in this position, I'm eventually going to break through."
To do so on Tuesday, she could very well end up having to battle one of her best friends in Rodriguez. That matchup wouldn't bother Boomershine though; in fact, she'd welcome the opportunity.
"Maria and I are best friends; we support one another and want each other to do well," Boomershine said. We wanted to make the show together, and it's pretty amazing that we did. If we end up facing each other, it won't make it any easier or harder, but it will be more fun.
"Still, I'm just bowling the pins. All week long, I haven't focused on who my opponents have been. I've just tried to do my best, make my spares and hope that my total was higher than theirs at the end."
Speaking of the end, after battling injuries for the better part of the last three years, Rodriguez sometimes wondered if the end of her career might be approaching.
Now that she's finally healthy, however, she has her game back to the elite level that propelled her to the 2014 Queens title and the PWBA Players Championship in 2018.
Sitting just two wins away from capturing major title No. 3, Rodriguez didn't mince words when discussing what it would mean to her to get back in the winner's circle for the first time in more than four years.
"I come here to win; I don't come here to finish 12th, 64th or whatever," Rodriguez said. "This is our job; it's what we do this for.
"Of course, it's nice to get a great pay day, get another major and maybe take another step toward the hall of fame, which are things I've dreamed of since I was a kid, but the goal is always to win. Winning is addictive. Whenever you do it, you want to do it again."
Rodriguez has done plenty of winning thus far at this year's Queens, starting match play 5-0 with wins over Jenna Coldiron of West Chester, Ohio (644-602), Chelsea Sporkia of Eugene, Oregon (670-591), top qualifier Cherie Tan of Singapore (660-609), Karsyn Lukosius of Jackson, New Jersey (713-605) and Acuff (686-635) before falling to Boomershine in the top-seed battle.
Even though the top seed eluded her, Rodriguez still feels very good about her chances on Tuesday night's show.
"I matched up really well to the pattern, and when you have good ball reaction, your swing loosens up and things start to flow," Rodriguez said. "Tomorrow, I'm just going to pay attention to how everyone else on the show is playing the lanes and see how I can use that to my advantage."
Rodriguez will get to see what Acuff and Kovalova do in the opening match before one of them advances to take on Beyer in Match 2.
Beyer and Acuff are both PWBA Tour rookies who will be making their stepladder finals debuts Tuesday night. Kovalova, on the other hand, enters the finals looking for her sixth career title and second major.

The 2023 Queens started with 216 competitors. After 15 games of qualifying over three days, the top 63 players and Birgit Noreiks of German, who was guaranteed a spot in the bracket as the defending champion, advanced to match play.
Noreiks won two matches at Sam's Town Bowling Center on Sunday, but she dropped into the Elimination Bracket with a 699-654 loss to Kovalova Monday morning. Noreiks rebounded with three wins before finally being eliminated by Zavjalova, 607-582.
For more information on the USBC Queens, visit BOWL.com/Queens.