Champions Crowned in U15 and U12 at 2022 USA Bowling National Championships
July 15, 2022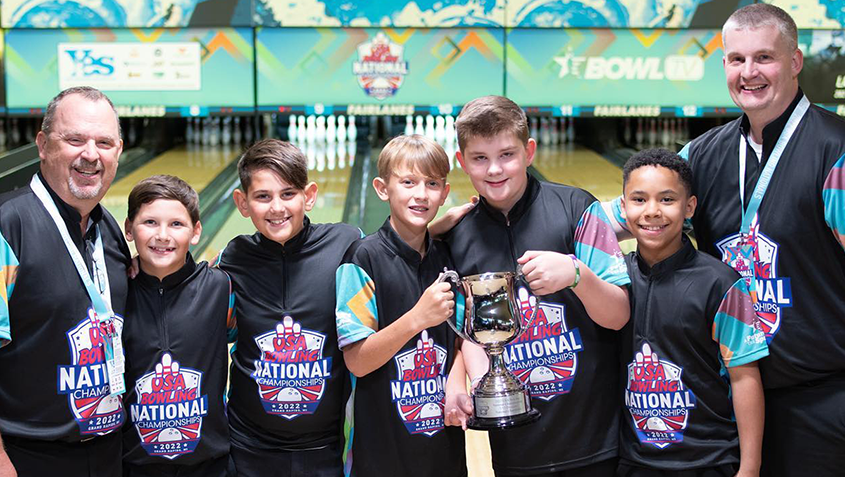 GRAND RAPIDS, Mich. – Teams representing the Lower Great Lakes and Ohio Valley regions took home the titles in the 15-and-under and 12-and-under divisions, respectively, at the 2022 USA Bowling National Championships on Thursday.
The event was streamed live from Fairlanes Bowling Center on BowlTV.com.
Bowling out of the Lower Great Lakes region in U15, EYT Phenoms earned the title with a thrilling come-from-behind 3-2 win in their best-of-five match over SYC U15 Elite from the South Central region. In U12, it was the Ohio Valley region's DKJ Pro Shop with a 3-0 sweep over the Pin Krushers from the South region.
The championship round featured a four-man Baker format with the lead-off bowler bowling the first, fifth and ninth frames, the second bowler bowling the second, sixth and 10th frames, the third bowler bowling frames three and seven, and the fourth bowler bowling frames four and eight.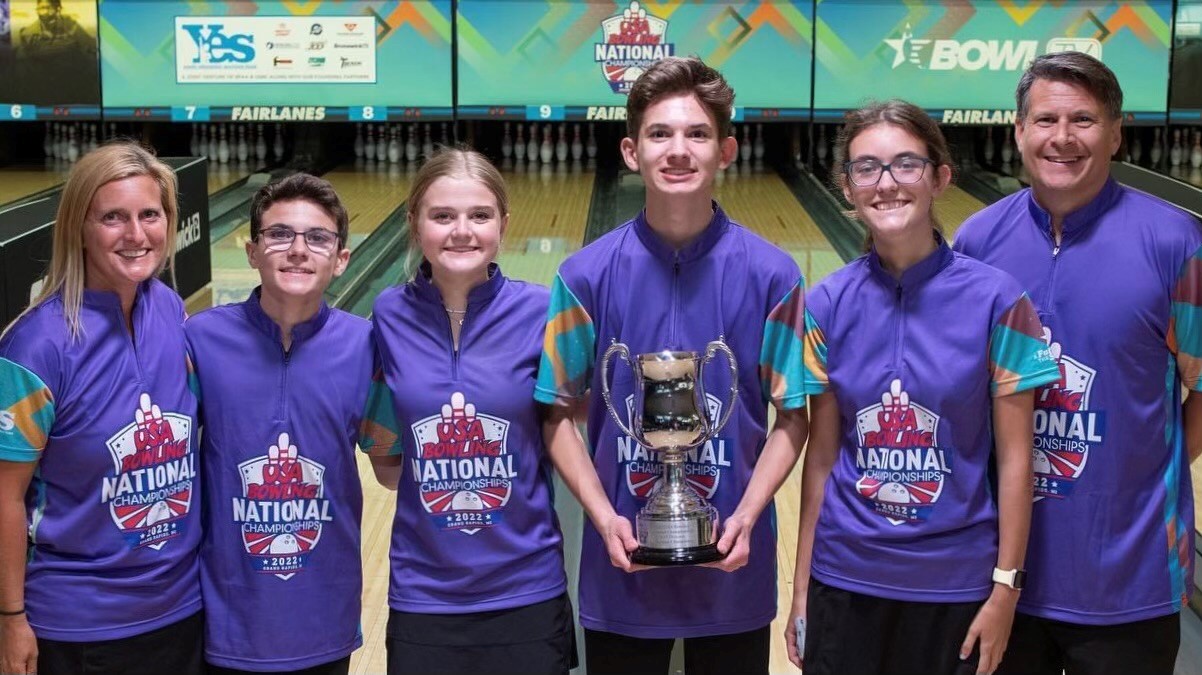 Bowling for EYT Phenoms, a team composed of players from the greater Chicago area, were brothers Griffin and Landin Jordan, Gianna Brandolino and Abigail Starkey. Head coach Anthony Jordan and assistant Julie Brandolino guided the team. Comprising SYC U15 Elite were head coach LaShaune Darden, assistant coach Jerry Weems and athletes Daryus Alo, William Cunningham III, Braden McDonough, Matteo Quintero, Kai Strothers and Jos Weems.
SYC U15 Elite got off to a quick start, winning Match 1, 210-205, and capturing Match 2 when anchor bowler Strothers stuck out in the10th frame for a 217-216 win. That win put SYC U15 Elite one game from the championship.
"We had a little pow-wow after that Game 2 loss," said head coach Jordan of EYT Phenoms. "I told them it's one game at a time. They have to win them all, not just two. Our team actually got looser after Game 2. They started having a little more fun, they were joking around. They just felt like at that point we had nothing to lose."
And with nothing to lose, EYT Phenoms got off the mat by stringing together eight strikes in a row to win Game 3, 255-217. A 4-6-7-8-10 split by SYC U15 Elite in the 10th frame of Game 4 contributed to a 205-194 win by EYT Phenoms and set-up the deciding fifth game.
Game 5 could not have been closer as the teams were separated by one pin heading into the 10th frame. Strothers threw another great shot in the 10th for SYC U15 Elite, but it left a ringing 7 pin. Strothers converted the 7 pin and struck on his final shot. That meant Landin Jordan, bowling anchor for EYT Phenoms, needed a double and one pin in his 10th frame to secure the championship. He promptly struck out for a 233-223 victory.
Despite being the person to throw the winning shots, Jordan stressed the importance of being a true team.
"We're a family and we're together so much," Jordan said. "We've developed such close relationships and we know how to hold each other up and get each other going. We know each other's games so well, it's a huge advantage."
Even in defeat, SYC U15 Elite head coach Darden was proud of his team.
"They performed great," said Darden. "We've got a really talented team. We rotated in all six guys and had full confidence in everyone. This team is comprised of all champions and I'm proud of how they came together."
The U12 championship match wasn't as dramatic as the U15 finals. DKJ Pro Shop's roster of Miles Gordon, Alexander Hanicak, Donaven Kline, Dawson Kohl and Kinnick Robinson took care of the Pin Krushers, featuring Malique Gardiner, Varion James, Anthone Morlando, Melvin Perry III and Malachi Wilson, in a 3-0 sweep. Dave Kline Jr. served as head coach for DKJ Pro Shop and was assisted by Heath Kohl. Melvin Perry II was head coach for the Pin Krushers.
DKJ Pro Shop got off to a quick start by posting a 256-213 opening game win over the Pin Krushers. Game 2 was even better for DKJ Pro Shop as they shot 278 to the 213 by the Pin Krushers. The sweep was completed with a 190-132 win in Game 3.
"This team had a lot of camaraderie and just didn't give up," DKJ Pro Shop head coach Kline Jr. said. "They just kept plugging along and made my job easy. Threw a lot of strikes and made most of their spares. Our team comes from all over, and it's amazing how good of friends they've become bowling together in this event."
Of his team efforts, Pin Krushers head coach Perry II said, "Considering this is the first year for all of our team, only one of them has been to Junior Gold before, and none of them has bowled in this event before, I'd say they exceeded my expectations."
The USA Bowling National Championships featured 11 regions in U12 and 16 in U15. Each team that competed in Grand Rapids earned their spot by winning their region.
It's an event that brings young athletes together from all over the country. When asked what the best part about the tournament was, Kinnick Robinson of DKJ Pro Shop summed it up best.
"The best part is making new friends and pushing hard with my teammates," said Robinson. "Always being there to pick each other up and trying to get the win."
Mission accomplished.