Duke Hopes Small Adjustments Will Get Him Back on Winning Track at PBA50 Treasure Island Resort & Casino World Championship
July 18, 2016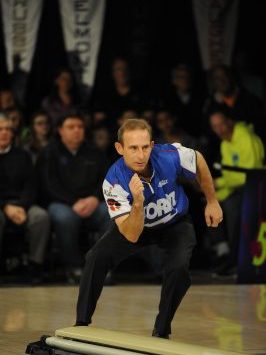 Duke Hopes Small Adjustments Will Get Him Back on Winning Track at
PBA50 Treasure Island Resort & Casino World Championship
Norm Duke won Rookie of the Year and Player of the Year on the 2014 PBA50 Tour
WELCH, Minn. (July 18, 2016) – Despite a PBA50 Tour winless streak that has lasted more than two years, PBA Hall of Famer Norm Duke feels he's only a few small tweaks from returning to the winner's circle.
The two-time PBA50 Tour winner leads the first round of the PBA50 Treasure Island Resort & Casino World Championship presented by Storm after posting a 1,215 five-game pinfall total on games of 258, 245, 259, 195 and 258 Monday at Island Xtreme Bowl.
"It's the small things, but the small things are getting harder and harder to fix," said the 52-year-old Duke, whose last win came as a PBA50 Tour rookie in the 2014 Suncoast PBA Senior U.S. Open. "I'm still working through things in my game. I want to be as good as I've ever been but that's a more demanding undertaking at my age."
Duke, who ranks third all-time on the PBA Tour with 38 titles, has a best PBA50 Tour finish of second this season which came in the season opening Pasco County Florida Open.
The third major of the 2016 PBA50 Tour season provides a test of versatility and endurance by employing qualifying, match play and stepladder final stages on the PBA's Viper, Chameleon and Scorpion lane conditions.
"The biggest test here is getting all the pins you can on three different lane conditions," Duke said. "Ultimately, I'm trying to build a game that is going to withstand the grind of a tournament like this and that's where refining the small things in my game I hope will pay off."
The entire field bowled the Viper qualifying stage Monday and will return for the Chameleon qualifying round on Tuesday and the Scorpion qualifying round on Wednesday. After those three rounds, the top 24 qualifiers will advance to World Championship match play on Saturday at 8:30 a.m. Monday's qualifying also determined the top 24 players who will advance to the Treasure Island Resort & Casino Viper championship match play round Thursday morning. After Thursday's match play the top five will advance to the Viper stepladder finals on Friday at 12:30 p.m. which will award a PBA50 regional title to the winner.
Duke leads a pair of PBA60 players, 60-year-old David Axon of Bellevue, Neb., in second with a 1,204 pinfall and 61-year-old Sam Maccarone of Blackwood, N.J., in third with 1,201 which included a 300 game.
Trying for his third consecutive major title of the season, Hall of Famer and defending PBA50 Player of the Year Pete Weber of St. Ann, Mo., is in fourth finishing the first round with a 1,195 pinfall. The 53-year-old is looking to build on a record-breaking season in which he has won a record five titles including four consecutive. His two major wins were the Suncoast PBA Senior U.S. Open presented by 900 Global and the USBC Senior Masters in June.
Three-time PBA50 Tour winner Bob Learn Jr. rounded out the top five with a 1,190 pinfall which also included a 300 game.
The PBA50 World Championship is covered live on PBA's online bowling channel Xtra Frame. For subscription and schedule information click on www.xtraframe.tv.
PBA50 TREASURE ISLAND RESORT & CASINO WORLD CHAMPIONSHIP
PRESENTED BY STORM
Island Xtreme Bowl, Welch, Minn.
FIRST ROUND STANDINGS
(After five games. Top 24 also advance to Thursday's Treasure Island Resort & Casino Viper Championship match play round)
1, Norm Duke, Clermont, Fla., 1,215.
2, David Axon, Bellevue, Neb., 1,204.
3, Sam Maccarone, Blackwood, N.J., 1,201.
4, Pete Weber, St. Ann, Mo., 1,195.
5, Bob Learn Jr., Erie, Pa., 1,190.
6, Ron Mohr, Las Vegas, 1,180.
7, Mark Williams, Beaumont, Texas, 1,172.
8, (tie) Tom Carter, Columbus, Ohio, and Mike Scroggins, Amarillo, Texas, 1,163.
10, Parker Bohn III, Jackson, N.J., 1,150.
11, Randy Scharf, Gillette, Wyo., 1,141.
12, Bryan Goebel, Shawnee, Kan., 1,133.
13, Bo Goergen, Sanford, Mich., 1,128.
14, (tie) John Dudak, Orland Park, Ill., and Mike Dias, Lafayette, Colo., 1,126.
16, Al Danz Jr., Escanaba, Mich., 1,124.
17, James Knoblauch, Waukesha, Wis., 1,122.
18, Ron Nelson Jr, Bridgeview, Ill., 1,118.
19, Sammy Ventura, Syracuse, N.Y., 1,116.
20, Walter Ray Williams Jr., Oxford, Fla., 1,115.
21, Lennie Boresch Jr., Kenosha, Wis., 1,114.
22, Dave Han, Hoover, Ala., 1,097.
23, Tracy Teeters, Eugene, Ore., 1,087.
24, Brian Kretzer, Dayton, Ohio, 1,080.
25, *Harry Sullins, Chesterfield Twp., Mich., 1,075, $250.
26, *Steve Stein, Staten Island, N.Y., 1,070, $250.
27, *Steven Jansson, Barnes, Wis., 1,067, $250.
28, Kenny Parks, Hammond, Ind., 1,059.
29, Scott Greiner, Platte City, Mo., 1,052.
30, Robert Brown, Cody, Wyo., 1,047.
31, Mark Sullivan, Indianapolis, 1,044.
32, Stoney Baker, Canton, Ga., 1,043.
33, ss-Bill Henson, Westerville, Ohio, 1,040, $200.
34, Dale Traber, Cedarburg, Wis., 1,036.
35, Brian LeClair, Delmar, N.Y., 1,034.
36, Bob Micek, Woodbury, Minn., 1,028.
37, Ricky Schissler, Brighton, Colo., 1,027.
38, Tommy Martin, Olive Branch, Miss., 1,026.
39, ss-Paul McCordic, Sugar Land, Texas, 1,024, $200.
40, ss-Warren Nelson, Middleburg, Fla., 1,022, $200.
40, ss-Tim Pierce, Portland, Ore., 1,022, $200.
42, Amleto Monacelli, Venezuela, 1,021.
43, Christopher Keane, Cape Coral, Fla., 1,020.
43, Andrew Frawley, Australia, 1,020.
45, David Taylor, Largo, Fla., 1,017.
46, (tie) Warren Burr, Wilmington, Del., and Don Breeden, Clive, Iowa, 1,016.
48, ss-Paul Mielens, Menomonie, Wis., 1,013, $200.
49, n-Sam Lantto, Eden Prairie, Minn., 1,011.
50, Jerry Sikora, Gibbon, Minn., 1,006.
51, Bobby Nelson, Las Vegas, Nev., 1,005.
52, Danny Clark, New Palestine, Ind., 996.
53, ss-Bill Nichols, Bella Vista, Calif., 992, $200.
54, Lyle Zikes, Arlington Heights, Ill., 990.
55, (tie) ss-Mike Schmid, St. Paul, Minn., 986, $200, and n-David Oulman, Medford, Minn., 986.
57, Brian Cooper, Henderson, Nev., 985.
58, ss-Kerry Fulford, Ft. Worth, Texas, 984, $200.
59, Randy Peterson, Carrington, N.D., 983.
60, David Williams Jr., Omaha, Neb., 981.
61, Jeffrey Taylor, Madison, Wis., 975.
62, William Keenan Jr., Orlando, Fla., 973.
63, Fred Cole, Visalia, Calif., 969.
64, Gary Alstott, Washington, Ill., 967.
65, Mike Keough, Stockton, Calif., 960.
66, (tie) Gary Kammes, Winfield, Ill., and Todd Kjell, Roscoe, Ill., 958.
68, Brendan Bierch, Grafton, Mass., 956.
69, Dale Eagle, Twin Falls, Idaho, 954.
70, Kenneth Bland Jr., Cibilo, Texas, 945.
71, Dana Wright, St. Paul, Minn., 942.
72, Glenn Morgan, Carson City, Nev., 941.
73, Patrick King, Yankton, S.D., 936.
74, n-Mike Morris, Fargo, N.D., 929.
75, Don Herrington, Ballston Lake, N.Y., 927.
76, Ted Staikoff, Black Hawk, S.D., 924.
77, n-Ron Cleveland, St. Paul, Minn., 917.
78, Dean Bruinsma, Clear Lake, S.D., 916.
79, (tie) Galen Keas, Alda, Neb., and John Conroy, Mahopac, N.Y., 906.
81, Edward Silva, Manteca, Calif., 886.
82, Eugene Captain, Bertha, Minn., 843.
83, Jerry Brunette Jr., Rochester, N.Y., 786.
300 games – Bob Learn Jr., Sam Maccarone
*indicates players cashing in Treasure Island Resort & Casino Viper Championship regional prize list
n-denotes non-member
ss-denotes PBA60 players ages 60 and over cashing for $200 in Viper Championship