EJ Tackett rolls 800 series alongside family at 2022 USBC Open Championships
June 02, 2022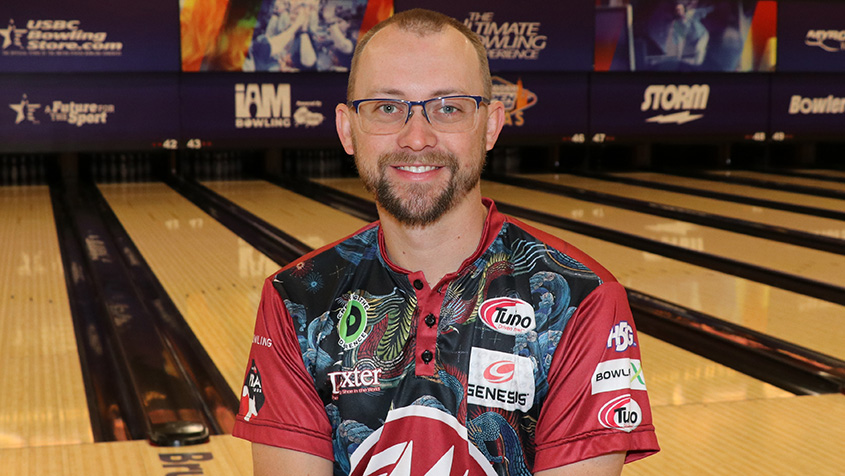 LAS VEGAS
- EJ Tackett of Bluffton, Indiana, is part of some of the most talented teams in the world as a six-time member of Team USA and core player of the Motown Muscle in the Professional Bowlers Association League.
When it's time for his annual appearance at the
United States Bowling Congress Open Championships
, however, it's all about family and friends for the 15-time PBA Tour champion.
The trip to the South Point Bowling Plaza for the 2022 edition of the event featured Tackett paired up alongside his wife, brother, mother, father, grandfather and many lifelong friends who bowl at the family-owned EZ Bowl in Bluffton, and he was able to make the visit to Las Vegas a little more memorable thanks to a special performance in doubles.
Bowling with his father, Eddie Tackett Sr., EJ was able to roll games of 268, 255 and 279 for an 802 series to help the pair into 10th place in Regular Doubles with a 1,437 total.
Eddie Sr. added games of 201, 224 and 210 for a 635 series in his 33rd consecutive appearance.
Tony Odom of Palm Springs, California, and Nick Powanda of San Diego lead Regular Doubles at the 2022 event with 1,518.
Although EJ had the honor score Wednesday, he was proud of how his father performed while fighting through an injury to his right leg.
"It's pretty cool to bowl a score like that with Dad," said Tackett, the 2016 PBA Player of the Year. "His right leg has been pretty bad for several years, so for him to be able to do that is pretty amazing. To put a good block together and help him out to get us up there is pretty special. He's hoping to get surgery when we get home from this. He was delaying it to be able to bowl, so hopefully he can get it fixed up."
Tackett was the fifth player at the 2022 USBC Open Championships to reach the 800 mark and third to do so in doubles competition.
The 29-year-old right-hander recorded 27 strikes during his doubles set, but he did end up making a ball change as he made his run to 800. Stepping up in the final frame, he needed to fill 28 pins to reach the mark and delivered three strikes.
"I found a lot of hook on the gutter to start, so I wanted something that wasn't going to rip too hard off that and just let the lane develop," Tackett said. "As I got farther left and created more angle, the harder it was to get that ball through the pins. It was close, and I probably stayed in it a little too long because it was still striking. I switched to something that hooked a little more down lane and was able to make the corner as I continued to move left, and it seemed to be the right play."
Tackett continued to strike moving into singles Wednesday, rolling a 743 set to go along with 658 in team for a 2,203 all-events total to take over sixth place in Regular All-Events.
Three-time titlist Brian Waliczek of Frankenmuth, Michigan, leads Regular All-Events with 2,241.
The Tackett family and EZ Bowl contingent brought five teams to the 2022 Open Championships, and they are hoping to see the group expand in the future.
"I get a lot of people who ask me who I bowl with here, and I always say I bowl with my family and everyone from our bowling center," Tackett said. "We had five teams this year, and we keep trying to grow it. We encourage people to come out and bowl. It's one of those things that everyone should experience at least once, and I think if they do, it's something they'll want to do again."
Regular Doubles consists of pairs with combined entering averages of 351 and above.
Visit us on Facebook at the
official USBC Open Championships page
.