Holman Addresses PBA Players; PBA Adds $1 Million Bonus in 2019
October 18, 2018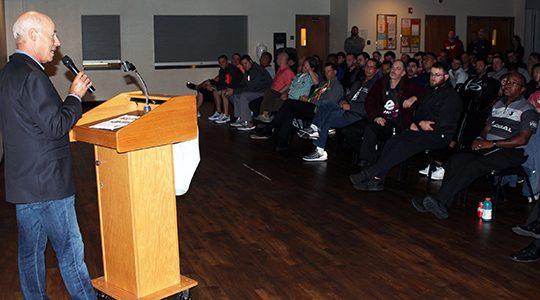 During the annual PBA players meeting prior to the start of the FloBowling PBA Fall Swing in Owasso, Okla., earlier this week, PBA Hall of Famer Marshall Holman accepted an invitation from the PBA to talk about the role of PBA players and all professional athletes as entertainers.
During a colorful career in which he won 22 PBA Tour titles over a span of more than two decades, the volatile Holman built one of the PBA's largest love-hate fan bases, but always respected the game and in retirement has continued to embrace the sport's fans through his involvement as an unofficial ambassador for the PBA.
The meeting also brought players up to speed on new media partners FOX Sports and FloSports, ushering in a new era of the PBA heading into the ground-breaking 2019 season.
PBA OFFERS $1 MILLION BONUS FOR TITLE MATCH 300 GAME IN FOUR 2019 EVENTS
At the members' gathering in Owasso, PBA CEO-Commissioner Tom Clark announced that PBA players will have four opportunities to bowl for a $1 million bonus if any of them can roll a 300 game in the title match of four PBA tournaments in 2019.
The 300 game bonus will be at stake during FOX Sports' live telecasts of the PBA Tournament of Champions on FOX on Sunday, Feb. 10, at 5 p.m. EDT from AMF Riviera Lanes in Akron, Ohio; the PBA Players Championship on FS1 on Sunday, Feb. 17, at 1 p.m. from Wayne Webb's Columbus Bowl in Columbus, Ohio; the Go Bowling! Indianapolis Open on FS1 on Sunday, Feb. 24, at 1 p.m. from Woodland Bowl in Indianapolis, and the PBA World Championship on FS1 on Thursday, March 21, at 8 p.m. from Thunderbowl Lanes in Allen Park, Mich.
There have been 26 perfect games bowled on national television throughout the PBA's history, but only two in title matches: the first by Bob Benoit in defeating PBA legend Mark Roth, 300-255, in the title match of the Quaker State Open in Grand Prairie, Texas, in 1988, and the second by PBA Hall of Famer Mike Aulby in the highest scoring title match in PBA history, topping David Ozio, 300-279, in the finals of the 1993 Wichita (Kan.) Open.
IBM/HF RAFFLE OFFERS "HALL OF FAME VIP EXPERIENCE" FOR PBA HALL OF FAME CLASSIC
The International Bowling Museum and Hall of Fame, in cooperation with the PBA, has created plans for a "Hall of Fame VIP Experience" in conjunction with the PBA Hall of Fame Classic that will be contested at the International Testing and Research Center on the International Bowling Campus in Arlington, Texas, Jan. 3-6.
The "Hall of Fame VIP Experience" project involves a nation-wide fund-raising raffle that will provide one lucky winner with a once-in-a-lifetime experience centered around the PBA tournament and PBA Hall of Fame induction ceremonies in Arlington Jan. 5-6.
The PBA Hall of Fame Classic will be the first event of the 2019 Go Bowling! PBA Tour season and the first PBA championship to air live on FS1 as part of the PBA's new television agreement with FOX Sports. The stepladder finals will be televised on Sunday, Jan. 6, at 11 a.m. EST from the ITRC in Arlington.
Raffle ticket sales, for $20 per ticket, are currently underway at participating bowling centers throughout the U.S., or by contacting the IBM/HF at 817-385-8230 or www.bowlingmuseum.com. The winning ticket will be drawn on Facebook Live on Tuesday, Dec. 18 at 2 p.m. EST. All proceeds from the raffle will benefit the museum's Frame4Frame Film Restoration Initiative which is intended to restore and preserve the IBM/HF's irreplaceable collection of history bowling films.
The lucky winner will receive:
● Round-trip travel and meal expenses for two to the International Bowling Campus, site of the 2019 PBA Hall of Fame Classic.
● Invitations to weekend events hosted by Hall of Famer Mike Aulby.
● Private, behind-the-scenes guided tour of the International Bowling Museum and Hall of Fame, and the International Bowling Campus.
● Special exhibit ribbon-cutting at the museum.
● Tickets to the PBA Hall of Fame cocktail party.
● VIP seating at the PBA Hall of Fame Awards Banquet.
● Meet and greet with PBA Hall of Fame bowlers.
● Special PBA production tour.
● VIP seating at the live FOX Sports televised-finals of the PBA Hall of Fame Classic on FS1.
● Bowling jersey autographed by the PBA Hall of Fame Classic champion.
● Autographed PBA championship pin.
● Photo in a national bowling magazine.
● Tons of photo and autograph opportunities.
PBA APP FOR ANDROID DEVICES IS NOW AVAILABLE
A new app to access pba.com, including live scoring when any PBA event is live, the latest PBA news, tournament schedules, player bios, the extensive archive of records, facts and figures residing on the PBA's official website and more, is now available via Google Play. To load the free app, click here: https://play.google.com/store/apps/details?id=com.pba.
PBA REGIONAL UPDATE: HURRICANE MICHAEL POSTPONES BLUFFTON DOUBLES
Hurricane Michael forced the postponement of the PBA-PBA50 Station 300 Baker Doubles planned for the Oct. 13-14 weekend in Bluffton, S.C. PBA South Region tournament manager Sam Zurich said he and the tournament host center will explore the possibility of re-scheduling the event for a later date.
● PBA Hall of Famer Parker Bohn III of Jackson, N.J., making his annual trip to the Pacific Northwest, posted a 7-1 match play record and knocked down 3,819 pins Sunday to win the PBA50 Dick's Pro Shop Northwest/West Open at Linn Lanes in Lebanon, Ore.
Bohn, who earned $1,500, defeated Chris Warren of Grants Pass, Ore., by 28 pins for the win. Warren had a 5-3 match play record and 3,791 total pins for his 16 games including match play bonus pins.
In the companion PBA60 Open for bowlers age 60 and older, non-member Mike Karch of Edgewood, Wash., went 6-2 and knocked down 3,907 total pins for 16 games to top Ed Silva of Manteca, Calif., by 287 pins and earn $1,500. Silva had a 5-3 match play record and a total of 3,620 pins.
● PBA60 competitor Sammy Ventura of Syracuse, N.Y. and his PBA50 partner Jeff Zaffino of Warren, Pa., defeated Dick Granof Hartville, Ohio and Brian Kretzer of Dayton, Ohio, 2-0, in the best-of-three-game championship match to win the PBA50/PBA60 Doubles Park Centre Lanes Central Open presented by Columbia 300 at Park Centre Lanes in North Canton, Ohio, Sunday.
Teams in the event included one bowler between the ages of 50 and 59 and one bowler over the age of 60. This was Ventura's eighth PBA50 regional title and Zaffino's 11th. The champions split the $2,800 first prize.
In the best-of-three-game semifinal round, Ventura and Zaffino defeated Darryl Bower of Middletown, Pa., and Michael Tryniskiof Fulton, N.Y., 2-0, while Gran and Kretzer downed William Peters of Dayton, Ohio, and Eddie Graham of Kettering, Ohio, 2-1, to set up the championship match.
● The Oct. 19-21 PBA Regional calendar includes the PBA50 Waxahachie Southwest Open at Hilltop Lanes in Waxahachie, Texas, and the Jackson Central/Midwest Open at Dave Small's Jax 60 in Jackson, Mich.
● The final PBA Regional events of October take place over the Oct. 26-28 weekend, including the PBA50 Bryan's Bowling Center East Open presented by the Hopkins Automotive Group and 900 Global in Laurel, Del., and the South Point West Challenge and PBA Member-Nonmember Doubles, both presented by Radical, at South Point Bowling Plaza in Las Vegas
● For complete PBA Regional schedules, rules and entry information, visit pba.com, open the "schedules" tab and click on PBA Regional Tours to find the event(s) in your area…and remember, you can follow "live scoring" for all PBA Regional events on pba.com (easily accessible for Apple and Android device users using the PBA app).