Janawicz wins 2023 USBC Senior Masters; collects first major championship
June 11, 2023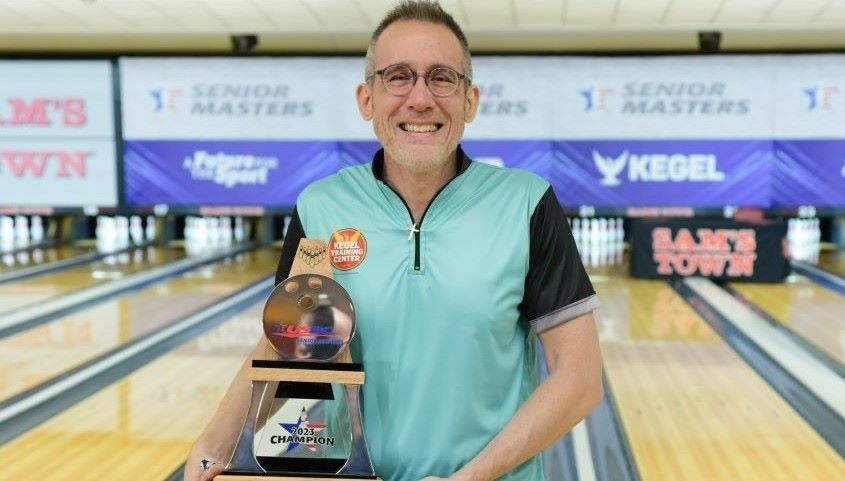 LAS VEGAS –
John Janawicz of Winter Haven, Florida, capped an impressive week at the United States Bowling Congress Senior Masters by winning the title in the major championship Sunday at Sam's Town Bowling Center.
Janawicz defeated Lennie Boresch of Kenosha, Wisconsin, 204-200, in the title match to claim his first victory on the Professional Bowlers Association 50 Tour. Janawicz, who turned 50 in September, is a rookie on the PBA50 Tour and was competing in his first event on the senior circuit.
"I never bowled the regular tour," Janawicz said. "So, to be able to come back out here now is pretty special to me. A lot of the greats on tour that won majors have also won senior majors; they've won the Senior Masters. Guys like Pete (Weber), who has won it twice. Walter Ray (Williams Jr.) has won it twice. The list goes on and on. So, to put your name alongside of guys like that is pretty unreal."
All rounds of the 2023 USBC Senior Masters were covered live on
BowlTV
.
Janawicz went undefeated through the double-elimination match play portion of the event to qualify as the No. 1 seed for the stepladder finals. As such, he had to be beaten twice in the stepladder finals in order for someone else to claim the title. And, about halfway through his match against Boresch, it looked like a second game was going to take place.
Boresch, a five-time champion and two-time major winner on the PBA50 Tour, started the title match with strikes in the first five frames. Meanwhile, Janawicz's first six frames went like this: spare (3-10 split conversion), strike, pocket 7-10 split for an open frame, strike, and then two single-pin spare conversions (7 pin and 10 pin).
Just when it seemed a certainty that Boresch would force a second game, the wheels fell off. Three consecutive open frames by Boresch turned the match around. He left the 4-10 split in the sixth frame and couldn't convert, missed a single-pin (8 pin) conversion in the seventh, and was unable to convert the 4-6-7-10 split in the eighth. He left the 3-6-9-10 in the ninth but managed to convert the spare.
"I got one in a little bit on that first split," said Boresch. "I moved in a little bit on the one where I left the stone 8. I thought I made the spare, but I didn't. Then I started thinking 'What hell are you doing here?' Then I moved a little bit more in the eighth and I got it in again and I got the Big Four (4-6-7-10 split)."
Janawicz, having not struck on his first three attempts on the right lane (lane 20), made an adjustment in the seventh frame that paid immediate dividends.
"I knew I had to do something on that right lane," Janawicz said. "I felt like I needed to switch to a ball that rolled just a little bit earlier and was a little bit smoother. So I switched to a Phaze II and was able to use that ball on both lanes the rest of the way."
The ball change worked as Janawicz struck in frames seven through nine. The strike in the ninth frame gave him the lead in the match for the first time. Janawicz, finishing the match first, needed the first strike in the 10th frame to shut out Boresch. But he left a 4 pin, which he converted for a spare, and then got eight pins on his final shot to finish at 204.
Now it was Boresch who needed the first strike in the 10th to force another game, but he left the 4-7, giving the title and the $20,000 first-place check to Janawicz.
"I just didn't bowl good at the end," Boresch said. "Just kinda got the yips a little bit. The most disappointing thing is I got a second chance and could've still won it in 10th and just didn't make a good shot."
It marked the second time Boresch, a 61-year-old right-hander who was the only "Super Senior" (60 or older) in the stepladder finals, has finished second in this event. He was also runner-up in 2013 when he lost to Weber.
Janawicz is a USBC Hall of Famer and 10-time and current member of Team USA. He noted the experience he's gained being a Team USA member was something that helped prepare him for a moment like today.
"I've gotten a lot of good coaching through Team USA," Janawicz said. "The experiences that I've had; the great teammates that I've had. You learn from those guys; you observe them and take different things from them. All of that had a part in what happened today."
The stepladder finals started with a battle of New Yorkers as No. 4 seed Brad Angelo of Lockport, New York, defeated No. 5 seed Brian LeClair of Delmar, New York, 238-189. A 4-7-10 split in the fourth frame and a 1-2-4-6-10 "washout" in the sixth frame by LeClair, along with a closing four-bagger by Angelo, spelled the end for LeClair.
No. 3 seed Troy Lint of Blandon, Pennsylvania, made a run at 300 in Match 2. Lint started with the first 10 strikes before an 8-pin ended his bid at perfection. The result was a 289-238 win over Angelo.
Lint, the lone left-hander in the stepladder finals, was seeking his first win on the PBA50 Tour. His semifinal match against Boresch came down to the final frame. Boresch, finishing first, struck on his last four shots of the match to post a score of 239. Lint got up in his 10th frame needing all three strikes to tie the match and force a one-shot roll-off. But he left a 7 pin on his first shot in the 10th and finished with 228.
Boresch received $12,000 for finishing second and Lint collected $9,000 for third. Angelo, who won his first PBA50 Tour title last year, earned $7,500 for fourth. LeClair, who was seeking his sixth career PBA50 Tour title and first senior major, took home $6,000 for fifth.
The 2023 Senior Masters started with 309 players competing in three five-game qualifying blocks to determine the top 64 players in the double-elimination bracket. All bracket matches leading up to the stepladder featured a three-game total-pinfall format.
Defending champion Dino Castillo of Highland Village, Texas, led the field after qualifying, but lost his first two matches and finished tied for 33rd.
The senior circuit is now headed to Greeley, Colorado, for the Senior U.S. Open. Competition in the second major championship of the senior season begins June 15 and
BowlTV
will provide live coverage of the event from start to finish.
For more information about the USBC Senior Masters, visit BOWL.com/SeniorMasters.