Jason Belmonte Escapes Serious Injury on Eve of USBC Masters
April 05, 2018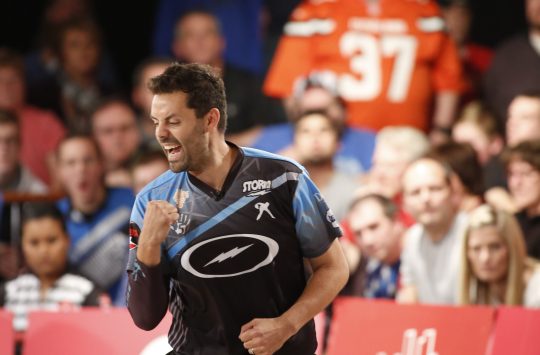 Australia's Jason Belmonte, arguably the most successful bowler in USBC Masters history, may limp into Syracuse, N.Y., next week after escaping serious injury earlier this week while helping his grandmother move.
Belmonte, in a Facebook post where he included a photo of his foot covered with colorful ice packs, said his father accidentally ran over his right (push away) foot with a one-ton trailer.
"It's fine," the defending Masters champion reported. "A little sore, but I can walk just fine. (I) was helping my grandmother move and my foot got in the way of the trailer. But no breaks. All good."
In addition to trying to defend his 2017 Masters title, the Australian two-handed star also will be trying to win the Masters for a fifth time (he's the only four-time winner), and if he's successful, he will join the late Earl Anthony and Pete Weber as the third player in PBA history to win 10 major championships.
Belmonte will bowl the qualifying rounds beginning Tuesday, but because he's automatically seeded into the 64-player double-elimination match play field, his real competition will begin next Friday. All qualifying and three-day match play elimination rounds of the Masters will be covered live, exclusively by PBA's Xtra Frame online video streaming channel.