Korea wins doubles at 2014 World Men's Championships
December 09, 2014
ABU DHABI, United Arab Emirates – Park Jongwoo struck on the first shot of his final frame to lift Korea past Japan for the doubles gold medal at the 2014 World Bowling Men's Championships in Abu Dhabi on Tuesday.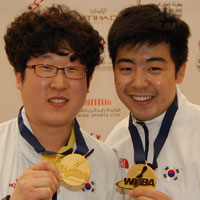 Korea was down two pins heading into the 10th frame but escaped with a 410-396 victory Zayed Sports City's Khalifa International Bowling Centre. The win marks Park's first gold medal at the World Men's Championships, while his partner, Choi Bokeum, notched his third world title.

"I cannot explain how I feel right now, and I don't think I'll be able to sleep at all tonight," said Park, who made a semifinal appearance in the team event at the 2013 World Championships in Henderson, Nevada. "I knew I needed one more strike, and I was so happy to get it. This is one of the biggest moments of my career."

Park contributed a 226 game to the winning-effort and Choi added 184. Japan's Daisuke Yoshida got off to a slow start in the championship match and never was able to rebound. Despite averaging more than 242 through qualifying and the semifinals, he managed just 191 in the final. Shusaku Asato had 205.

Korea's semifinal win against top-seeded Finland also came down to the final frame, with Korea holding an 11-pin lead as the anchor bowlers stepped up. Both anchors struck on their first shots, but Joonas Jehkinen was unable to double, allowing the Koreans to win, 490-466.

In the other semifinal, Yoshida shot 242 to help Japan past Korea's Shin Seunghyeon and Kang Heewon, 447-379. Asato contributed 205 in the win.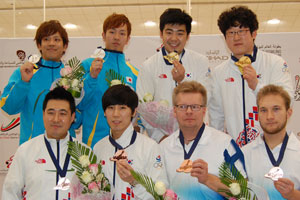 Finland and Korea each earned bronze medals.

Jehkinen and Lehtonen bowled on the first doubles squad and topped qualifying with a 2,729 total. Japan was second at 2,725 and was followed by two the two Korean teams with 2,717 and 2,703, respectively.

Lehtonen leads the all-events race after 12 games with a 2,780 total, a 231.67 average. Korea's Choi is second with 2,773 and Dan MacLelland of Canada is third at 2,754. Yoshida and Martin Larsen of Sweden are just outside the top three at 2,745 and 2,741.

Gold, silver and bronze medals will be awarded in all-events based on the 24-game totals, and the top 24 in the overall standings will advance to the Masters round Sunday.

Competition continues with trios Wednesday at 12 a.m. Eastern Daylight Time. All 272 competitors, representing 49 countries, will bowl six games over two days. After qualifying, the field will be cut to the top four for the semifinals, which will take place Thursday evening.

The nine-day World Men's Championships runs through Dec. 14 as bowlers compete for medals in six events - singles, doubles, trios, team, all-events and Masters match play.

The tournament features two different lane conditions – the 38-foot Atlanta pattern and the 43-foot Tokyo pattern.

Singles was contested on Tokyo, doubles was bowled on Atlanta and trios and team competition both will include three games on each pattern. Each event includes six games of qualifying before the field is narrowed to the top four for the semifinals.

The 2014 World Men's Championships marks the event's first visit to Abu Dhabi since 1999.

All rounds of the event will be broadcast live on BOWL.com's BowlTV. For a complete schedule in Eastern time, visit BOWL.com/LiveStream.

For more information on the World Men's Championships, visit the official website of the event at adwtbc.com.
 
2014 WORLD BOWLING MEN'S CHAMPIONSHIPS
Khalifa International Bowling Centre
Abu Dhabi, United Arab Emirates

Tuesday's results

CHAMPIONSHIP 
(Winners earns gold, losers gets silver)
Choi Bokeum/Park Jongwoo, Korea, def. Daisuke Yoshida/ Shusaku Asato, Japan, 410-396

SEMIFINALS 
(Winners advance, losers tie for bronze)
Yoshida/Asato def. Shin Seunghyeon/Kang Heewon, Korea, 447-379
Choi/Park def. Kimmo Lehtonen/Joonas Jehkinen, Finland, 490-466