Live stream schedule for 2014 Open and Women's Championships
February 26, 2014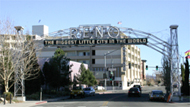 There will be nearly 30 live broadcasts from the USBC Open and Women's Championships in Reno, Nev., this year.

The 2014 Open Championships is being held at the National Bowling Stadium, while the Women's Championships returns to the Reno-Sparks Convention Center.

There also will be additional BowlTV coverage of the XBowling Intercollegiate Singles and Team Championships and USBC Queens and Senior Queens.

Track will be the BowlTV sponsor this year at the Open Championships. 

The schedule is subject to change/additions/surprises.
 
**Blue type is for Women's Championships

Date - Featured Players (Event - Time)

*All times Eastern

March 14 - PBA50 Tour champion Mike Dias (D/S - 2 p.m.)

March 16 - Minnesota's Breakpoint Pro Shop (Team - 10 p.m.)

March 22 - Former PBA exempt player Craig Tuholski (Team - 10 p.m.)

April 1 - USBC Hall of Famer Bob Hart (Team - 6 p.m.)

April 5 - Wisconsin's Red Carpet Lanes (D/S - 2 p.m.)

April 11 - Ryan Whitney (300 in 2012) and Chris Hans (Team - 6 p.m.)

April 21 - 2013 TAE winner Junior Team USA Support 1 (D/S - 10 a.m.)

April 26 - Poll winners - Indy Storm and Indy Roto (D/S - 2 p.m.)

May 3 - WC: Ryan Oswood and Linds Northern Stars (Team - 7 p.m.)

May 5 - Matt McNiel and the Linds Lakers (D/S - 1:30 a.m.)

May 14 - WC: Joey Biondo and Eagle's Edge Pro Shop (Team - 10 p.m.)

May 17 - Lifetime average leader Gail Myers Jr. (D/S - 2 p.m.)

May 23 - Defending doubles champs - Burkhardt/Gatlin (D/S - 1:30 a.m.)

May 25 - WC: Scratch Singles winner Jeanette Adams (D/S - 3 p.m.)

May 26 - O'Grady/AJ Johnson/Gasn/Pepe (D/S - 2 p.m.)

May 29 - Bowlers Universe (Webb, Carter, London) (D/S - 2 p.m.)

May 31 - Ben Laughlin/Miguel Lopez (300s in 2013) (Team - 10 p.m.)

June 10 - 2013 team champion Lodge Lanes Too (Team - 6 p.m.)

June 12 - *Former Team USA member Fero Williams - (Team - 10 p.m.) *tentative (due to Senior Masters)

June 16 - Eagle winner Steve Kloempken (Team - 6 p.m.)

June 21 - 2013 Regular Singles winner Zeke Bayt (D/S - 2 p.m.)

June 22 - WC: Time of Our Life (Friscioni, Perez) (Team - 7 p.m.)

June 24 - WC: '12 Diamond winner Some Strike It Hot (Team - 10 p.m.)

June 25 - WC: Asbaty/Gomez/Yioulos/Gittings (Team - 7 p.m.)

June 26 - WC: '13 DS and DAE winner Christine Gill (D/S - 3 p.m.)

June 27 - WC: '13 Scratch AE winner Rocio Restrepo (D/S - 11 a.m.)