Perseverance pays off for Jake Peters with 300 at 2022 Open Championships
July 17, 2022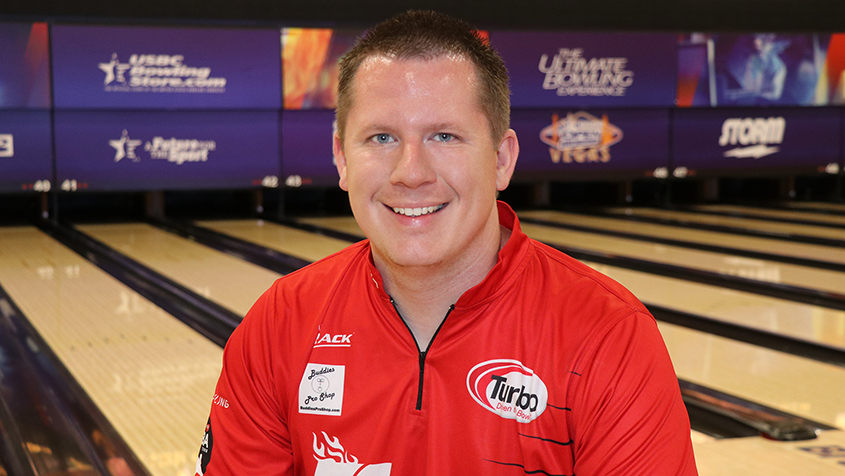 LAS VEGAS
- After two earlier runs at 300 on Saturday, Team USA's Jake Peters didn't miss on his third chance at perfection to join his family's legacy at the
United States Bowling Congress Open Championships
.
Peters, of nearby Henderson, Nevada, had started his second game of doubles with 10 consecutive strikes (289) and first game of singles with eight in a row (253) before rolling his way into the tournament's record book in Game 2 of singles at the South Point Bowling Plaza.
Making the turn in singles at 553, the 33-year-old right-hander needed to continue striking for a chance at the lead in Regular Singles (848 by Alex George of Wichita, Kansas). He extended his run to 18 consecutive strikes before a 4-6-7-10 in the seventh frame took the lead out of play.
Peters spared in the eighth and ninth frames and added three strikes in his final frame to finish with 241 and a 794 series to move into seventh place in Regular Singles at the 2022 event.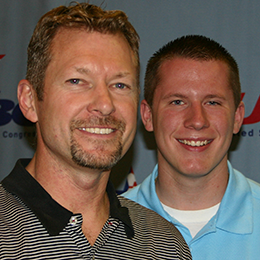 He joined his uncle, Dan Peters of Henderson, with a 300 at the USBC Open Championships. Dan connected for his 300 game at the 2008 event in Albuquerque, New Mexico, a performance Jake was able to watch in person at 19 years old, two years before his own tournament debut.
Dan was able to watch Jake's 300 unfold live as his doubles partner this year at the Bowling Plaza.
On his final delivery, the 9 pin stood for a moment before another pin came across the deck to knock it over and secure the 51st 300 of the 2022 Open Championships.
"I told my teammate Josh (McBride) that I'd let him know if it's really good," said Peters, who started to walk out his final shot. "I threw it really well, but I think I caught it too well. It felt like it took forever to fall, but it's really exciting because this is something I've wanted. My uncle has always been one of my biggest supporters, and I love bowling with family. He told me I needed to get one so we could get announced together, so it would have been a huge disappointment to have the 9 pin stand. It was a huge relief when it finally went."
Peters' group took advantage of their time at the 75th Bowlers Journal Championships at the South Point Bowling Center prior to moving to the Bowling Plaza, which uses the same oil pattern as doubles and singles at the Open Championships.
Their plan involved starting with urethane, but Peters moved out of it after his first run at 300 and opted to make a jump to the left.
"We decided that there was plenty of friction, so we wanted to stretch the pattern and give ourselves as much hold as possible," said Peters, the 2013 Lucas Oil Professional Bowlers Association Badger Open champion. "Early on, our pair was trying to stay as close to second arrow as possible with urethane to really stretch it. When that happened, I had to move left, because I wanted to rotate it to get it around that urethane. Other than some really bad shots, the pocket was there every time."
Peters noted the split in the seventh frame of Game 3 wasn't one of his best on the day, but he appreciated being in position to run down George's leading total with just a couple frames left to go.
"Alex's score is so monstrous, it actually kept me calmer because I knew I had to strike every time after 253 the first game," said Peters, who added 694 in doubles and 676 in team for a 2,164 all-events total. "The Big Four wasn't that great of a shot. I missed in, and I missed a move, too. It's frustrating to be that close, but it's also really awesome to be within the last four frames and still have an opportunity for an Eagle."
Peters rolled a 300 in January across town at the Gold Coast Hotel and Casino during the 2022 USBC Team USA Trials, as he earned his first spot on the adult team after two years on Junior Team USA (2009-2010).
He also made a run at the U.S. Open in February, advancing to the stepladder finals on the way to a fifth-place finish.
Many in the bowling community know the commitment Peters made to his late wife, Melissa, and he continues to show that the work and dedication are paying off.
He also knows he has a strong support system to help him along the way.
"I rededicated myself at the end of last year and really wanted to be all-in and work hard," Peters said. "I made a promise to my late wife to be all-in. This hasn't quite been a dream year because I haven't quite finished anything right. I didn't win any titles, and today, I didn't take the lead. But, I have a lot of great people behind me."
Visit us on Facebook at the
official USBC Open Championships page
.