Pfeifer wins Men's ISC title
May 22, 2007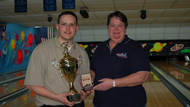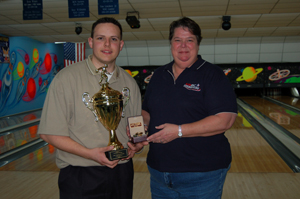 HUNTSVILLE, Ala. –
When Robert Morris sophomore Tim Pfeifer earned a spot on Junior Team USA last summer, he figured it would have a big impact on his future in bowling. He didn't realize the impact would be felt so quickly, however.
After a week under the tutelage of Junior Team USA coaches, Pfeifer showed immediate results, winning the men's title Tuesday at the 2007 United States Bowling Congress Intercollegiate Singles Championships.
Pfeifer defeated Penn State's Jason Weaver 3-2 in the best three of five championship match at AMF Pin Palace Lanes. He topped a field of 15 of the best collegiate bowlers in the country to win the national title.
"Spending time with the coaches at the Junior Team USA training camp last week was a huge factor in me winning this tournament," said Pfeifer, who earned the spot on Junior Team USA by virtue of his second-place finish at the USBC Junior Gold Championships last July. "The coaches really worked some things out for me. I wasn't bowling great before I got there, but now to come back and win this tournament is just amazing."
Pfeifer figured it was only a matter of time before he finally broke through to win a national title. After his runner-up finish at the Junior Gold Championships, an event that crowns the U.S. Junior Amateur champion, his Robert Morris team finished second at the USBC Intercollegiate Team Championships last month in Wichita, Kan.
"It finally feels good to be able to say that I'm a champion in a national event," said Pfeifer, who lost in the second round of last year's Intercollegiate Singles Championships. "After watching last year, I came back even more focused on winning this event this year."
In the championship match, Pfeifer dropped the opening game 225-152 before taking the next two games 184-183 and 179-159. After falling 222-188 in the fourth game, he took the deciding game 189-178.
After 12 games of qualifying Monday, Pfeifer was the second seed and earned a bye into the quarterfinals Tuesday. In his opening match, he defeated South Florida's Stephen Alessi 3-1 and then disposed of fellow Junior Team USA member William Haverland of West Texas A&M in the semifinals 3-2.
Qualifying for the USBC Intercollegiate Singles Championships was held at the four Intercollegiate Bowling Championships Sectional Qualifier sites -- Allentown, Pa.; Chattanooga, Tenn.; Fairview Heights, Ill.; and Las Vegas -- on March 23. All participants bowled six games with total pinfall determining final standings. The top four finishers in each division (male and female) at each site advanced to the USBC Intercollegiate Singles Championships.
The USBC Intercollegiate Singles Championships is sponsored by Hammer Bowling and Kegel, the official lane maintenance provider for USBC.
2007 USBC INTERCOLLEGIATE SINGLES CHAMPIONSHIPS
At AMF Pin Palace, Huntsville, Ala.
TUESDAY'S RESULTS
Match play
(Best 3 out of 5)
Round 1
(13) George Juszczyk, Saginaw Valley State def. (12) E.J. Parks, Lindenwood, 3.5-.5 (225-152, 171-118, 190-190, 198-151)
(14) William Haverland, West Texas A&M def. (11) Kevin Andes, Vincennes, 3-0 (203-174, 199-187, 233-232)
(15) Stephen Alessi, South Florida def. Michael Romano, Wichita State, 3-1 (245-146, 148-225, 245-177, 198-194)
Round 2
(8) Will Barnes, Wichita State def. (9) Cayson Coyle, UNLV, 3-1 (179-168, 189-157, 212-219, 213-178)
(5) Daniel Hannagan, Tennessee-Chattanooga def. Juszczyk, 3-2 (200-202, 214-193, 152-181, 197-179, 188-179)
Haverland def. (6) Dan Jernagan, Ferris State, 3-1 (192-133, 215-214, 176-203, 208-189)
Alessi def. (7) Michael McGreevy, Vincennes, 3-2 (235-173, 214-178, 158-205, 162-177, 193-186)
Quarterfinals
Barnes def. (1) Daniel Farish, Lindenwood, 3-2 (227-234, 211-202, 182-221, 256-161, 232-209)
(4) Jason Weaver, Penn State def. Hannagan, 3-0 (234-189, 243-225, 202-142)
Haverland def. Nick Thomas, Western Illinois, 3-0 (195-148, 247-226, 245-147)
(2) Tim Pfeifer, Robert Morris def. Alessi, 3-1 (174-203, 220-192, 193-189, 211-157)

Semifinal
Weaver def. Barnes, 3-1 (164-204, 181-171, 200-177, 197-187)
Pfeifer def. Haverland, 3-2 (206-212, 172-173, 245-189, 248-197, 254-191)
Finals
Pfeifer def. Weaver, 3-2 (152-225, 184-183, 179-159, 188-222, 189-178)