Right combo vaults new team into Ruby lead at 2022 Women's Championships
June 04, 2022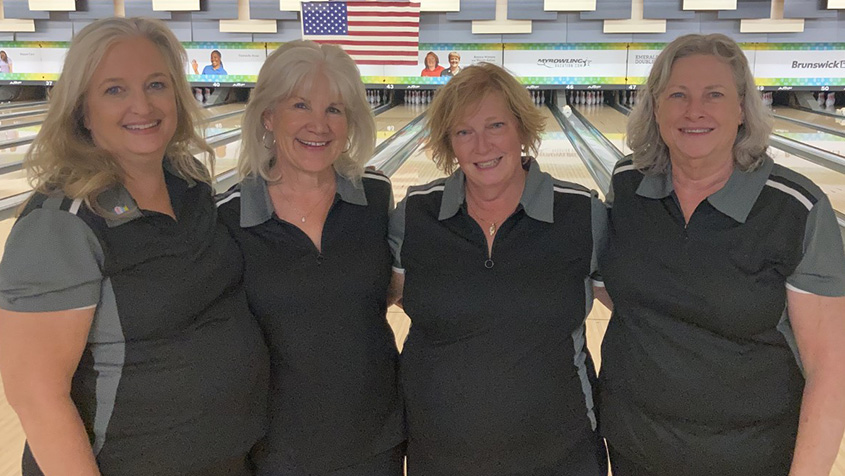 By Donovan Grubaugh
USBC Communications

ADDISON, Ill.
- Coming to the
United States Bowling Congress Women's Championships
is a lot about fun and catching up with some people you have not seen in a while, while making new memories that will stick with you.
For Janice Rinehart and her team, the Quirky Turkeys, this memory will stay with all of them. The team hails from three different states - Virginia, Arizona and Texas - and this combination led them to jump into the lead in Ruby Team at the 2022 event at Stardust Bowl with a 2,213 total.
They bested the previous leaders, #1 SPOT of Philadelphia, by almost 90 pins. #1 SPOT had held the lead with 2,125 since May 25.
Rinehart led the team with a 622 series, and she was joined by Terry Martin-Denning (563 series), Lynn McNett (530) and Jana Brickey (498). Martin-Denning and Brickey have bowled together in some form for 20-plus years, but this was the first time this specific team was put together.
After games of 698 and 734 to start, they needed 694 in their final game to get to the outright lead.
"I started looking around after Game 2 and saw we were one of the higher scores," Rinehart said. "But, I didn't realize we were in the running for the lead."
The Quirky Turkeys proceeded to roll 781 in Game 3 to cruise into first with one month left in the 2022 USBC Women's Championships. When they were told the news, the team burst into excitement and were joyful over taking the lead.
Throughout their run, the team brought good energy and were always ready for high-fives for their teammates, as well as small cheers for strikes.
"This group of ladies was so fun to bowl with," Rinehart said. "I think we might have to bowl again next year, seeing how we did so well as a team this year."
Ruby Team features four-person teams with a combined entering average of 600-664.