Shockers claim men's ITC title
April 19, 2008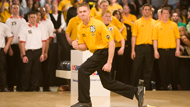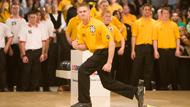 WICHITA, Kan. –
Wichita State senior Jesse Buss said momentum was a key ingredient to success at the 2008 United States Bowling Congress Intercollegiate Team Championships, presented by Storm.
So when he buried his first shot for a strike to start off the men's championship match against UNLV, he knew his teammates would respond in kind.
"If you were able to get ahead and get the momentum right away, you definitely had the advantage," Buss said. "I was nervous the first shot, but after putting 10 down I was able to settle down."
The Shockers followed Buss' lead in rolling to a 2-0 victory in the best-of-3, single-elimination match over UNLV on Saturday at Northrock Lanes for a record eighth national title and first since 2003.
The championship matches will air nationally on CBS College Sports (formerly CSTV) at a later date.
"It feels extra special winning it here," Wichita State head coach Gordon Vadakin said. "We've got avid bowling fans here in Wichita, so it's cool for them. I feel thrilled for our team, thrilled for our fans … it's awesome."
Wichita State, ranked No. 2 in the National Collegiate Bowling Coaches Association Top 20, trailed only briefly early on against the Rebels. Junior George Lambert, Buss and junior Will Barnes rattled off consecutive strikes in the middle of Game 1 en route to a 202-171 victory.
A double from Barnes and Buss in the middle of Game 2 helped the Shockers distance themselves for a 203-169 title-clinching victory.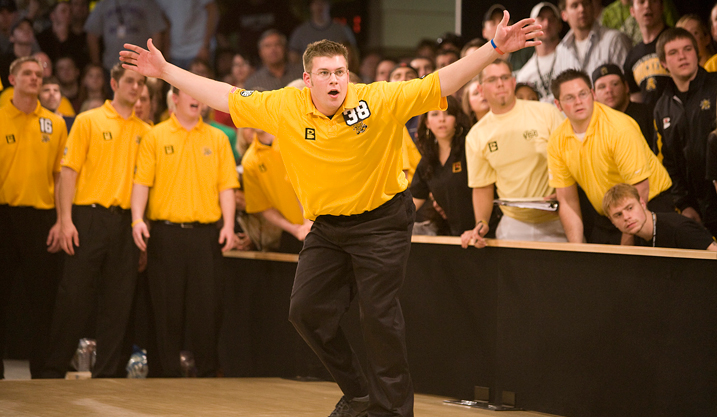 "This is what you wait for," said Buss, who was 4 of 4 on strikes in the title match. "To get there and bowl as well as we did, it is awesome."
Needing to win twice in the semifinals earlier Saturday, Wichita State knocked off two-time defending champion and No. 1-ranked Saginaw Valley State, 4-3 and 4-1 – rallying from a 2-0 deficit in the first match and jumping out to a 3-0 lead in the second.
"That's when we bowl our best," said Buss, who became engaged to Newman senior Courtney Brandon during Wednesday's "Night of Champions" Banquet. "When we need to throw shots and we're behind, that's where we excel."
A victory by Wichita State women, who are currently facing Pikeville for the women's title, would mark the third time in the event's 34-year history that a school swept both national titles. Arizona State first accomplished the feat in 1981, followed by Wichita State in 1994.
UNLV, which was making it second appearance at the national tournament and first since 2005, eliminated Purdue, 4-2, in the semifinals.
Saginaw Valley State junior Dan MacLelland was named Most Valuable Player in the men's division for the second straight year. Joining MacLelland on the men's All-Tournament Team was Lambert, Wisconsin-Whitewater junior Jon Schalow, UNLV freshman Brandon Allred and Purdue senior Collin Kerschner.
The USBC Intercollegiate Team Championships featured the top 16 men's and top 16 women's college bowling teams in the country vying for national titles. All 32 teams competed in best-of-7, double-elimination match play in the Baker format Friday, after which the field was pared down to four in both the men's and women's divisions.

2008 USBC INTERCOLLEGIATE TEAM CHAMPIONSHIPS
presented by Storm
(at Northrock Lanes, Wichita, Kan.)
Saturday's Results
MENSemifinals
(Best-of-7, double-elimination match play)
(5) UNLV def. (8) Purdue, 4-2 (Purdue eliminated)
(225-232, 200-206, 191-132, 241-213, 178-156, 227-210)
(2) Wichita State def. (3) Saginaw Valley State, 4-3
(205-235, 185-224, 225-202, 277-216, 200-181, 222-235, 225-201)
(2) Wichita State def. (3) Saginaw Valley State, 4-1 (Saginaw Valley State eliminated)
(229-162, 223-171, 234-211, 260-267, 203-202)
Championship
(Best-of-3, single-elimination)
(2) Wichita State def. (5) UNLV, 2-0
(202-171, 203-169)
WOMEN
Semifinals
(Best-of-7, double-elimination match play)
(1) Wichita State def. (4) Morehead State, 4-0 (Morehead State eliminated)
(234-201, 188-185, 195-168, 228-160)
(3) Pikeville def. (7) Maryland-Eastern Shore, 4.5-3.5 (Maryland-Eastern Shore eliminated)
(183-187, 156-190, 212-180, 223-159, 203-203, 137-212, 280-172, 214-177)
Championship
(Best-of-3, single-elimination)
(1) Wichita State vs. (3) Pikeville