Shockers defend men's ITC title
April 18, 2009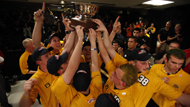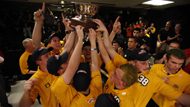 ROCKFORD, Ill. –
In a matchup of the two most storied men's programs in the history of the United States Bowling Congress Intercollegiate Team Championships, Wichita State defeated Saginaw Valley State on Saturday to win the national title.
The Shockers won their second consecutive title and ninth overall, defeating the Cardinals 2-1 in the best-of-three championship match at The Cherry Bowl. Wichita State claimed the deciding game 180-156 to earn the Kerm Helmer Cup and deny Saginaw Valley State its fifth championship. The title match will air on CBS College Sports on June 3 at 8 p.m. EDT.
"This is such a great achievement, and I guess you could say our journey has paid off," Wichita State junior John Szczerbinski said. "We just try to put our hearts into every shot. We were worried about making quality shots because all we can do is control our performance."
Wichita State fell behind after losing the first game 212-185. Leading by one pin, Shockers anchor bowler Josh Blanchard had a chance to close out a victory for his team in the final frame, but left a 3-4-6-7 split.
Lead-off bowler Will Barnes, the lone senior on Wichita State's team, turned things around the Shockers by striking to lead off the second game, propelling them to a 203-149 victory.
"We didn't have much to lose after that first game, so we threw our shots and did what we were able to do," Barnes said. "I wanted to go out with a bang, so we did that but I couldn't have done it without the guys."
The loss closed out a dominating tenure at the Intercollegiate Team Championships for Saginaw Valley State senior Dan MacLelland, who was honored with his third consecutive Most Valuable Player award.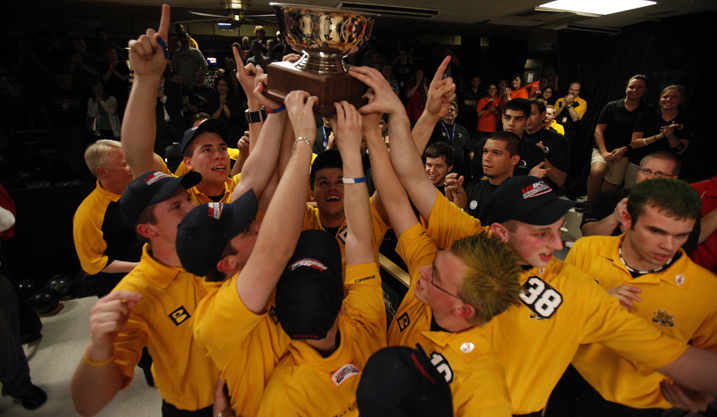 "It didn't go our way but I was glad to see that the two top teams in the country met for the title," said MacLelland, who led the Cardinals to the championship in 2007. "It's really emotional, but I just have to look forward. I will always be friends with these guys, and I'll probably be back here coaching next year."
In the semifinals, the Wichita State men defeated Webber International twice Saturday to advance to the championship in the best-of-seven double-elimination format. The Shockers took the first match 4-1 and then advanced with a 4-2 victory. Saginaw Valley State swept Rochester Institute of Technology, 4-0, to make the final.
Joining MacLelland on the men's All-Tournament Team was Wichita State's Josh Blanchard, Webber International's Marcelo Suartz, Rochester Institute of Technology's Dan Vick and North Dakota State's Eric Parvey. MacLelland also earned the Chris Stoehr Sportsmanship Award.
The USBC Intercollegiate Team Championships featured the top 16 men's and top 16 women's college bowling teams in the country vying for national titles. All 32 teams competed in best-of-seven, double-elimination match play in the Baker format Friday, after which the field was pared down to four in both the men's and women's divisions.

2009 USBC INTERCOLLEGIATE TEAM CHAMPIONSHIPS
(at The Cherry Bowl, Rockford, Ill.)
Saturday's Results
MENSemifinals
(Best-of-seven, double-elimination match play)
Saginaw Valley State def. Rochester Institute of Technology, 4-0 (Rochester Institute of Technology eliminated)
(223-152, 254-164, 250-171, 195-171)
Wichita State def. Webber International, 4-1
(246-141, 210-254, 247-224, 208-196, 212-192)
Wichita State def. Webber International, 4-2 (Webber International eliminated)
(180-182, 186-200, 254-165, 212-179, 246-196, 235-211)

Championships
(Best-of-three, single-elimination)
Wichita State def. Saginaw Valley State, 2-1
(185-212, 203-149, 180-156)