Simonsen makes history with win at 2016 USBC Masters
February 14, 2016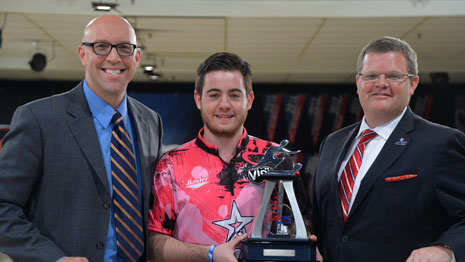 2016 USBC Masters brackets

INDIANAPOLIS -
Nineteen-year-old Anthony Simonsen of Princeton, Texas, won the 2016
United States Bowling Congress Masters
on Sunday to become the youngest player to win a major title on the Professional Bowlers Association Tour.
Simonsen struck on eight of his first nine shots in the championship match at Woodland Bowl to secure a 245-207 victory against Dan MacLelland of Kitchener, Ontario, Canada. MacLelland was looking to become the first amateur since 2002 to win the USBC Masters.
The victory earned Simonsen $50,000 and the coveted Masters trophy, while MacLelland took home $25,000 as the runner-up. Simonsen was the first top seed to win the event since 2013, when Australia's Jason Belmonte claimed the first of a record three consecutive Masters titles.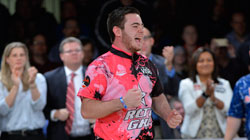 Simonsen, at 19 years and 39 days old, surpasses USBC and PBA Hall of Famer Mike Aulby of nearby Carmel, Indiana, as the youngest major champion. Aulby was 19 years and 83 days old when he won the PBA National Championship in 1979 for the first of eight major titles.
The youngest Masters champion was Ed Ressler Jr. of Allentown, Pennsylvania, who won the tournament in 1975. 
"It's definitely a dream come true," said Simonsen, who won his first title earlier this year when he teamed with Connor Pickford to win the Mark Roth/Marshall Holman Doubles Championship and just miss becoming the youngest player to win a PBA Tour title. "And, it's awesome to break a record. Mike Aulby was a great player. Missing the youngest to be a title-holder by two days was a little disappointing, but to come out and get the job done today, I guess I'll take that as evening itself out."
The decision to pursue a career on the lanes was one Simonsen didn't take lightly, but he quickly was able to prove himself with two PBA regional victories on the way to PBA Southwest Region Rookie of the Year honors for the 2014 season.
Equal success at the national level has been just as quick, but Simonsen still is focused and humble.
"I made the decision at a young age to come on out, and it was about getting out here and getting experience, which really is starting to pay off," Simonsen said. "This is my first full year out on Tour, and I bowled a majority of the major events that were possible. To have success is awesome, but a title doesn't define you. You have to keep coming out and trying to perform week in and week out, and see where it takes you."
For MacLelland, this week at the Masters was a vacation away from his full-time job as a bowling center general manager and a chance to catch up with all the people he no longer gets to see since leaving the PBA Tour.
"It was great to be here and see everyone again, and I really love bowling in the Masters," MacLelland said. "This is one event I always try to bowl in, and it was a fun week. It's a little disappointing, but I'm not upset. Things just didn't go my way. Anthony bowled great all week."
On the way to the championship match, MacLelland was able to hold off 2013 Masters runner-up Wes Malott of Pflugerville, Texas, for a 216-213 victory.
Against Malott, MacLelland started his first TV appearance since 2014 with an open frame, but strikes in the next four frames gave him a nine-pin advantage halfway through the match. He had a chance to shut out Malott with a double and eight pins in the 10th frame, but he left a 2-7 split after striking on his first shot.
Following his first miscue of the day in the ninth frame, a 2-8-10 split, Malott needed a double and four pins in his final frame to slip past MacLelland. He struck on his first shot, but a 6-10 combination on his next offering ended his run at the 2016 event. A No. 4 seed never has won the Masters.
In his first two matches of the day, Malott struck on 20 of 24 attempts to defeat Tom Daugherty of Riverview, Florida, 258-189, and Chris Loschetter of Avon, Ohio, 258-201.
Loschetter finished fourth and earned $10,000, while Daugherty, who finished third at last week's FireLake PBA Tournament of Champions, earned $8,000 for his fifth-place effort Sunday at the Masters.
Belmonte was among the final eight bowlers from this year's 417-player field, but losses Saturday to Malott and Sweden's Martin Larsen ended Belmonte's bid for a fourth Masters crown.
The 2016 Masters featured a total prize fund of $295,000.
All competitors this week bowled 15 games of qualifying, before a cut was made to the top 63, who joined Belmonte in the double-elimination match-play bracket.
2016 USBC MASTERS
At Woodland Bowl, Indianapolis
Sunday's Results

Final standings
1, Anthony Simonsen, Princeton, Texas, 245 (one game), $50,000
2, Dan MacLelland, Kitchener, Ontario, Canada, 423 (two games), $25,000
3, Wes Malott, Pflugerville, Texas, 729 (three games), $15,000
4, Chris Loschetter, Avon, Ohio, 201 (one game), $10,000
5, Tom Daugherty, Riverview, Fla., 189 (one game), $8,000
Stepladder results
Match One - Malott def. Daugherty, 258-189
Match Two - Malott def. Loschetter, 258-201
Semifinal - MacLelland def. Malott, 216-213
Championship - Simonsen def. MacLelland, 245-207