Sixteen players still undefeated at 2023 USBC Queens
May 22, 2023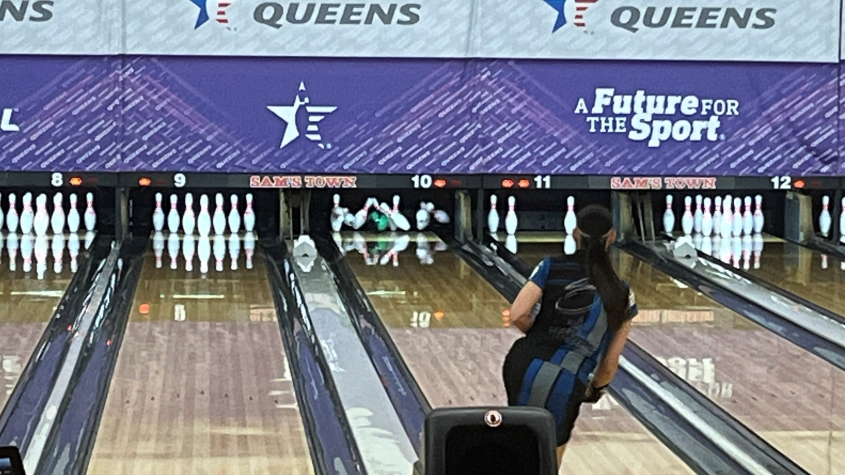 FULL RESULTS

LAS VEGAS – The 2023 United States Bowling Congress Queens began on Thursday with a field of 216 players. After the first two rounds of match play were completed at Sam's Town Bowling Center on Sunday, that number has been whittled down to just 32.
Sixteen bowlers went 2-0 to remain in the Winners Bracket on the first day of head-to-head matches while another 16 went 1-1 and remain alive in the tournament's Elimination Bracket.
Qualifying leader and No. 1 seed Cherie Tan of Singapore; Maria Jose Rodriguez of Colombia; Carlene Beyer of Ogdensburg, Wisconsin; Karsyn Lukosius of Jackson, New Jersey; Julia Bond of Aurora, Illinois; Shannon O'Keefe of Shiloh, Illinois; Taylor Bulthuis of New Port Richey, Florida; and Correen Acuff of Surprise, Arizona, are the undefeated players on the left side of the Winners Bracket.
Josie Barnes of Hermitage, Tennessee; Madeleine McDuff of Katy, Texas; Birgit Noreiks of Germany; Dasha Kovalova of Muskegon, Michigan; Jasmine Snell of Papillion, Nebraska; Shannon Sellens of Long Beach, New York; Lauren Pate of Ballwin, Missouri; and Lindsay Boomershine of Brigham City, Utah, have yet to lose on the right side.
Match play will continue Monday at noon Eastern until the five competitors are determined for Tuesday's stepladder finals, which will be broadcast live on CBS Sports Network at 7 p.m. Eastern. The winner will claim the coveted tiara and $60,000 top prize.

The USBC Queens is the third event and first major championship on the 2023 Professional Women's Bowling Association Tour schedule. All qualifying and match-play rounds leading up to the televised finals are streaming live at BowlTV.com.
Eight past Queens champions are among the 32 players still hoping to take home the tiara this year.
Noreiks, the defending champion, is joined in the Winners Bracket by past titlists Bond (2021), Kovalova (2019), O'Keefe (2018) and Jose Rodriguez (2014) while two-time winners Liz Johnson of Niagara Falls, New York (2009 and 2015), and Diana Zavjalova of Latvia (2013 and 2017), and 2016 champion Bernice Lim of Sinagpore remain alive in the Elimination Bracket.
Noreiks just narrowly avoided a major setback to her title-defense bid as her Round 1 match with Lim required a one-ball roll off after the two competitors finished three games tied at 628.
Thankfully for Noreiks, Lim began the extra session with a seven count. That took just enough pressure off Noreiks, who calmly stepped up and knocked down nine pins to win the roll off and secure the victory.
Having no desire to go down to the wire again, Noreiks made things much easier on herself during Round 2, defeating Jennifer Russo of Holmdel, New Jersey, by a final score of 603-513 to end her day in the Winners Bracket.
"That match in the morning was really tough with the roll off and everything; that's not really what you want, especially for your first match," Noreiks said. "I'm glad I made it. It's nice to have two wins and still be starting in the Winners Bracket tomorrow."
There, she will face Kovalova in a battle of former champions. Noreiks knows that she's going to have to bring her A Game if she hopes to remain undefeated after that matchup.
"Bowling against Dasha (Kovalova) is going to be a tough match, but, honestly, everyone who is still bowling at this point is very talented," Noreiks said. "The lanes are hard, so I just have to stay patient and see how it goes because it's not going to get any easier from here."
It's true that the road only gets harder the deeper you advance into a major championship. As such, sometimes the key to surviving and advancing is digging deep into the bag of tricks and pulling out something that's worked in the past.
That's precisely what O'Keefe has done, and it's allowed her to get stronger and stronger each day at this year's Queens.
"Once we got to the third round, I started keying on one specific aspect of my physical game, and once I did that, I had a better look," O'Keefe said. "It's something I've done at multiple other tournaments, and once I implemented that, the picture got even clearer."
O'Keefe certainly didn't appear to have any difficulties figuring out the 45-foot Queens oil pattern on Sunday as her two three-game sets were among the highest during each round.
She began the day with a 687-521 victory over Chelsey Klingler of Grand Rapids, Michigan, before taking down Breanna Clemmer of Clover, South Carolina – a player O'Keefe coached when Clemmer bowled collegiately at McKendree University – during Round 2 (664-606).
Although having to square off against someone so familiar may not appear ideal, at this point, O'Keefe has gotten used to battling former players at major championships, and she wouldn't have it any other way.
"We have a lot of great kids who have come through our program, so having to bowl them at events like this is going to happen a lot," O'Keefe said. "They're great, so they're going to beat me sometimes, and I'm going to beat them sometimes. It's really cool; I just love it."
O'Keefe would also love to remain undefeated and advance to Tuesday night's telecast, but the path won't be easy as Bond is her opponent for Round 3.
Bond earned her spot in the match by defeating Alejandra Urrutia of Highland, California (646-560), and 2006 champion Shannon Pluhowsky of Dayton, Ohio (653-545).
Pluhowsky rebounded with a win over Abby Ragsdale of Aurora, Illinois (609-571), but was eliminated (759-706) one round later by Liz Kuhlkin of Schenectady, New York. Kuhlkin's 759 was the highest three-game total shot on Day 1 of match play.
For more information on the USBC Queens, visit BOWL.com/Queens.