Talented team rewrites leaderboard at 2023 USBC Open Championships
March 19, 2023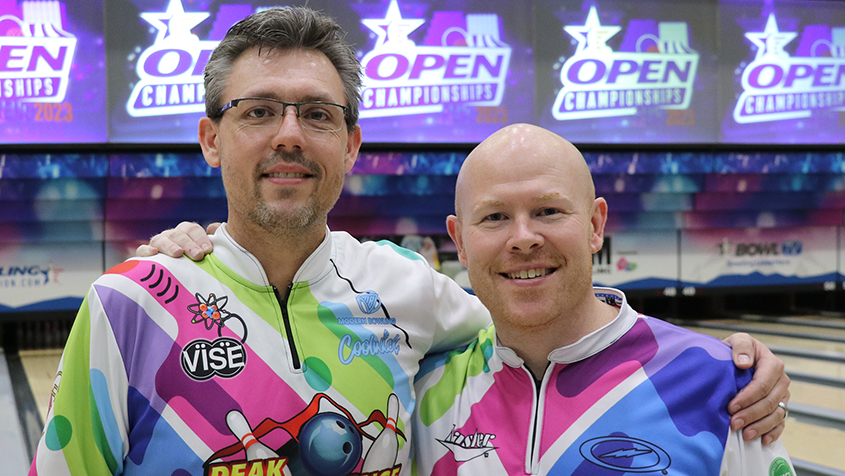 Pictured above (from left): Shawn Naumann and PJ Haggerty

RENO, Nev. –
Less than 24 hours after taking lead in Regular Team at the 2023
United States Bowling Congress Open Championships
, the members of Chili Garlic Edamame were back on the lanes in Reno and ready to get back to business.
As they stepped off the lanes at the National Bowling Stadium on Sunday after doubles and singles competition, the quintet found itself at the top of the standings in four events – Regular Team, Regular Doubles, Regular All-Events and Team All-Events.
The team – comprised of David O'Sullivan, Shawn Naumann, Ron Hurt, Sean Riccardi and PJ Haggerty – put up its first number Saturday at the NBS,
rolling to the top spot in Regular Team with 3,422
.
To kick things off Sunday, Naumann (245-200-244 for a 689 series) and Haggerty (237-217-217 for 671) edged their way to the lead in Regular Doubles with 1,360.
Haggerty continued to strike and delivered a double in his final frame of singles to also move to the top of the standings in Regular All-Events by five pins with 2,080. He had 740 in team and 669 in singles.
The overall performance from Chili Garlic Edamame easily helped them set the pace in Team All-Events with a 9,884 total.
Haggerty was followed in the 45-game marathon for Team All-Events by O'Sullivan (2,062), Naumann (1,997), Riccardi (1,916) and Hurt (1,829).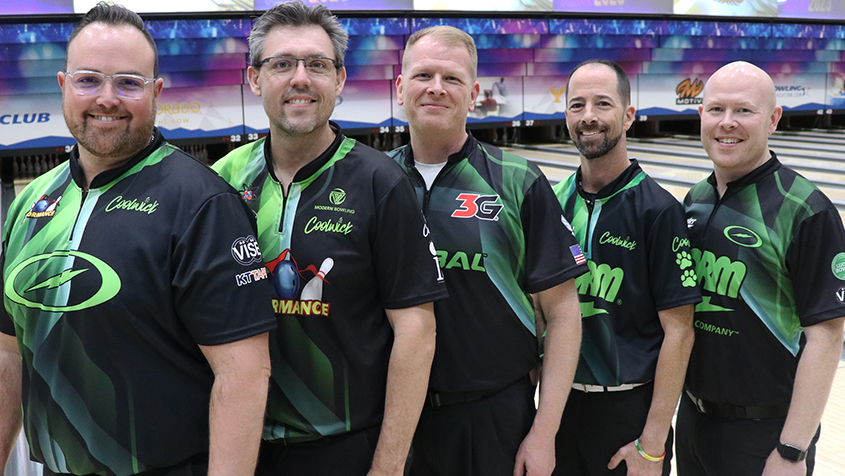 Entering competition Sunday, Aaron Turner of Stoughton, Wisconsin, and Billy Foertsch of Madison, Wisconsin, were leading Regular Doubles with 1,350. Giorgio Clinaz of Brigham City, Utah, and Matt Cabanski of Cibolo, Texas, had tied the score just minutes before Naumann and Haggerty took over the top spot.
Turner also was leading Regular All-Events prior to Sunday's squad with 2,028. Clinaz briefly took the lead with 2,075.
The lead in Team All-Events previously belonged to Virtue Bowling Supply 1 of Mesa, Arizona, with 9,149.
The team continually finds itself in position to win at the USBC Open Championships but still is looking for its breakthrough performance.
It's easy to see the talent within the group by watching them compete or taking a glance at each player's individual resume, but their team chemistry continues to shine in each appearance at the Open Championships.
"We talk a lot as a group before we get to the tournament, and our relationship with each other is a tight bond," said O'Sullivan, who won the 2007 U.S. National Amateur Bowling Championships at the NBS. "I am super comfortable in this building along with the rest of this group, so that played a key role in our success this week."
The communication between the group keeps going while they are on the lanes as they try to stay ahead of the moves, but their appearance in March versus the usual June or July added a different twist to their visit in 2023.
"The key for us is communication," Naumann said. "We watch all our shots and pay attention to what the lanes are telling us after every shot. Since we bowled so early this year, we didn't have to think about what other teams already did, which led to a more relaxed mindset coming in."
With the hard work complete, the waiting game now begins for the team to see how their scores stack up against the field at the NBS. The 2023 Open Championships will run daily through July 24 and feature more than 9,700 five-player teams and nearly 50,000 bowlers.
The group hopes its long-awaited win at the event will surface from their performance over the weekend, but they also understand each team making their way to Reno has circled their scores.
Regardless of the outcome, they can step away from the 2023 event knowing they gave it all on every shot as team.
"I am super proud of the guys today," said Haggerty, a three-time National Collegiate Bowling Coaches Association Most Valuable Player (2004-2005, 2005-2006 and 2006-2007) at Fresno State. "I feel like any one of us, at any point, can win an Eagle. To be in contention for a couple of them leaving the lanes today is a good feeling. There still is so much talent left to bowl in this tournament, but to be where we are at with the number we just put up is incredible."
The Regular Division features bowlers with entering averages of 176 and above.
Visit us on Facebook at the
official USBC Open Championships page
.