Tan earns top seed for match play at 2023 USBC Queens
May 20, 2023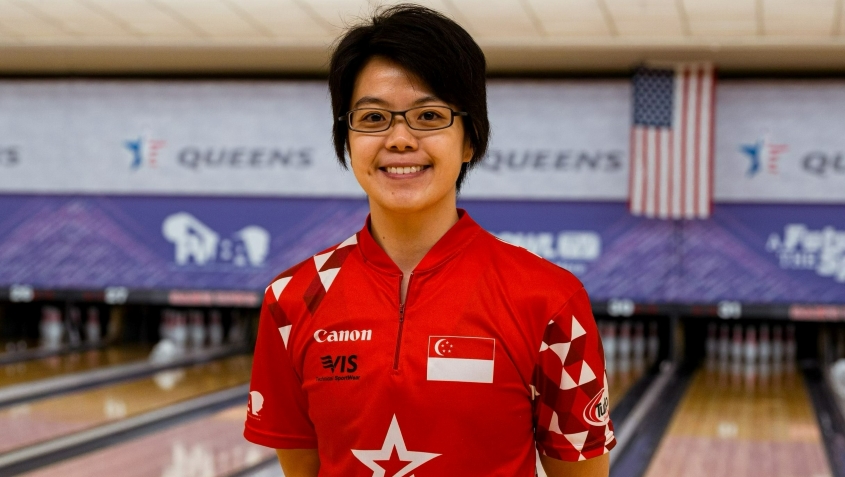 LAS VEGAS – Cherie Tan of Singapore maintained her lead and averaged more than 225 during qualifying to lead the field into the double-elimination match-play bracket at the 2023 United States Bowling Congress Queens.

The 35-year-old left-hander posted an 1,138 five-game block Saturday at Sam's Town Bowling Center to complete qualifying with a 3,377 total for 15 games, a 225.13 average.

Tan is followed in the standings by Anna Andersson of Sweden (3,232); Josie Barnes of Hermitage, Tennessee (3,180); Stefanie Johnson of McKinney, Texas (3,171) and 2021 Queens champion Julia Bond of Aurora, Illinois (3,158).

The Queens is the third event and first major championship on the 2023 Professional Women's Bowling Association Tour schedule. The finals will be broadcast live Tuesday at 7 p.m. Eastern on CBS Sports Network. All qualifying and match-play rounds leading up to the televised finals are streaming live at BowlTV.com.
With qualifying complete, the top 63 players and Birgit Noreiks of Germany, who was guaranteed a spot in the double-elimination bracket as the defending champion, will return Sunday for match play.
Noreiks finished qualifying in 43rd place with a 2,972 total and will face 2016 Queens champion Bernice Lim of Singapore in the opening round.
USBC Hall of Famer Cheryl Daniels of Southfield, Michigan, who was inducted into the PWBA Hall of Fame just hours before the 2023 Queens began, qualified 61st with a total of 2,926. At 63 years old, Daniels, the 1995 U.S. Women's Open champion and a 10-time winner on the PWBA Tour, is the oldest bowler to make the match-play cut at this year's tournament.
Daniels approached the qualifying rounds at this year's Queens using the same approach she used during her heyday on tour.
"My main goal whenever I bowl a tournament like this is just to make the cut," Daniels said. "Of course, in the back of my mind, I always want to win, but now that I'm not doing this full time, getting through to match play was the first goal. Now that I'm there, I just need to stay patient and make my spares because anything can happen."
Finishing just below Daniels and securing the 64th and final spot in the bracket was Hui Fen New of Singapore, who finished with a 15-game total of 2,919, a 194.6 average. She will face Tan in the first round of match play.
Although Tan would appear to be the heavy favorite after leading the 216-player field and capturing the No. 1 seed in the bracket, the veteran from Singapore knows that she can't take Hui Fen New (or anyone else) lightly.
"It's great to be the top seed, but since the scores don't carry over from qualifying, we're all starting over," Tan said. "To be successful, it's going to take great shot-making and a little luck of the draw."
A lot of words can be used to describe Tan's performance during qualifying, but lucky isn't one of them.
The four-time PWBA Tour titlist and past major champion – Tan won the 2019 PWBA Players Championship – was simply dominant during the first 15 games, leading the field by 145 pins.
While the vast majority of the field struggled to get to the 200 mark game in and game out – only 32 players averaged 200 or better over the course of the first 15 games – Tan only recorded one game under 200 during qualifying, that being the 172 she finished with during Round 1 on Thursday.
Tan more than made up for it on Friday and Saturday, however, shooting 215 or better during each of her final 10 games, averaging just over 230 in the process.
The outstanding effort begs the question: How has Tan managed to make the 45-foot 2023 Queens oil pattern look easy when those who've bowled on it know that it's anything but.
Nevertheless, for Tan, the answer is simple.
"I think it boils down to shot making," Tan said. "The lanes are hard, so if you're not able to make shots consistently, you're not going to be able to score. I got lucky with some carry here and there, so the strikes came in bunches, which helped make my scores get a little bigger."
If the strikes continue coming in bunches during match play, Tan is going to be a daunting opponent for anyone she matches up with during the tournament's final three days.
Sunday's match-play round will begin at noon Eastern. All matches prior to the stepladder finals will feature a three-game total-pinfall format.
Bracket play resumes Monday with the top five athletes advancing to Tuesday's stepladder finals.
The 2023 Queens champion will take home the $60,000 first-place prize and tiara awarded to the winner.
For more information on the USBC Queens, visit BOWL.com/Queens.