Coté, Prather advance to Singles quarterfinals at 2022 IBF World Cup
November 20, 2022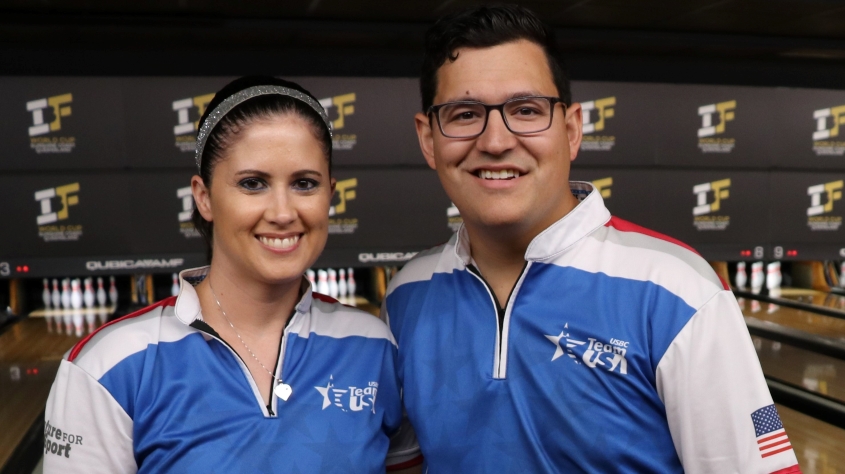 RESULTS AND INFORMATION
Queensland, Australia –

Team USA's Bryanna
Coté
and Kris Prather remained in medal contention after Round of 32 and Round of 16 Singles competition concluded at the 2022 International Bowling Federation World Cup at Suncity Tenpin Bowl in Queensland, Australia, Saturday night.
Coté advanced by defeating Mades Arles of the Philippines in a three-game thriller (197-218; 192-190; 224-215) while Prather earned his spot by sweeping Hong Kong's Eric Tseng (225-189; 217-209).
Team USA's women will have a much-deserved day off, but the men will return to the lanes at 1:30 a.m. CST Monday morning for their Round of 8 matchup with No. 3 seed Germany.
Singles competition wraps up Monday evening.
Coté will take on Australia's Chloe Clague at 9:15 p.m. CST. Prather will be on the lanes shortly thereafter, battling Singapore's Nu'Man Syahmi at 10:30 p.m. CST.
A win over Clague would send Coté through to the seminfinals where she would face either Anna Andersson of Sweden or Lara Posadas of the Philippines.
Should Prather top Syahmi, he'd move on to the men's semis and have a match with Hong Kong's Michael Mak or Australia's Jason Belmonte.
The Women's and Men's Singles finals will be conducted Tuesday morning at 3:30 a.m. CST and 4:30 a.m. CST, respectively.
Women's Round of 16
Coté (USA) def. Arles (Philippines) 2-1 (197-218; 192-190; 224-215)
Coté's battle with Arles was a back-and-forth affair from start to finish.
Coté found herself up by five pins through eight frames of Game 1, but that all changed when she went high and left the Big 4 (4-6-7-10 split) in the ninth, resulting in a costly open.
Arles took advantage by putting up a strike in the ninth frame and then striking out the tenth to complete the late comeback and defeat Coté 218-197.
A second-frame Arles open allowed Coté to grab an early 12-pin lead during Game 2, but that advantage disappeared just two frames later when Coté left a 4-6-7 split and opened herself.
From that point forward, neither player led by more than eight pins the rest of the way.
Nevertheless, when Coté left a 7 pin in the ninth frame and Arles struck to record a double, the game was Arles' to win.
That's because even if Coté struck out for 205, Arles could go strike, nine spare to reach 206 and beat her.
Coté got the first strike in the tenth, giving Arles something to think about.
It seemed to work as Arles' first shot in the 10th frame came in light, leaving the 2-4-5. She would convert the spare, but the damage was done.
Arles' seven-count on the first ball, combined with Coté's opening strike, put Coté back on top by one.
If Coté recorded a second mark in the tenth, she couldn't lose.
That mark never came, however, as Coté's next shot went high and left the 6-7-10.
Arles stepped back up for her fill ball needing a strike for 194. If she delivered, it would've forced Coté to take two pins to set up a roll-off or convert the difficult split for the win.
To the disappointment of the Philippines faithful, Arles didn't deliver as her final shot stayed out to the right, leaving a 1-2-4-10 washout. The low count handed the win to Coté, who then used her final delivery to get lined up for Game 3 as opposed to trying to convert the spare.
Fresh off the thrilling 192-190 win in Game 2, Coté came out striking during Game 3, opening with a four-bagger to jump out to a 23-pin lead through four frames.
Coté's lead was still at 19 pins heading into the ninth and tenth, but that's when things got interesting yet again.
Coté washed out in the ninth, leaving a 1-2-4-10 of her own that she was unable to convert. That left the American with a score of 194 through nine frames.
Arles spared in the ninth and struck on her first ball in the tenth to cut Coté's lead down to nine.
Staying composed, Coté responded with a strike of her own to open the 10th frame.
That put the pressure back on Arles. If she failed to strike on her second ball in the tenth, Coté would win.
But Arles didn't fail; instead, she delivered a flush strike to turn the tables yet again and put Coté back in a must-strike situation.
Showing the moxie that has helped her win four Professional Women's Bowling Association Tour titles and earn more than 20 medals in international competition, Coté delivered the strike that she had to have, which allowed her to walk away with a 224-215 Game 3 win, the match victory and a berth in the women's quarterfinals.
"It was definitely an up-and-down match," Coté said. "I was fighting myself physically, fighting myself mentally and just not throwing it very good.
"When it went to the third game, I just had to tell myself that there's a reason why I'm here. I just need to be the best me I possibly can, and whatever happens, happens. I threw probably two of the best shots I could to end that game, and I get to move on; I'm very thankful for that."
Chloe Clague (Australia) def. Stefanie Johnson (USA) 2-1 (203-181; 210 (39)-210 (49); 202-190)
Bowling in her final tournament after nearly 20 years as a member of Team USA, Stefanie Johnson was hoping to end her career with another Singles medal hanging around her neck.
Unfortunately, the American superstar will have to take comfort from the more than two dozen medals she's earned in international competition over the years because Clague ended her hopes of medaling in Singles by eliminating her in three games.
Johnson was playing from behind throughout Game 1 as a Big 4 (4-6-7-10) in the third and 4-6-7-9 in the sixth allowed Clague to jump out to a 40-pin lead.
Johnson tried to rally by putting up a double in the seventh and eighth, but the momentum stopped when she left a 2 pin in the ninth.
That leave, coupled with Clague's ninth-frame strike, officially gave Game 1 to the young Australian (203-181).
Johnson and Clague battled back and forth during the first half of Game 2 with Johnson holding a 12-pin lead after two frames but Clague battling back to grab a three-pin lead of her own after five.
Clague would see her lead balloon up to 26 pins after Johnson left a 1-2-8-10 and opened in the seventh frame.
At that point, the ball was firmly in the Australian's court. She had 155 in the seventh with a turkey going. Johnson, meanwhile, had 130 in the seventh and was on an open.
Johnson delivered a pocket shot in the eighth, but she left a 10 pin. Had Clague struck to extend her string to a four-bagger, the match would've been all but over.
Clague didn't strike though; instead, she left a 6-10, which she converted to maintain a 25-pin lead through eight.
Johnson's only hope was to start striking and hope for some help.
Her first bit of good fortune came when after she delivered a flush strike in the ninth, Clague left a solid 10 pin.
Her second bit of good fortune came when Clague failed to strike on her first ball in the tenth; instead, she left a 1-2-4-8, which she converted.
Johnson, meanwhile, struck on each of her first two balls in the tenth frame, and it was shortly thereafter when her next bit of good fortune came along.
Going first, Johnson's fill-ball was left out of her hand, hitting almost directly on the head pin yet somehow caving all ten pins back for a strike that put her final score at 210.
Nevertheless, Clague could strike on her fill for 211.
But that's when Johnson's last bit of good fortune came through as Clague's final shot hit the pocket but left a wiggling 7 pin to end Game 2 in a tie (210-210).
Johnson needed no good fortune during the ninth-and-tenth-frame roll-off, flushing two pocket strikes before leaving a 10 pin.
Clague, meanwhile, could only muster nine-spare, nine-spare, nine, giving the roll-off to Johnson by a score of 49-39 and sending the match to a deciding Game 3.
It appeared as if the thrill of the roll-off win may carry Johnson through to the match victory as she started Game 3 spare, strike, spare, spare, double to grab an 11-pin lead over Clague through six frames.
Clague stayed clean during that same span, however, and when Johnson left a pocket 5-10 (nearly a 5-7-10) in the seventh, the game was quickly back to even.
Johnson and Clague each posted doubles during the eighth and ninth, setting up another dramatic finish.
If Johnson could strike on her first shot in the 10th frame, it would put the pressure squarely upon Clague to match.
Unfortunately, Johnson didn't strike; instead, her shot struggled to come back and left the 2-4-5.
Meanwhile, Clague's first ball in the tenth left a 10 pin. That put the Australian up by two pins in count, but nothing was decided yet.
If Johnson could convert her spare and strike on the fill, she'd post 202, which would force Clague to make her 10 pin and then go nine or better on her final shot to take the game and match.
But despite appearing to hit the 2 pin head on, which should've then caused her spare ball to split the 4-5, Johnson's shot inexplicably only managed to take out the two and the five, leaving the 4 pin behind and resulting in an open to finish at 190.
At that point, Clague's opening nine count was already enough.
With the outcome no longer in doubt, the Australian covered her spare. She then went on to count seven on the fill to win the game (201-190) and eliminate Johnson.
Natasha Roslan (Malaysia) def. Jordan Richard (USA) 2-0 (246-182; 234-170)
Jordan Richard advanced to the women's Round of 16 by winning Group A with an average of 213.2 and showing as much striking power as any woman in the field.
Sadly, that power just didn't show up with any consistency for Richard during her bout with Roslan.
Richard struggled from the very beginning, opening the first frame of the match and only notching one strike through the first six frames of Game 1.
Roslan, meanwhile, was locked in from the start, going strike, spare, spare, six-bagger to jump all over the American and build a 54-pin lead after eight frames.
With the game decided, Richard began trying to get lined up for Game 2 while Roslan stayed clean in the ninth and tenth and took the opener 246-182.
It looked as if maybe things would be turning around for Richard in Game 2 as she started with a double, and Roslan's torrid striking pace appeared to be slowing down.
But appearances can be deceiving, and after Richard left a 4-10 split and opened in the fourth, Roslan was quickly ahead by 11 pins.
Richard did her best to hang tough, but Roslan just wouldn't make any mistakes to give her an opening.
Once the American chopped the 3-6-10 in the seventh and followed it up with a 2-8-10 in the eighth, it was clear that it just wasn't going to be her night.
Roslan stayed clean and threw a turkey through the ninth and first two balls in the tenth to coast to a 234-170 victory that ended Richard's run in Singles.
Men's Round of 16
Kris Prather (USA) def. Eric Tseng (Hong Kong) 2-0 (225-189; 217-209)
While two out of the three women's Round of 16 matches were highly dramatic for Team USA, Kris Prather's match against Hong Kong's Eric Tseng wasn't nearly as stressful on the men's side.
Prather jumped on top of the Hong Kong bowler from the start of Game 1, going spare, turkey, spare, double to establish a 48-pin lead over Tseng, who got himself behind the eight-ball early with three opens in the first five frames.
Tseng recovered to throw a four-bagger in frames five through nine, but it wasn't nearly enough to catch Prather, who stayed clean and rolled to a 225-189 win.
Prather continued showing his striking prowess during Game 2, starting strike, spare, turkey to go up by ten pins at the midway point.
Tseng would fall no further behind, but he would never get closer than eight pins either, allowing Prather to close him out for a 217-209 victory and berth in the men's Round of 8.
"Obviously, I'm incredibly proud and fortunate to be moving on," Prather said. "Eric (Tseng) looked a little nervous at the start, and that got me out to a pretty comfy lead and allowed me to experiment a little bit during the second half of Game 1.
"The pair was really tough; that pair has been tough on me all week, so I'm super happy to win a match there and sort of feel like I conquered it a little bit. I'm looking forward to the next round."
Timmy Tan (Malaysia) def. Jakob Butturff (USA) 2-0 (226-171; 219-213)
Jakob Butturff is one of the best bowlers in the world. You don't win six standard Professional Bowlers Association titles and one major otherwise.
Still, even the best bowlers in the world can't overcome bad pin carry, and that is what Butturff was forced to endure throughout his Round of 16 matchup with Malaysia's Timmy Tan.
Butturff hit the 1-2 pocket on each of his first seven shots of Game 1 against Tan. The result was one strike and six nine counts.
Tan, on the other hand, had no trouble striking from the right side, going turkey, spare, turkey to open up a 42-pin lead over Butturff after seven frames.
Tan slowed down a bit to end the game, but it was of little consequence as Butturff's inability to carry allowed the Malaysian to cruise to a stress-free 226-171 Game 1 victory.
It appeared as if maybe Butturff's carry problems were going away after he started Game 2 with a double.
That appearance proved misleading, however, as he then went 7 pin, pocket 5-10, 7 pin during the next three frames to allow Tan to take a 23-pin lead.
Unwilling to quit, Butturff responded with a double in the sixth and seventh to keep Tan in sight.
Unfortunately for Butturff, his opponent would make no mistakes, and his own pin carry refused to improve.
Once Butturff left a solid 8 pin in the eighth and yet another 7 pin in the ninth, all Tan needed was a mark and count to end the match.
He delivered, counting 20 pins in the tenth to eliminate Butturff with a 219-213 win in Game 2.
Men's Round of 32
Kris Prather (USA) def. Merwin Tan (Philippines) 2-1 (228-182; 219-300; 213-204)
Prather's Round of 16 match may have been stress free, but his Round or 32 battle with Merwin Tan of the Philippines was anything but.
Things started smoothly enough for Prather, who struck on six of his first seven shots of Game 1 to open up a 30-pin lead over Tan, who only managed two strikes of his own over that same stretch.
Prather's pace slowed down over the final few frames of the opener, but he stayed clean and breezed to a 228-182 win.
Game 2 was a whole different story, however, as Tan started striking and just never stopped.
Before Prather knew what hit him, Tan had recorded just the second Singles 300 at the 2022 IBF World Cup – Marek Talpa of the Czech Republic had the first.
The match was suddenly back to even at 1-1, and Prather was now battling an opponent who was riding a very hot hand.
Tan's hand cooled down shortly thereafter, however, as after starting Game 3 with a strike – his 14th in a row going back to Game 1 – the left-hander left a 4-6-10 split and opened.
Prather stayed clean through the first five frames to grab a nine-pin lead, but a pocket 7-10 in the sixth shifted the momentum, and a one-pin lead, back to Tan.
Prather recovered with a double in the seventh and eighth, but when he left a 10 pin in the ninth, Tan was suddenly in position to double in the tenth frame to win the match.
Tan delivered a flush pocket shot, but he rang a 7 pin.
Still down, Prather kept his hopes alive by striking on the first ball in the tenth.
Tan then covered his spare, which meant that if Prather didn't strike on his next shot, Tan could strike on his fill ball to shut him out.
But Prather refused to take that chance; instead, he delivered a flush strike to take the game (213-204) and match and move on to the Round of 16.
Jakob Butturff (USA) def. Martin Larsen (Sweden) 2-0 (234-224; 258-236)
As if Butturff's terrible pin carry in the Round of 16 wasn't frustrating enough in and of itself, what made it worse was that he enjoyed just the opposite during his Round of 32 match against Sweden's Martin Larsen.
Larsen bowled a good match against the American, but Butturff was simply too much to handle.
Butturff began Game 1 with six strikes in the first eight frames before a high-flush 6-8 stopped his string and allowed Larsen to grab a one-pin lead.
That lead wouldn't last, however, as after Larsen left a 10 pin on his first ball in the tenth, Butturff delivered a double to go back around him and take Game 1 by a final score of 234-224.
Larsen put up another good number in Game 2, staying clean and shooting 236.
Unfortunately for him, Butturff's number was great, a 258 that included a seven-bagger in frames three through nine, which was enough to get Butturff the 258-236 victory and a ticket to the Round of 16.
Eric Tseng (Hong Kong) def. Kyle Troup (USA) 2-1 (211-208; 154-202; 233-209)
Kyle Troup delivered several quality shots during his Round of 32 matchup with Tseng, but a combination of shaky pin carry and untimely opens was too much for the charismatic American to overcome.
Game 1 started off almost dead even as both bowlers opened with doubles before notching spares in the third frame, Troup's on a 10 pin, and Tseng's on a 3-6.
That gave Troup the early lead, but he wouldn't have it for long as he found trouble in the fourth frame, leaving the 3-4-6-7-10 split. His conversion attempt would only get three pins, opening the door for Tseng.
The right-hander from Hong Kong took advantage, stringing strikes together in the fourth, fifth and sixth frames to grab a 25-pin lead at the halfway point.
Troup fought back, however, putting a four-bagger together in frames five through eight to cut Tseng's lead down to two pins with two frames to go.
It looked like fortune was in Troup's favor after Tseng left a 4-6-7 split and opened the ninth frame.
That gave Troup the opportunity to double in the tenth to go around him and complete the comeback.
Troup delivered what looked to be a quality shot, but it resulted in a disastrous pocket 7-10.
After Troup took one pin to finish at 208, Tseng just needed a mark to win the game.
His first ball in the tenth drifted high and left a 6-10, but he was able to convert the spare and count nine on the fill ball to claim Game 1 by a final score of 211-208.
Tseng struggled throughout Game 2, however, striking just once and opening three times to post a paltry 154.
Troup, on the other hand, was steady, staying clean and using a late double to come in with an easy 202-154 victory that evened the match.
Things started off well for Troup again in Game 3 as he opened with a five-bagger.
But things would soon take a turn for the worse as Troup's string ended with a 4-10 split in the sixth.
He went for the conversion but failed to hit either pin, leaving him at 144 through six frames.
Apparently rejuvenated by Troup's misfortune, Tseng promptly delivered a double to cut Troup's once-sizable lead down to just ten pins.
The American hung on for a couple more frames, but things really went south when his ball went wide and left a 1-2-8-10 in the ninth.
His spare attempt left the 10 pin standing, giving him an open frame and putting Tseng firmly in the driver's seat.
He took full advantage, delivering a strike in the ninth and two more to start the tenth to put Troup away and emerge with a 233-209 win.
The victory sent Tseng through to the Round of 16 while eliminating Troup from Singles competition.
James Blomgren (Sweden) def. A.J. Johnson (USA) 2-0 (246-231; 227-211)
A.J. Johnson delivered several quality shots over the course of his two-game match with Sweden's James Blomgren.
Unfortunately, Johnson learned the hard way that any mistake you make can and will bite you in the end when facing an opponent who's locked in and experiencing exceptional pin carry.
Johnson was in the pocket on seven of his first eight shots to start Game 1. Unfortunately, his one non-pocket shot went wide and left a 2-10 split.
The open that followed allowed Blomgren to take a five-pin lead through eight frames.
Johnson was hoping to finish strong, but a high shot in the ninth frame resulted in a 3-6-10.
Johnson converted the spare and struck out, but it wasn't enough as Blomgren finished with a four-bagger of his own to take the opener 246-231.
The American used an opening turkey to grab a 14-pin lead through three frames of Game 2, but a 2-4-8-10 slowed his progress in the fourth, allowing Blomgren to cut the lead down to two pins just by staying clean.
Johnson increased the lead to four pins after eight frames, but when he was unable to strike in the ninth while Blomgren did, the advantage shifted back in favor of the Swede.
Johnson applied pressure by striking on his first ball in the tenth, but Blomgren did him one better, throwing a double of his own to all but guarantee victory.
Once Johnson left a 10 pin on his second shot in the tenth, it was over; Blomgren had won the game (227-211) and the match.
Starting the day with seven bowlers in contention and ending it with two may appear disappointing on the surface, but Team USA Head Coach Bryan O'Keefe knows just how hard it is to win at this stage of an event like this one. As such, he's content with how the day shook out for Team USA.
"Match play is hard; best-of-three match play is really, really hard," O'Keefe said. "We had some opportunities to win some matches; unfortunately, it didn't go our way.
"Thankfully, Kris (Prather) and Bryanna (Coté) made some incredible shots when they needed to, both doubling in the tenth to beat opponents from the Philippines. We're here to get as many bowlers as possible through to the next rounds, and we got two of them. We'll take that."