Team USA men win gold, women take fourth on last day of 2022 IBF World Cup
November 23, 2022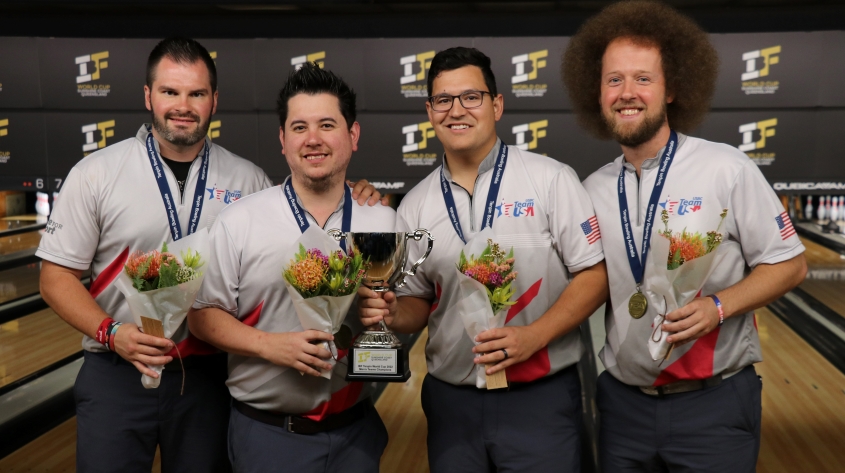 RESULTS AND INFORMATION
Team USA's men won a gold medal while the women took fourth place in Baker Team play on the last day of competition at the 2022 International Bowling Federation World Cup at Suncity Tenpin Bowl in Queensland, Australia.
The Team USA men struck gold by defeating Puerto Rico 3-1 (214-172; 262-202; 221-222; 209-198) during Wednesday's morning's Men's Baker Team final.
Puerto Rico walked away with the silver medal. Australia topped the Philippines to earn bronze.
The Team USA women narrowly missed out on a medal, finishing fourth after falling to Malaysia 3-2 (204-226; 182-219; 226-192; 248-220; 228-235) during the women's bronze-medal match.
The women's gold went to Sweden, which defeated Germany in the finals. Germany settled for the silver.
Even though it would have been nice to have the women's team bring home a medal after bowling so well throughout the tournament, Team USA Head Coach Bryan O'Keefe was proud of his teams' performances on the final day of competition and during the 2022 IBF World Cup as a whole.
"As I've said many times, you can never just take for granted that you're going to walk away with medals at a world cup," O'Keefe said. "You go up against the best of the best, and one bad break can send you home empty handed.
"We're leaving this world cup with medals in three out of four events, and we bowled well enough to take a medal in Women's Team as well; a few things just didn't go our way. Coach Kelly (Kulick), Coach Kendra (Cameron-Curry) and I are very proud of our men and women for how they performed and carried themselves on and off the lanes during this trip. They did an amazing job; they should be proud of themselves."
Even though all four members of the men's team shared the same time and space on the lanes, all four members of the quartet will leave the 2022 IBF World Cup with slightly different answers as to what they enjoyed most about the experience and what they're most proud of.
For Kyle Troup, a great deal of pride came simply from being able to represent his country again. However, he'll also remember this trip because it was the one on which he won his first Team gold medal as a member of Team USA.
"We communicated well, we stayed as one and we had each other's backs even during the bad moments, and we all had some of those at different times throughout the tournament," Troup said. "It was a long journey from the time we left camp and were selected for this event to the time that we're standing here now.
"We had the team gold medal in mind all that time, and when we won that last game, it hit me that it had finally happened; I was overcome with emotion. When you're wearing the Team USA logo on your back, everything means more. This is right up there with anything I've accomplished in my career. We couldn't have asked for more."
What stands out in Jakob Butturff's mind is the amazing team chemistry among this foursome and how proud he is of the support that they showed one another no matter the situation or outcome on the lanes.
"Winning the IBF World Cup is an amazing feeling," Butturff said. "We have such strong chemistry on this team; everyone just has that team mindset, so you know that the other guys have your back no matter what happens. That makes it a lot of fun to go out there and compete."
Kris Prather was awestruck by the group's ability to seamlessly flip the switch from being competitors week in and week out on the Professional Bowler's Association Tour to being teammates when coming together to represent Team USA.
"Doing this for a living as we do, we're singles competitors the overwhelming majority of the time, so to be able to come out here and accomplish a goal that the whole Team USA organization wants to achieve is huge for us," Prather said. "Being a part of something like this is like being a part of a special fraternity; we'll always have this and be able to talk about it and share it no matter where we go or how much time goes by. It's almost surreal."
Finally, A.J. Johnson will remember the unique feeling that only comes from finding success while competing for one's country.
"I feel like there's nothing better than bowling as a team, and when you get to do it for Team USA, the greatest team in the world, it's that much sweeter," Johnson said. "I felt like I didn't have my best stuff today, but that's why we're a team; we pick each other up. We won gold, and there's no better feeling; it never gets old."
Even though the Team USA women narrowly missed out on a medal,
Jordan Richard was proud of how she and her teammates competed throughout the event.
"We continue to put ourselves in position to win, and that's really all you can do at the end of the day," Richard said. "We fought our hardest until the final ball was thrown; we just came up on the wrong side a couple times today. Still, we continue to learn and grow so that the next time we find ourselves in that situation, we can be better."
Men's Baker Team Gold Medal Match
USA def. Puerto Rico 3-1 (214-172; 262-202; 221-222; 209-198)
On paper, a 3-1 match victory may appear to have been smooth and easy for the winning team, and there were certainly portions of the gold-medal match that fit that picture for Team USA.
Take Game 1 for example. The Americans opened with a five-bagger to jump ahead to a 50-pin lead by the end of the fifth frame.
Puerto Rico used a late double and a Team USA open to make things respectable, but the end result was still a relatively easy 214-172 Game 1 win for the Americans.
Game 2 wasn't much harder as Team USA went strike, spare, spare, eight-bagger to run away and hide from Puerto Rico yet again, this time by a final tally of 262-202.
That win put the Americans up 2-0 and on the cusp of capturing the coveted 2022 IBF World Cup and Men's Baker Team gold medal.
It looked like it would only take Team USA one more game to get it as they started off strong yet again in Game 3.
The Americans started the game with a four-bagger before a chopped spare slowed their momentum down just a bit in the fifth.
Nevertheless, Team USA was still up 23 pins after the open, and they quickly recovered from it by throwing a turkey immediately thereafter.
But Puerto Rico quietly tossed a four-bagger of its own in frames six, seven, eight and nine, and when Team USA chopped another spare during its half of the ninth frame, what had looked like a guaranteed American victory just moments before had suddenly come into doubt.
If Puerto Rico's anchor bowler struck on his first shot in the 10th frame, the Americans would lose.
That first shot didn't strike, however; instead, a 4 pin was left standing.
Suddenly, Team USA had a reprieve. If their anchor bowler could double, the game would end in the Americans' favor after all.
Team USA's anchor succeeded in notching the first strike, but the second shot came in light and left the 2 pin. Once the spare was converted, Team USA had posted 221.
Puerto Rico's man needed nine to tie or a strike to win; anything less would hand the gold to the Americans.
Puerto Rico's fill shot crept high into the 1-2 pocket and looked to have left the 6 pin, but some late pin action tipped the six forward, keeping Puerto Rico alive with a thrilling 222-221 come-from-behind victory in Game 3.
As unlikely as it sounds, Game 4 was similar with the Americans jumping out to a lead and appearing to be on cruise control only to see things screech to a grinding halt and tighten up greatly as the game moved to the final frames.
This time, a 26-pin Team USA lead through five frames was cut in half by the eighth frame, forcing the Americans' last two bowlers to step up and deliver or risk having the Puerto Ricans steal another game in the 10th frame and even the match.
Team USA wasn't about to let lightning strike twice though; instead, they notched marks in both the ninth and tenth to finally put Puerto Rico away (209-198) and lay claim to the 2022 IBF World Cup and Men's Baker Team gold medal.
Women's Baker Team Bronze Medal Match
Malaysia def. USA 3-2 (226-204; 219-182; 192-226; 220-248; 235-228)
Even if you're the best team in the world, coming back from an 0-2 deficit in a best-of-five match is a very tall order.
The Team USA ladies learned that lesson the hard way twice on the final day of Baker Team competition.
The bronze medal match against Malaysia went very much the same way that Team USA's semifinal loss to Germany had gone just a couple hours earlier.
The Americans didn't bowl badly during Game 1, but they weren't quite finding the right combinations of bowling balls and attack angles to consistently knock all ten pins down either.
Team USA did a nice job of staying clean to keep things close, but Malaysia was able to roll a late five-bagger to top Team USA (226-204) in Game 1.
Game 2 brought more of the same, meaning too few strikes for the Americans and a few too many for the Malaysians, at least as far as Team USA fans were concerned.
That combination allowed Malaysia to cruise to a 219-182 victory that put them ahead 2-0 and brought them just one win away from the bronze medal.
Team USA wasn't ready to let them have it though, not yet at least.
Showing tremendous fight and determination, the Americans began clawing their way back into the match.
They struck on five of their first six shots to establish a 36-pin lead midway through Game 3.
Try as it might, Malaysia wouldn't get much closer, allowing Team USA to thwart the sweep with a 226-192 victory.
The Americans rode the momentum to an even stronger performance during Game 4, pounding the pocket relentlessly and recording eight strikes to take another game off the Malaysians, this one by a final of 248-220.
Team USA had successfully erased another 0-2 deficit. Now, they just needed to get over the top and complete the comeback. The bronze medal was riding on it.
Things looked good during the early going in Game 5 as the Americans started with a four-bagger.
Unfortunately, the Malaysians got off to a great start as well, beginning the deciding game spare, five-bagger to take a ten-pin lead through six frames.
The lead would shift back to Team USA's side just two frames later though after Malaysia chopped a 3-6 in the eighth.
With just two pins separating the two powerhouses as both teams' bowlers stepped up in the ninth frame, every shot was crucial.
Both teams struck in the ninth frame, keeping the Americans ahead by two heading into the tenth.
Malaysia's anchor bowler stepped up and started the 10th frame with a strike to put the pressure back on the Americans. If their anchor couldn't match, the bronze medal would go to Malaysia.
Unfortunately for Team USA, it was during the next moment that the sometimes-cruel nature of bowling presented itself.
The American anchor bowler stepped up and buried her first shot deep in the 1-3 pocket, but instead of being rewarded with a strike that would've kept the Americans ahead and put the pressure right back on Malaysia, the shot left a solid 8 pin.
Despite having executed the shot that was called for when it was needed most, the Americans had lost.
Malaysia took Game 5 (235-228) and the match, sending the bronze medal home with the Malaysians and sending Team USA home with a fourth-place finish.
Men's Baker Team Semifinals
USA def. Australia 3-1 (278-192; 202-201; 193-224; 260-228)
If there is one thing that the Team USA men showed over and over again throughout the 2022 IBF World Cup, it's that few teams can match their striking power.
The Americans put that power on full display while taking the host team out of gold medal contention.
Butturff, A.J. Johnson, Prather and Troup simply dominated the Australians during Game 1, starting with the front eight before Butturff rang a 7 pin to halt the string in the ninth.
It hardly mattered though as Team USA already had the game well in hand. Before the Aussies knew what hit them, they had lost Game 1 (278-192) and were already playing from behind.
Game 2 wasn't nearly as explosive for the Americans, but it was equally effective.
Australia was ahead early, taking advantage of a Team USA open in the fourth frame to hold a 19-pin lead through seven frames.
But that all changed when the Aussies suffered back-to-back opens in the eighth and ninth.
Suddenly, Butturff found himself in position to help Team USA steal an unlikely Game 2 victory.
Butturff only managed eight on his first shot in the tenth, but the Australian anchor bowler only counted seven, keeping the Americans ahead by one.
That's where they would stay as Butturff delivered a flush strike on his fill ball to lock the Australian's out (202-201) and put Team USA up 2-0.
Much to the delight of their fans, the Aussies refused to quit, using a late five-bagger to stave off elimination by defeating Team USA 224-193 in Game 3.
That only delayed the inevitable, however, as the Americans went five-bagger, open, five-bagger during Game 4, pushing their score to 260 and pushing the Australians out of the gold medal hunt thanks to a 260-228 match-ending victory for Team USA.
Women's Baker Team Semifinals
Germany def. USA 3-2 (158-223; 186-201; 211-185; 221-178; 207-237)
As mentioned above, the bronze-medal match was not the only match of the day that saw the Team USA ladies rally back from an 0-2 deficit only to fall short in Game 5.
Sadly, the exact same thing happened earlier in the day during the Americans' semifinal matchup with Germany.
For whatever reason, the Americans just didn't quite look like themselves during the first two games of the match.
In Game 1, Team USA posted just four strikes to go along with three opens. Germany, meanwhile, struck five times and, more importantly, stayed clean.
That combination helped the Germans capture Game 1 by a final score of 223-158.
Unfortunately, for Team USA, Game 2 wasn't much different.
The Americans struck just four times and failed to record a double. They also suffered another costly open, this one thanks to a 6-7-10 split in the seventh frame.
Germany took advantage, controlling the pocket and converting spares to come out on top yet again (201-186) and push Team USA to the brink of elimination.
To nobody's surprise, the Americans refused to go down without a fight.
They looked more like themselves during Game 3, staying clean from the second frame onward and delivering clutch shots down the stretch to grab their first victory of the match (211-185).
They would keep the Germans even further away during Game 4, starting with a four-bagger and staying clean to coast to a 221-178 win that evened the match at 2-2.
Riding a two-game winning streak and with momentum finally on their side, the Americans looked poised to complete the comeback and take their place in the gold medal match.
But Germany had other ideas.
Game 5 was close through the first seven frames, but Team USA held a four-pin lead.
Things changed from there, however, as the Americans chopped a spare in the eighth while Germany put up a strike to notch a double.
That reversal of fortune put the Germans' fate squarely in their own hands, and they were not about to let it go.
Team USA tried to give German anchor Birgit Noreiks something to think about by striking in the ninth and on the first ball in the tenth, but Noreiks is not easily rattled.
She demonstrated that fact just moments later when she struck on her first ball in the 10th frame to officially slam the door on Team USA.
When the final pins had fallen, Germany was victorious (237-207) and headed to the gold-medal match against Sweden.
Team USA would have to dust itself off and fight for a bronze medal by trying to take down Malaysia.