Top seed Nolen captures USBC Masters title
February 15, 2009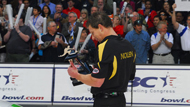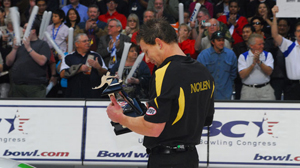 LAS VEGAS –
Until recently, John Nolen of Waterford, Mich., was a virtual unknown on the national bowling scene. He used Sunday's nationally televised championship round of the 2009 United States Bowling Congress Masters to change that in a hurry.
Competing on television for the first time, Nolen defeated Danny Wiseman of Baltimore, 202-193, to win the USBC Masters and claim his first career Lumber Liquidators Professional Bowlers Association Tour title.
Nolen, the No. 1 seed for the championship round, finished as the top qualifier and blew through match play undefeated to win the title. He finished 7-0 in his matches and became the first top qualifier to win the title since Mike Scroggins accomplished the feat in 2005.
"This means everything to me," said Nolen, who earned $60,000 and a two-year PBA Tour exemption. "I came into this week wanting to get a win, and if this is what I'm going to do for the rest of my life, I have to think that way."
Nolen, 29, sat helpless on the bench as he watched Wiseman finish the match. Needing a strike, nine, spare to even the score or two strikes to win outright, Wiseman stepped up and left a 10 pin on his first shot to hand Nolen the victory.
"I don't like rooting for people to miss, really I don't," said Nolen, who won the PBA Regional Players Invitational in December. "If someone strikes, they earn it and they deserve it, but I wasn't too upset to see that 10 pin standing. Danny is a great champion, and I didn't expect anything other than for him to put 10 back in the pit to win the title."
Wiseman started the title match with three consecutive strikes before struggling with ball reaction down the stretch. In the end, he said he just didn't make the right subtle adjustments to win the match.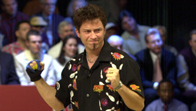 "You can't second guess yourself," said Wiseman, who was seeking his second Masters title after winning in 2004. "It's all about decision making. You have to make the change and sometimes it works, sometimes it doesn't. You have to live with the decision."
Wiseman, the No. 3 seed, defeated second seed Steve Harman of Camby, Ind., and fourth seed Tommy Jones of Simpsonville, S.C., to reach the championship match.
In the opening match of the championship round, Wiseman pulled away early from Jones with five consecutive strikes to start and cruised to a 257-216 victory. Against Harman, Wiseman struck on his final four shots in a 223-188 victory.
The 2009 USBC Masters featured a field of 452 of the best professional and amateur bowlers from around the world. A major on the Lumber Liquidators PBA Tour, the players competed for an overall prize fund of $350,000.
For complete coverage of the Masters, including stories, photos and results, visit bowl.com.

2009 USBC MASTERS
At Cashman Center, Las Vegas
Sunday's results
Final standings
1, John Nolen, Waterford, Mich., 202 (one game), $60,000.
2, Danny Wiseman, Baltimore, 673 (three games), $30,000.
3, Steve Harman, Camby, Ind., 188 (one game), $20,000.
4, Tommy Jones, Simpsonville, S.C., 216 (one game), $15,000.
Stepladder results
Match One – Wiseman def. Jones, 257-216
Match Two – Wiseman def. Harman, 223-188
Championship Match – Nolen def. Wiseman, 202-193