Xtra Frame to Cover Tackett's Bid for DHC PBA Japan Invitational Repeat
January 24, 2018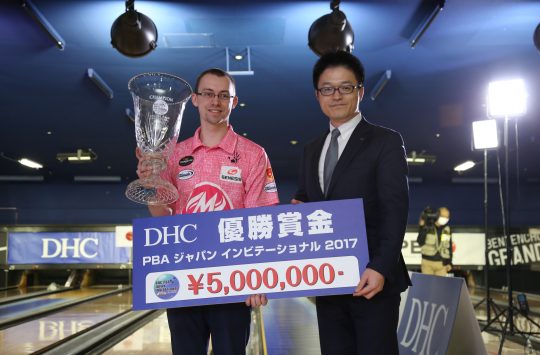 Led by defending champion E.J. Tackett and top qualifier Jason Belmonte, the PBA Tour's top 10 players based on 2017 earnings and four additional invitees are headed to Tokyo where Tackett will try for back-to-back DHC PBA Japan Invitational titles at Tokyo Port Bowl Saturday and Sunday.
The first event of the 2018 Go Bowling! PBA Tour season will be covered from start to finish, live on PBA's Xtra Frame online bowling channel (visit xtraframe.tv for subscription information). The winner will earn US$45,000 and a PBA Tour title if he/she is a PBA member.
PBA players in the field, in addition to Tackett and Belmonte, will be Jesper Svensson, Marshall Kent, Rhino Page, Ryan Ciminelli, Anthony Simonsen, Sean Rash, Yannaphon Larpapharat, Kyle Troup, Dom Barrett, Francois Lavoie, Parker Bohn III, Chris Barnes and Liz Johnson.
The field also will include one Korean PBA player, invited by tournament sponsor DHC, and 32 Japanese bowlers.
The 2018 tournament will feature a new format, with all 48 players bowling two six-game qualifying rounds on Saturday, Jan. 27 to cut the field to the top 16 for 16 games of head-to-head match play on Sunday. Xtra Frame coverage of the two qualifying rounds will begin at 7:30 p.m. Friday and 12:20 a.m. EST on Saturday. Head-to-head match play coverage begins at 6:20 and 10:40 p.m. EST Saturday. The top five after 28 games will advance to the stepladder finals on Sunday beginning at 3:30 a.m. EST Sunday.