Jones makes big move; Belmonte retains lead at 2023 USBC Masters
March 29, 2023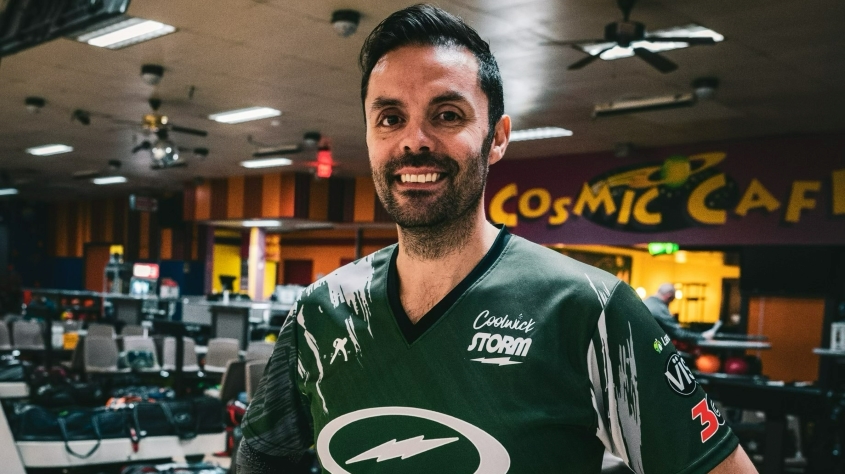 RESULTS

ALLEN PARK, Michigan –
Several players turned in impressive performances and improved their position in the overall standings during Tuesday's second round of qualifying at the 2023 USBC Masters, which is being contested at Thunderbowl Lanes in Allen Park, Michigan.
Tommy Jones of Simpsonville, South Carolina, a PBA Hall of Famer and two-time major champion, turned in the best block of the day, putting up a five-game total of 1,216 – an average of 243.2 per game – thanks to games of 265, 245, 203, 255 and 248.
Jones' second-round performance wasn't just impressive because it was tops in the 390-player field; more importantly, it gave him a two-day, 10-game total of 2,155, which allowed him to move from 292nd place to begin the day all the way up to a tie for 57th.
That means that with just one five-game qualifying block remaining on Wednesday, Jones is in position to make the cut to match play.
The same can be said for Jason Belmonte of Australia, but he wasn't forced to work nearly as hard on Day 2 in order to get there.
Belmonte remained the tournament's overall leader for the second day in a row by following up Monday's blistering 1,264 set with a solid 1,123 effort (247, 220, 222, 233 and 201) on Tuesday.
With a two-day total of 2,387, Belmonte is all but assured of a spot in the match-play bracket, and he stands a very good chance of being the No. 1 seed. If that happens, he will be in prime position to make a run at breaking his own records by collecting a fifth Masters title and 16th career major.
Belmonte won't get that top seed without a fight, however, as there are several talented players near the top of the standings right along with him.
Marshall Kent of Yakima, Washington, sits in second place with a 10-game total of 2,319 while Russ Oviatt of Sioux Falls, South Dakota, fired 1,180 on Tuesday to move into third at 2,308. Jakob Butturff of Tempe, Arizona (2,291), and Zach Wilkins of Canada (2,290) currently occupy the remaining spots in the top five.
Belmonte, Butturff and Kent have been full-time PBA Tour players for many years, so, for them, sitting at or near the top of the standings at a major is nothing new.
For Oviatt, however, putting up Tuesday's top score on B-Squad and moving into third place on the overall leaderboard is uncharted territory. After all, Oviatt isn't even a full-time competitor on the PBA Tour.
"I'm not out here week in and week out, so when I bowl these events, I just try to enjoy it," Oviatt said. "A lot of the guys press because this is their livelihood. I'm fortunate enough to be in a position where I don't have to have this as my livelihood, so I can keep everything more relaxed."
He certainly appeared calm on Tuesday, staying locked in on the pocket throughout his set while firing games of 213, 224, 279, 228 and 236.
Through two days of competition, Oviatt has established a 230.8 average with a high game of 279 and a low of 211.
Some may not have been expecting to see such a high level of consistency out of a part-time PBA Tour player; nevertheless, Oviatt just sees it all as part of the plan.
"I came into the tournament figuring that if I could shoot 215 per game, that should put me close to making the cut," Oviatt said. "So my mindset from the beginning has just been to stay relaxed each game and try to throw a couple of doubles."
Holding onto third place with one qualifying squad remaining doesn't just put Oviatt in position to make the cut; it gives him the opportunity to earn a high seed in the match-play bracket.
However, Oviatt isn't allowing himself to get overwhelmed by the early success or to look too far ahead.
"I've never won a block before. Does it mean a lot to me? Yes and no," Oviatt said. "It's nice, but this is still just qualifying, so going into tomorrow, I need to have the same plan as the first two days, try to throw some doubles and just stay in it."
Another player trying to stay in it is Jesper Svensson of Sweden, who currently holds 64th place – the final spot inside the match-play cut line – with a two-day total of 2,147.
Svensson's position is a precarious one, however, as there are 39 players within 50 pins of him heading into Wednesday's final five-game qualifying block.
After 15 games, which includes two blocks on the fresh lane condition and one squad on the burn, the top 63 players will join defending champion Anthony Simonsen of Las Vegas in the double-elimination bracket beginning Thursday.
Simonsen is guaranteed a spot in the bracket as the defending champion, but he can improve his seeding through qualifying. If he happens to finish qualifying outside of the top 63, he'll be the No. 64 seed.
Simonsen currently sits in 40th place with a 2,183 total.
Qualifying and match play at the 2023 Masters will remain consistent with previous editions of the event prior to the introduction of TV on March 31. The double-elimination bracket will be retained, and all matches leading up to the final eight competitors will feature three-game total-pinfall contests.
However, once the Elimination Bracket is down to the final eight, television matches will start with four single-game matches replacing the final three-game head-to-head round and four-player shootout to determine the finalists for the stepladder. These matches will be broadcast live on FS1.
These TV matches will implement a knockout-style format with the winners of the first two games advancing to the finals of the Elimination Bracket. The advancers then will take on players who lost in the semifinals of the Winners Bracket with each winner earning a spot in the opening match of the stepladder on April 2.
The two players who emerge victorious from the semifinals of the Winners Bracket will earn automatic spots on the April 2 broadcast with a three-game total-pinfall match determining the top seed. This match will be broadcast at BowlTV.com.
With only four players advancing to the stepladder, the top seed will need to be defeated twice on FOX to be denied the title.
The stepladder at the 2023 event will be April 2 at 1 p.m. Eastern on FOX, with the champion taking home a spot in the tournament's storied history, a major title on the PBA Tour and the $100,000 top prize.
For more information on the USBC Masters, visit
BOWL.com/Masters
.