The Bowling Minute
Learn more about the USBC's newest technological innovation
---

THE VAULT: Other Bits of Bowling Entertainment




Betts World Series Trip
Mookie Betts is participating in his first World Series...of Bowling.





Special Olympics Memberships
Learn more about the USBC Special Olympics annual memberships.



Broncos go Bowling
Peyton Manning and his teammates take a break from training camp with some bowling.





Amazing Things are Happening in Bowling
For bowling fans, it's already been an exciting summer. Let's take a look at some of the best news to hit the press as everybody gears up for the next bowling season.





Bowling Lanes You Have to See to Believe
Ever thought about building your own pair of in-house bowling lanes?


Bowler Personality Traits
Bowlers have some pretty unique quirks.


Bowling on Team USA's Level
You may be good, but what does it take to play on their level?


What Not to Say on The Lanes
There are some unspoken rules at league.


Just Smash It!
See what happens when you add 78,000+ pounds of pressure.


Late-Night Bowling
It's late and it's a great time for some experimentation.




Bowling's Bucket List
For bowlers, consider adding these to your must-see list.






Chanel Does Bowling...And It's Gorgeous
What do you get when you mix fashion, fragrance and...bowling? Greatness.






Women's Bowling Tournament Artwork
Take in the history of some great bowling artwork from across the decades.





Denied the 300
Nobody could've predicted what happened when Troy Walker took his final shot.






Bowling Tournament Artwork
Across 100 years, bowling tournament artwork is absolutely fascinating to look at.





Bowling Songs
From the 50s to the present day, there are several musical tributes to bowling.






Trick Shots Part 2
These trick shot artists take bowling balls and pins to a new level.


Remote-Controlled Bowling Balls
While not USBC-approved, they're still fun to watch.






In-School Bowling
Des Moines Public Schools kick their PE classes up a notch.




These Kids Have Game
From a record holder to a spokesperson, these kids are part of the future for the sport.




Chasing Perfection
The 900 series. That's three '300' games in a row. On a special night in Plano, Texas, Bill Fong went for it.




Weird Bowling Approaches
There are some strange bowling approaches out there. Here are just a few!


Skydiving with a Bowling Ball
See what happens when skydivers bring a bowling ball.




Belmonte Makes History
What professional bowler Jason Belmonte did this February has rocked the record books.


Ball vs. Feather
Can feathers fall as fast as a bowling ball without increasing the feathers' weight?


The Strike that Wasn't
Team USA member Bill O'Neill threw what seemed to be a strike - until this happened.




Being a Good Teammate
There are some things you can do every week to be a good teammate.


Bowling Bloopers
Need a good laugh? Take a look at some of bowling's best bloopers!




Top Moments of 2014
Looking back at 2014, here are some of bowling's top moments of the year.




LEGO Bowling
A little engineering, a pile of LEGOs and a sheer will has created a bowling masterpiece.


Holiday Bowling Ideas
Combine the joy of the season with some great ideas for bowling fun!




Nine-Pin Bowling
A once illegal form of bowling, nine-pin bowling is still being played in a few small towns in Texas.




Nerdist vs Doctor Who
Chris Hardwick and Team Nerdist take on Doctor Who in an epic bowling showdown.





The World of Virtual Bowling
Video games and bowling have a rich history together that stretches back to the early days of gaming.





How do Pinsetters Work?
The answer to that is a little complicated and really cool to watch.




Using Leagues to Stay Sharp
League can be a great place to train for tournaments - if you know how to train.




Bowling's Presidential Bump
The 2014 Bowl Expo in Orlando, Florida had some presidential appeal this year.




Five Personalities You'll Meet at League
From the teammate always on their phone to the social butterfly, there are plenty of notable personalities at league.




Best Things About League Bowling
With leagues in full swing, let's talk about some of the things that keep us coming back year after year.





Fun Bowling Memes
Whatever happens out on the lanes, there's probably a good bowling meme to explain it!






From Dancing to Bowling
USBC Junior Gold champion Madison Bailey was featured on USA Today's Inspiration Nation.



Can Bowling Balls Float?
Can an 8lb, 12lb or even 16lb bowling ball float? Check out the video to find out.




Giving Old Equipment New Life
There's more than one way to give your bowling equipment new life!


Bowling and Basketball Don't Mix
NBA star Andre Drummond proves that bowling and basketball can't be combined.


World's Scariest Bowlers
These bowlers are scary good at their craft. See what they're doing on the lanes. If you dare.


Amazing Bowling Art
You may be surprised at what artists can do with bowling on the brain.


38 Years Pro and Winning
After another PBA50 title, Tom Baker isn't letting age slow his bowling down.



What Experienced Bowlers Wished They Knew
Here are a few tips that experienced bowlers may have appreciated in their earlier days.





Belmonte Trick Shots
Jason Belmonte knows bowling. Dude Perfect knows trick shots. See what happens when you put the two together!

Getting Prepared to Kick Off Your League Season
Whether your league season is already underway or not, we'll help you shake off the rust.






The League Secretary
League secretaries are the movers and shakers of league bowling.






Rules of Engagement
Throwing the ball down the lane is easy, but are you following all the rules?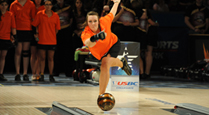 Unusual Bowling Games
Like any sport, there's more than one way to play the game.





Inspiring Bowling Stories
Inspire your day with these amazing stories from the lanes!






Bowling's Evolution
From polyester balls to pin boys, the sport of bowling has seen a vast transformation since the 1950s.






How Bowling Pins are Made
Pins often are an afterthought, but how are they made?





Bowling's Most Dramatic Finishes
Watch some of bowling's most climactic moments caught on camera.






Perfection at 81
Since 1949, Ray Niedzwiecki had never bowled a perfect game. That all changed in 2014.




Incredible Trick Shots
Once in a while, the stars of the Professional Bowlers Association like to have a little fun.





87-Year-Old Takes a Different Path to Perfection
Darlene Springer has a very different approach to video bowling.

Oil Patterns You Can See
For the first time ever, professional bowlers took their shot at a visible oil pattern.