Regional Tournaments
2022/2023 USA Bowling Regional Tournament Schedule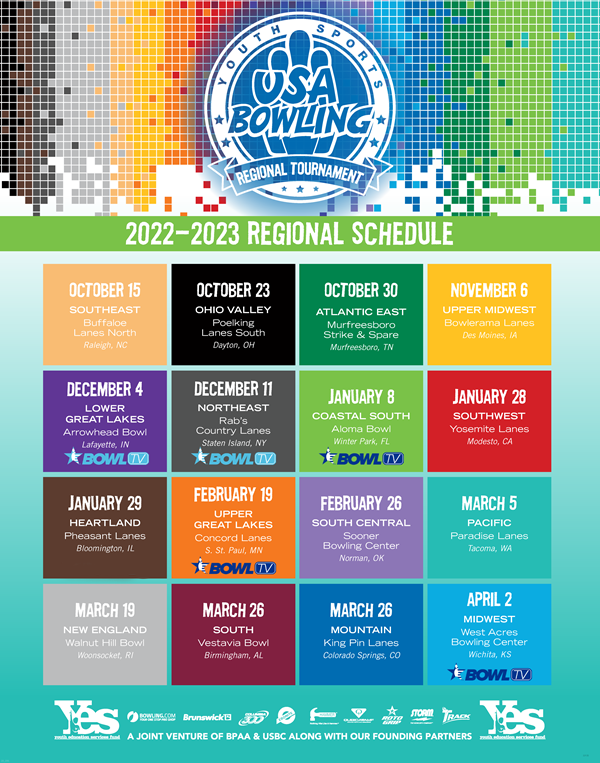 What happens during the two-day event?
Day 1: Eight round-robin Baker match games. All teams will return on Day 2 and will be seeded into tiered brackets based on match-play record.

Day 2: Double-elimination match-play brackets. Each match will be decided by best two-out-of-three games Baker format. Teams will continue bowling until they have lost two matches, thus being eliminated from the tournament. Each bracket will have a winning team. The team that wins the Tier 1 bracket in each division will be crowned tournament champion.

For one day events we combine the round-robin Baker match games and double elimination match-play all in one day.

Download Editable Entry form here.
Download Regional Tournament rules here.
---
All participants of a USBC/IBC Youth national bowling event are required to submit an Acknowledgement of Assumption ot Risk and Waiver of Liabilty form. This form needs to be completed once for the 2022-2023 bowling season.
Waiver Form - Minor Athlete
Waiver Form - Adult Athlete
Any athlete who will be 18 years of age or older as of July 22, 2023, is required to complete the Adult Athlete waiver. If you have any questions or concerns about the athlete waiver, please contact waivers@BOWL.com.
---

Southeast - Buffaloe Lanes North - Raleigh, NC
October 15, 2022
U12 Results | U15 Results

Ohio Valley - Poelking Lanes South - Dayton, OH
October 23, 2022
U12 Results | U15 Results

Atlantic East - Murfreesboro Strike & Spare - Murfreesboro, TN
October 30, 2022
U12 Results | U15 Results

Upper Midwest - Bowlerama Lanes - Des Moines, IA
November 6, 2022
U12 Results | U15 Results

Lower Great Lakes - Mike Aulby's Arrowhead Bowl - Lafayette, IN
December 4, 2022
U12 Results | U15 Results

Northeast - Rab's Country Lanes - Staten Island, NY
December 11, 2022
U12 Results | U15 Results

Coastal South - Aloma Bowl - Winter Park, FL
January 8, 2023
U12 Results | U15 Results

Southwest - Yosemite Lanes - Modesto, CA
January 28, 2023
U12 Results | U15 Results

Heartland - Pheasant Lanes - Bloomington, IL
January 29, 2023
U12 Results | U15 Results

Upper Great Lakes - Concord Lanes - South St. Paul, MN
February 19, 2023
U12 Results | U15 Results

South Central - Sooner Bowling Center - Norman, OK
February 26, 2023
U12 Results | U15 Results

Pacific - Paradise Lanes - Tacoma, WA
March 5, 2023
U12 Results | U15 Results

New England - Old Mountain Lanes - Wakefield, RI
March 19, 2023
U12 Results | U15 Results

Mountain - King Pin Lanes - Colorado Springs, CO
March 26, 2023
U12 Results | U15 Results

South - Vestavia Bowl - Vestavia Hills, AL
March 26, 2023
U12 Results | U15 Results

Midwest - West Acres Bowling Center - Wichita, KS
April 2, 2023
U12 Results | U15 Results